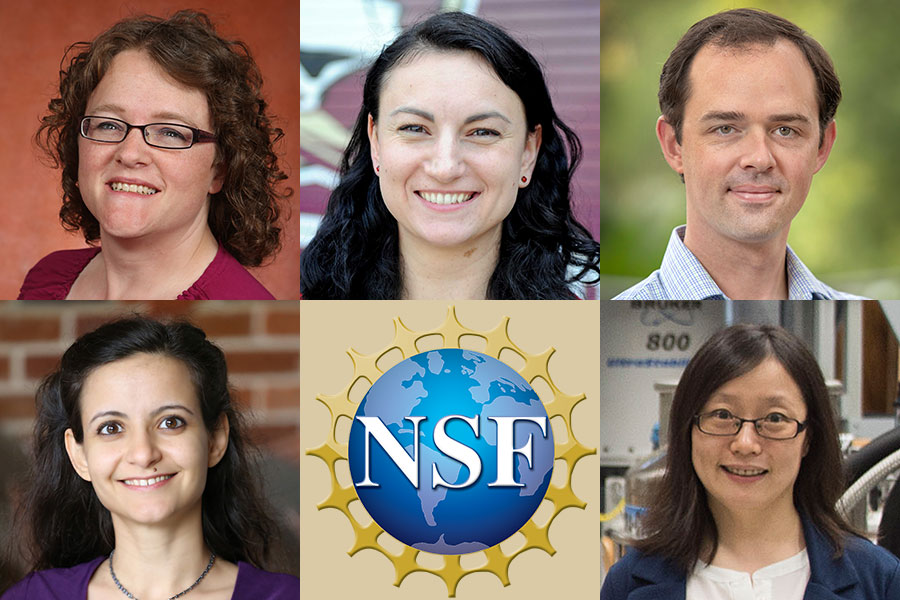 Five Florida State University assistant professors have received highly competitive CAREER awards from the National Science Foundation for their significant early career accomplishments in research and education.
The CAREER award, one of the most prestigious granted to junior faculty by the NSF, supports scholars in the early stages of their careers as they develop their long-term research programs. This year's class of five CAREER award winners matches an FSU record set in 2018.
"These awards reflect the remarkable, cutting-edge work of our five recipients and the continued rise of Florida State as a premier research institution," said Vice President for Research Gary K. Ostrander. "We're thrilled to see the NSF recognizing these extraordinary researchers, and we can't wait to watch as they establish themselves as leaders in their fields."
FSU's 2019 CAREER award winners are:
Christianne Beekman, assistant professor in the Department of Physics: Beekman and her team will investigate electron spin — or rotational momentum — in frustrated magnets and its potential as an information carrying system in next-generation technologies like quantum computers. After receiving her doctorate from Leiden University in the Netherlands in 2010, Beekman worked as a postdoctoral researcher at the University of Toronto and the Oak Ridge National Laboratory. She joined FSU's Department of Physics in 2014.
Sonia Haiduc, assistant professor in the Department of Computer Science: Haiduc will develop new techniques to improve the way video tutorials and other online, crowd-based resources are created and used by software programmers. The goal of her project is to improve learning and instruction in software engineering settings. Haiduc received her master's and doctoral degrees from Wayne State University and arrived at Florida State in 2013.
Christopher Holmes, assistant professor in the Department of Earth, Ocean and Atmospheric Science: Holmes has developed a large-scale dataset for monitoring how ozone air pollution damages vegetation and ecosystems in North America and Europe. His project will expand the dataset to other continents and use the data to better simulate the global water and carbon cycles in air quality and climate models. The resulting model will aid researchers as they predict how future climate conditions may influence ozone concentrations and atmosphere-ecosystem interactions. Holmes received his doctoral degree from Harvard University in 2010. Before arriving at FSU in 2014, he worked as a postdoctoral researcher at the University of California, Irvine. 
Yan Yan Hu, assistant professor in the Department of Chemistry and Biochemistry: Hu will explore the fundamental chemistry of structural defects in materials in order to advance understanding of why defects occur and how they might be more effectively harnessed. She and her team will work toward both the creation of functional defects in technologically important materials and the minimization of harmful defects that could compromise material performance. Her research could help improve technologies crucial to energy conversion and storage, data manipulation, sensors and actuators. Hu received her doctorate from Iowa State University and worked as a Newton Fellow and Marie Curie Fellow at the University of Cambridge before arriving at FSU in 2014. 
Lama Jaber, assistant professor in the School of Teacher Education: Jaber's project aims to study science and mathematics teachers' "epistemic empathy," or their understanding and appreciation of students' cognitive and emotional experiences within activities designed to construct, communicate and critique knowledge. Her research will explore how epistemic empathy shapes teachers' views of their roles, goals and priorities and how it influences their enactment of responsive teaching practices. Her team will also examine the effect of epistemic empathy on student engagement and students' perspectives on each other's experiences. Jaber received her doctorate and served as a postdoctoral researcher at Tufts University before joining Florida State in 2015.