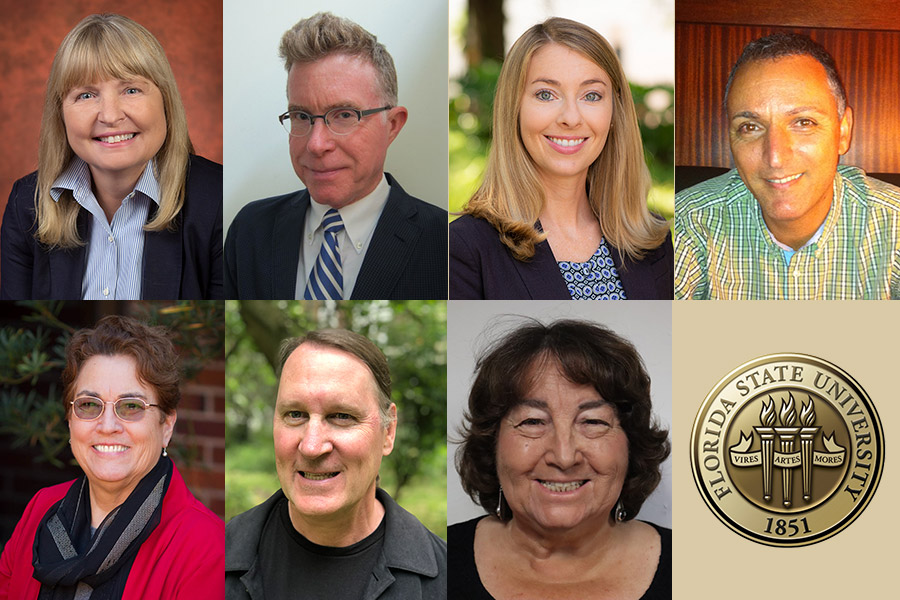 Seven Florida State University faculty members will fan out across the world during the 2019-2020 school year to teach and conduct research as part of opportunities funded by the U.S. Fulbright Scholar Program.
Nancy Everhart, professor in the College of Communication and Information, will be based at China's Beijing Normal University for the school's fall semester from Aug. 25 to Feb. 1, 2020.
Everhart, a former president of the American Association of School Librarians, will share her extensive research on how libraries can better serve students.
"My project is called 'Information Literacy in an Evolving World Power,'" Everhart said. "I will be teaching future librarians about information literacy and how they might work with students to be information literate."
J. Perry Howell, associate lecturer in the Department of English, will work the full school year at Japan's Yokohama National University and Tokai University, both located south of Tokyo.
Howell said part of the expectation for U.S. Fulbright Scholars is to educate students about the United States, so he will talk with them about social values that reflect the character of Americans.
"I'll explore famous American speeches and other cultural works, ranging very widely from speeches by Sojourner Truth, Martin Luther King Jr. and Malcolm X, to the Declaration of Independence and 'Hamilton,'" Howell said. "The basic idea is to look at American rhetoric, try to glean what values Americans see as important to their own identities and discuss whether the idea of a singular 'American identity' makes sense today, or ever has."
Ziad Musslimani, professor of mathematics, will teach and conduct research at the University of Amsterdam in the Netherlands next spring.
"The course will focus on computational mathematics with applications to the physical sciences," Musslimani said. "The focal point of my Fulbright research will emphasize the mathematical aspect and computational modeling of strongly correlated electronic systems. A unique aspect of my Fulbright award is the integration of mathematical education into modern research which, hopefully, will result in an advanced undergraduate textbook that I've already started to write."
Sharon Nicholson, professor of meteorology in the Department of Earth, Ocean, and Atmospheric Science, earned a Fulbright Global Scholar Award, which requires recipients to complete assignments in at least two countries.
Nicholson will eclipse that benchmark. This fall, she will work in Namibia. Then next February, she'll head to the University of Montpellier in France. In March, she will finish her Fulbright year at the Karlsruhe Institute of Technology in Germany.
Nicholson, who specializes in African climate research, is credited with identifying a low-level weather jet stream over Namibia. Her host institution there, the Gobabeb Training and Research Centre, is located in the heart of the Namib Desert.
"In 2010, I documented the existence of the jet stream along the Benguela Coast of Namibia, overriding a region of cold upwelled water," Nicholson said. "Little research has since been done on this jet stream, so I will detail the jet's links to coastal fogs that help sustain the Namib ecosystem with water. In France, I will work with a paleoclimatologist to consider how the jet might have influenced climate variations in equatorial and southern Africa. And in Germany, the research will focus on the jet's effect on rainfall in West Africa."
Andy Opel, professor in the College of Communication and Information, will produce a series of documentary videos for the Climate Witness Project in Norway.
Over the next year, Opel and students at the University of Bergen will record interviews with Norwegian residents, such as farmers and loggers, describing the changes they've personally witnessed in the environment.
Opel plans to document those observations with scientific data.
"These eyewitness testimonies of changes in the natural world, occurring over the course of just one lifetime, will provide powerful accounts that help illustrate the more abstract issue of climate change," Opel said. "Then, we'll include hard data that confirms the larger pattern of how our climate is changing."
In the spring semester, Opel's students will produce a series of 360-degree immersive videos, known as "virtual reality videos," that give viewers a unique view of the changes happening in natural spaces.
"These pieces will build on the work of The New York Times' 360-video project, The Guardian's 'Virtual Reality Journalism' project and the emerging trends of immersive journalism that allow audiences, in effect, to witness climate change for themselves through the new media of virtual reality," Opel said. "Both sets of short-video documentaries will be designed for online distribution through social media."
Professor Emerita Mary Stewart, who recently retired from the Department of Art, earned a Fulbright Scholar Flex Award to teach a variety of workshops at the University of New Brunswick in Canada. The Flex Award allows scholars to make multiple, short-term trips to an institution over two years.
Stewart plans to make three visits to the University of New Brunswick over the next year-and-a-half to mentor students, collaborate with The Atlantic Centre for Creativity and promote applications of creativity among faculty members, administrators and innovators in the Canadian province.
"By focusing on creativity, which is the necessary precursor to, and the heart of, innovation and entrepreneurship, the University of New Brunswick seeks to substantially enhance its leadership and further engage students," Stewart said. "Creativity courses are already offered at UNB in engineering, business, arts and education. My visits there will promote an even deeper exploration of this pivotal subject and help harness the power of creativity throughout the region."
Samantha Paustian-Underdahl, assistant professor in the College of Business, will collaborate with scholars at Dublin City University in Ireland next spring.
They will study the use of flexible working arrangements as an increasing number of organizations use telecommuting and flextime in an effort to improve employee recruitment, engagement and retention.
But at the same time, Paustian-Underdahl said, some big companies are starting to reverse this trend.
"Organizations such as Yahoo, Bank of America and IBM, are reducing or completely eliminating their flexible working programs over concerns of waning team collaboration and performance," she said. "My research aims to better understand how flexible working options can improve employee engagement and retention, while maintaining and possibly improving team collaboration, communication and performance."
The Council for International Exchange of Scholars (CIES) has administered the U.S. Fulbright Scholar Program for nearly 70 years on behalf of the U.S. Department of State. The program awards nearly 470 teaching and research opportunities in more than 125 countries to university scholars and other professionals, including artists, attorneys and scientists.
For more information, visit the U.S. Fulbright Scholar Program.