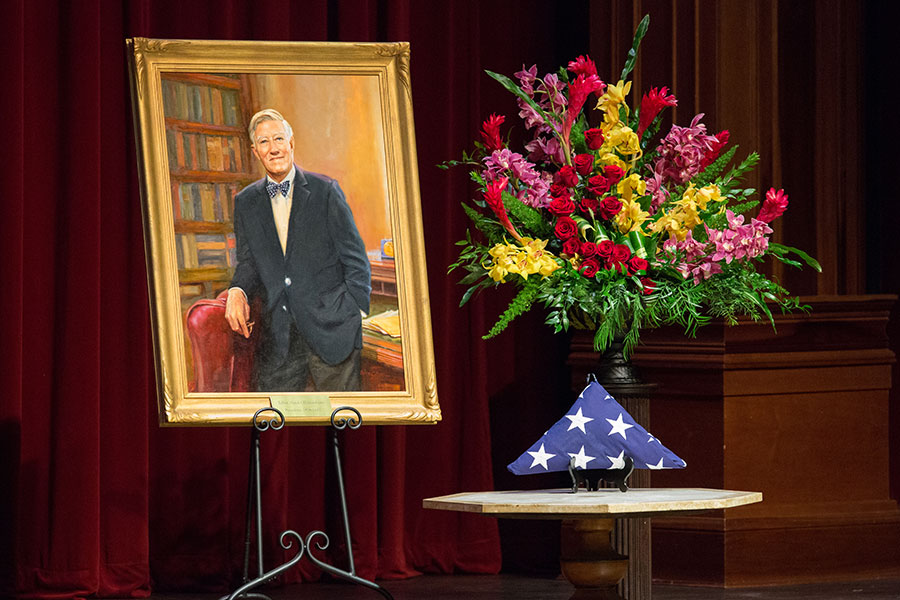 Scholar. Statesman. Human rights champion. Visionary. Dreamer.
These words and more were used to describe Florida State University President Emeritus Talbot "Sandy" D'Alemberte, who passed away May 20 at 85. Hundreds remembered D'Alemberte during a Celebration of Life Service June 5 at the Ruby Diamond Concert Hall at FSU.
"We're all here to remember a man who had a profound impact on this university, this state, the nation and — this is not an overstatement — the world," said FSU President John Thrasher, who wore one of D'Alemberte's signature bowties for the service. "For all of his notable accomplishments in each of these roles, his most significant impact was the one he had on each one of us. Everyone here can tell a story about how Sandy changed their lives in ways both big and small."
The consummate Southern gentleman, D'Alemberte served as FSU's 12th president from 1994 to 2003 and dean of the College of Law from 1984 to 1989.  During his tenure as president, he undertook a major campus beautification project, acquired the John and Mable Ringling Museum of Art and established the Seven Days of Opening Nights festival of the fine and performing arts, now known as Opening Nights.
Also during his presidency, FSU became headquarters of the National High Magnetic Field Laboratory, the largest and highest-powered facility of its type in the world. He also created the Center for the Advancement of Human Rights, which has helped victims of human trafficking, torture and war crimes in more than 90 countries over the past 19 years.
Patsy Palmer, who married D'Alemberte in 1989 in the College of Law's historic Cawthon House, said her husband never stopped working — he had recently published an op-ed piece, consulted on a death penalty case and planned on teaching two classes at the law school during the fall. He also never stopped dreaming, she said.
"He never stopped wanting to do more, give more or be more," Palmer said.
D'Alemberte's work at FSU was only a part of his career in public service. He served in the Florida House of Representatives from 1966-1972, chaired the Florida Constitution Revision Commission from 1977-1978 and completed a term as president of the American Bar Association from 1991-1992.
During his term as ABA president, he established a volunteer program led by American lawyers and jurists to provide free legal assistance to emerging democracies so they could create legal frameworks guaranteeing the individual rights of citizens.
Mark Ellis, executive director of the International Bar Association, said the program is D'Alemberte's "remarkable legacy."
"He had an idea," Ellis said. "And all of us know that Sandy's vision and determination were not something to be underestimated."
Tallahassee attorney and former American Bar Association President Martha Barnett echoed Ellis' sentiments. She told the audience that she visited D'Alemberte's statue at the FSU College of Law while thinking about her remarks for the service.
"I found myself hoping my phone would ring and it would be Sandy with one of those crazy, visionary, life-changing projects," she said.
James Apthorp, the former director of the Leroy Collins Institute, also shared his memories of the former FSU president and one dream that didn't quite work out. D'Alemberte considered running for governor in 1970 with Apthorp as his running mate. They sought advice from the late FSU Professor of Political Science Elston Roady who told the duo "there's not a chance in hell you're gonna win."
"That ended our campaign," Apthorp quipped.
D'Alemberte's daughter Gabrielle and son Joshua also remembered their father with a reading from George Bernard Shaw's "Man and Superman."
Joshua D'Alemberte followed his reading by noting that many people compared his father to fictional lawyer Atticus Finch from "To Kill a Mockingbird." But, he added, Atticus Finch was "half the man my dad was."
"Dad, you know what we love about you? Everything," he said.
In lieu of flowers, the family requests charitable contributions be made to the Talbot "Sandy" D'Alemberte Law and Human Rights Fund at the FSU Foundation. These funds will be used to support the Florida State University College of Law and the FSU Center for the Advancement of Human Rights. Gifts can be made online through the foundation website or by check.