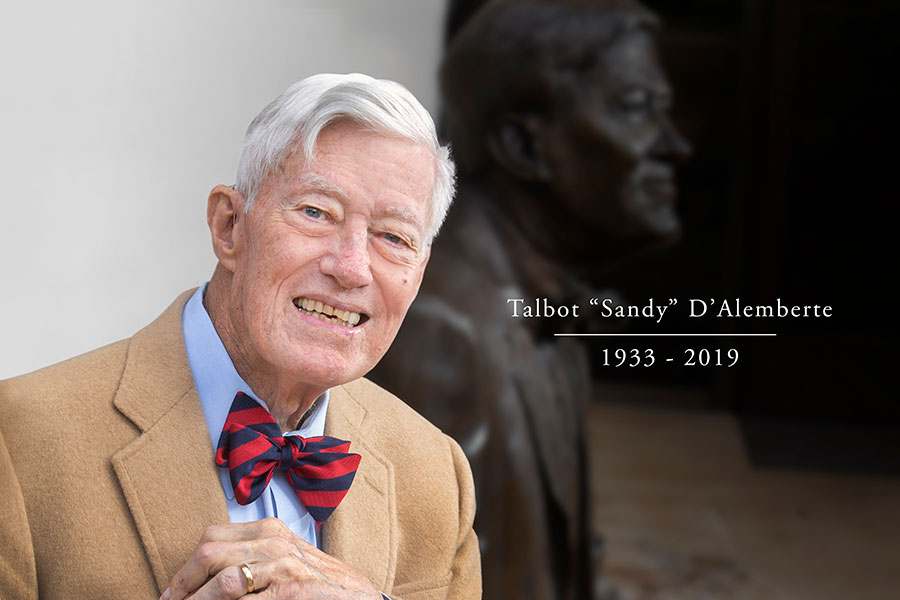 A brilliant legal mind and international champion of human rights, Florida State University President Emeritus Talbot "Sandy" D'Alemberte passed away May 20 at the age of 85.
The consummate Southern gentleman, D'Alemberte could often be seen wearing his signature bowtie around campus at Florida State, where he served as its 12th president from 1994 to 2003, dean of the College of Law from 1984 to 1989 and as a law professor for much of his career.
As university president, D'Alemberte brought funding and, ultimately, accreditation for the new College of Medicine, which welcomed its first class in 2001. He completed the university's first major capital campaign and through it established the Center for the Advancement of Human Rights and other academic improvements.
"I've known Sandy for more than 40 years," said FSU President John Thrasher. "He's been a friend, a mentor and an inspiration to me. He was a person of great integrity with an abiding sense of social justice who made a difference in people's lives here and around the world through his defense of the First Amendment and advocacy of human rights."
During D'Alemberte's tenure as president, Florida State University became headquarters of the National High Magnetic Field Laboratory, the largest and highest-powered facility of its type in the world. The university also acquired The John and Mable Ringling Museum of Art and established the Seven Days of Opening Nights festival of the fine and performing arts, now known as Opening Nights.
In lieu of flowers, the family requests charitable contributions be made to the Talbot "Sandy" D'Alemberte Law and Human Rights Fund at the FSU Foundation. These funds will be used to support the Florida State University College of Law and the FSU Center for the Advancement of Human Rights. Gifts can be made online through the FSU Foundation web site or by check.
"He loved Florida State University and left a lasting legacy through his dedication to academic excellence and research, diversity, campus beautification and historic preservation and support for the arts and culture," Thrasher said. "I will miss him dearly."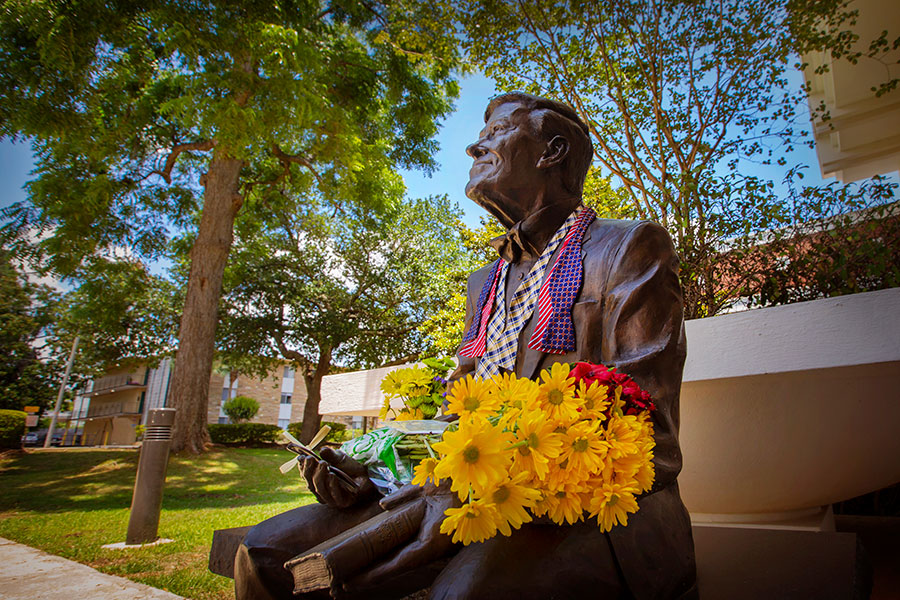 In the late 1990s, D'Alemberte and Thrasher, then Speaker of the Florida House of Representatives, worked together on the establishment of the College of Medicine. At that time, it had been more than 25 years since a new medical school had been established in the United States. They felt strongly that the school should focus on training doctors to care for patients in the greatest need — the rural, elderly and underserved. Today, it is ranked No. 1 in the nation by the Association of American Medical Colleges for instruction in community health.
"As we just graduated our 15th class for the FSU College of Medicine, we remember how Sandy made this new innovative school possible," said John P. Fogarty, dean of the FSU College of Medicine. "He was the perfect leader at the perfect time to ensure and lead Florida State's development of the first new medical school to be created in the U.S. in more than two decades in 2000. Two decades later, we are realizing the benefit of his leadership with over 700 graduates practicing and caring in areas and specialties where there is a clear need.  We are forever in his debt."
D'Alemberte's desire to help those in need is also what led him to establish FSU's Center for the Advancement of Human Rights — the nation's first of its kind. Over the past 19 years, lawyers, staff and students at the Center have helped untold victims of human trafficking, torture and war crimes in more than 90 countries, as well as those seeking asylum.
"As a result of Sandy's vision, thousands of FSU students have studied human rights in disciplines as varied as law, social work, religious studies, criminology, film, art and music therapy and public policy," said Terry Coonan, executive director of the FSU Center for the Advancement of Human Rights. "His 'blue-sky' dreaming led to the creation of over 50 human rights courses taught throughout the university as well as a faculty seminar on human rights teaching and research. It has also meant the opportunity for FSU students to serve directly around the world in international criminal tribunals, refugee camps, torture treatment centers and safe harbor shelters for victims of sex trafficking. Sandy's love of human rights and for Florida State University will remain his enduring legacy for decades to come."
D'Alemberte's connection to FSU ran deep. His childhood home was just three blocks from where the College of Law stands today. His grandfather attended the first iteration of the school, the Seminary West of the Suwannee, and his mother attended Florida State College for Women.
His wife, Patsy Palmer, earned her law degree from FSU in 2007 and went on to become D'Alemberte's law partner. They were married in 1989 at the College of Law's historic Cawthon House — the building where he later kept an office as president emeritus. The couple celebrated their 30th wedding anniversary May 13.
Known for his love of history, architecture and preservation, D'Alemberte is also credited with making Florida State University a better and more beautiful place.
He spearheaded the effort to renovate the interior of Florida State's Heritage Museum in the 1990s. The project resulted in the creation of a series of stained-glass windows throughout the museum and it represented a new commitment to beautify the campus. The windows were handcrafted by artists at FSU's Master Craftsman Studio, a unique art studio he established where students, faculty and staff design and build sculpture, statues and other artworks for the university. A stained-glass window in D'Alemberte's honor, located above the museum entrance, was dedicated in 2017.
"Sandy was simply a pleasure to work with," said Larry Abele, who served as provost during D'Alemberte's tenure. "He was brilliant, he had a fantastic sense of humor and he was a class act in every single thing he did. He did so much for the university and the state of Florida, and he will be missed by many."
During the 1980s, while serving as the College of Law's fourth dean, he established a pro bono publico requirement for all students, then only the second such program in the nation. His interest in campus architecture was first demonstrated with the Village Green at the College of Law and continued throughout his term.
D'Alemberte's career in public and professional service dates back more than 50 years. He served in the Florida House of Representatives from 1966-1972, chaired the Florida Constitution Revision Commission from 1977-1978 and completed a term as president of the American Bar Association from 1991-1992.
In 1990, D'Alemberte was the lead lawyer in what has become known as the "D'Alemberte Petition," which urged the Florida Supreme Court to clarify that all members of The Florida Bar have a duty to provide legal services to indigents when ordered by a court.
Perhaps D'Alemberte's most significant contribution came overseas. After the fall of the Berlin Wall and the Soviet Union, millions who had lived under communist rule behind the Iron Curtain in eastern Europe were getting their first taste of freedom. D'Alemberte, who was serving as president of the American Bar Association at the time, quickly co-founded a volunteer program led by American lawyers and judges. They provided free legal assistance to emerging democracies so they could create legal frameworks guaranteeing the individual rights of citizens. Today, citizens of those countries enjoy the legal protections of national constitutions and independent judiciaries as a result of the organization Central and East European Law Initiative, or CEELI, often referred to as the Legal Peace Corps.
"The audacity of Sandy's vision was quite extraordinary," said Mark Ellis, a longtime friend and FSU law school alumnus who now serves as executive director of the International Bar Association in London. "Over the past nearly 30 years, this program has sent over 8,000 volunteer lawyers and judges to countries throughout the world. It is now the largest pro bono legal assistance program that the United States has ever undertaken, and that was Sandy's vision. He was able to bring together people who shared his vision and could take on his work."
D'Alemberte's efforts were honored in 2006 with the International Bar Association's Rule of Law Award, which honors those who have made a significant, lasting contribution to the rule of law worldwide.
"Sandy took on so many diverse issues and challenges in Florida, across the United States and around the globe," said Martha Barnett, longtime friend and former American Bar Association president. "He was a legislator, lawyer, scholar, professor, mentor, a fierce advocate and sometimes a fierce adversary when appropriate, always a dreamer and a doer. He lived a rich life with a common thread throughout: His love and respect for the law. Sandy understood the promise and power of the law in a free society. I never saw him turn his back on the rule of law or anyone in need."
D'Alemberte also won a myriad of national awards for his legal advocacy. Among them are the 2007 Tobias Simon Pro Bono Service Award, which was named for the late Miami civil rights lawyer and recognizes extraordinary contributions by Florida lawyers in making legal services available to persons who otherwise couldn't afford them; the 2003 ABA Medal, the association's highest honor, for his work in organizing the technical assistance work in Central and Eastern Europe; the 1986 National Sigma Delta Chi First Amendment Award; and a 1985 Emmy Award for his work in support of open government that led to the first rule allowing cameras in courtrooms.
D'Alemberte remained active in the legal, university and local communities throughout his life and recently completed teaching spring semester courses at the College of Law.
In lieu of flowers, the family requests charitable contributions be made to the Talbot "Sandy" D'Alemberte Law and Human Rights Fund at the FSU Foundation.  These funds will be used to support the Florida State University College of Law and the FSU Center for the Advancement of Human Rights.  Gifts can be made online through the FSU Foundation web site or by check.  Please make your check payable to "FSU Foundation," note [Sandy D'Alemberte F08786} in the memo line, and mail it to:

Florida State University Foundation
325 W. College Ave.
Tallahassee, FL 32301-1403