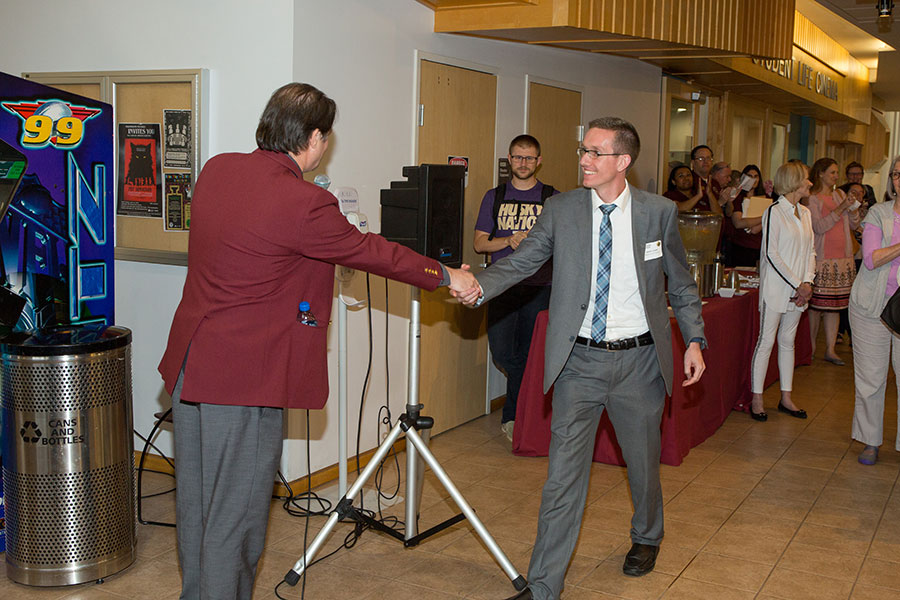 Florida State University master's student Jason Cassel took home the top prize during the inaugural FSU Graduate School's Master's In Four competition, Thursday, April 4.
Cassel, a liberal arts student with an emphasis in piano technology, received the $1,000 prize for his presentation "The Voice of the Piano."
"I had a blast," Cassell said. "I think being a master's student in the College of Music you don't see a lot of musicians doing research or presenting on their research. I thought being the only musician in the competition would set me apart. I knew what I was doing was fascinating, and I hoped others would, too."
The Masters in Four competition, modeled after the university's successful Three Minute Thesis competition, gave participating master's students four minutes to explain their research topics in a manner that is informative, entertaining and accessible.
"This event gave master's students an opportunity to join in the fun," said Mark Riley, dean of The Graduate School. "They had an opportunity to tell us what their research was about in nonspecialist terms, as if they, on Thanksgiving Day, had to tell their family what it is they do and what gets them excited about being at Florida State University."
Cassel's prize-winning presentation discussed new mechanisms to change the tone of pianos.
"I think as graduate students we get used to a vocabulary that we use day to day and being able to explain what we do without using that vocabulary can be very challenging," Cassel said. "However, there are so many contexts, such as grants and jobs, where speaking in terms that everyone can understand is extremely beneficial."
The competition attracted more than 30 participants. A team of judges watched the presentations during the preliminary round Feb. 25, and selected 12 finalists who received additional critiques, guidance and rehearsal before the big night.
The competition was tight, so Riley announced two second-place winners — James Hernandez and Steven Pope.
Hernandez, who is pursuing a master's in educational psychology and learning systems, presented research on culturally responsive classroom management. Pope, a master's student in communication, also took second place for his presentation "Hiroshima as Hell: How Atomic Bomb Survivors Depict Their City as Hell on Earth Through Illustrations and Trauma Vernaculars."
Stacey Hanson, a modern languages and linguistics student, won third place for her presentation on the perception of the Spanish 'z.'
Karl Wissemann, a psychology student, received the "People's Choice" award. His research focused on reducing children's risk for anxiety by modifying parental behavior.
Additional finalists in the competition included:
Stephanie Gipson, nutrition, food, and exercise sciences
Amanda Campos, educational psychology & learning systems
Mike Mitchell, communication
Kathryn Linthicum, psychology
Scott Shepack, public administration & policy
Danielle Krusemark, psychology
Katherine Schafer, psychology