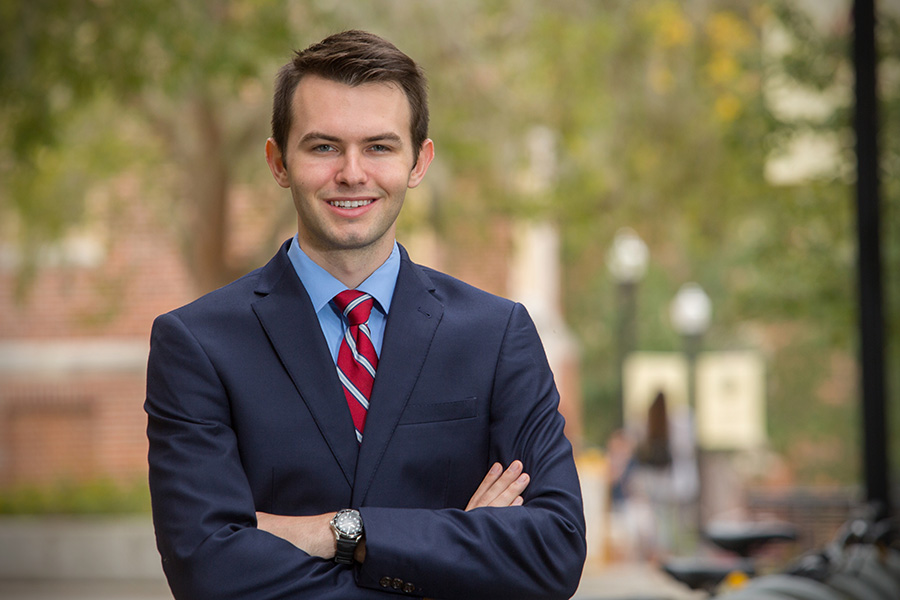 Recent Florida State University graduate David "Gil" Damon has been selected for a Gates Cambridge Scholarship — the University of Cambridge's most prestigious international postgraduate scholarship.

The goal of the Gates Cambridge program is to build a global network of future leaders committed to improving the lives of others.
"It's such an exciting opportunity to collaborate with amazing Gates Cambridge Scholars from all sorts of backgrounds and disciplines," Damon said. "I'm so grateful for the overwhelming support from my professors, mentors, family, and community in Wakulla."
Damon, who graduated from Florida State with a 4.0 GPA in May 2018, will pursue a master's degree in public policy at Cambridge. The program strongly emphasizes the interactions between scientific research and public policy and aims to promote and strengthen the interconnections between science, research and innovation in public policy.
"It's a really immersive master's program that emphasizes innovative policies based in scientific research," Damon said. "I think it'll complement my experience and offer new tactics for navigating the interface of science and government."
Damon's interest in connecting science and public policy stems from growing up on the Gulf Coast in Wakulla County, where he experienced the environmental and economic damage caused by Hurricane Dennis in 2005 and the BP oil spill in 2010, and most recently, the devastation of the surrounding community caused by Hurricane Michael.
After transferring from Tallahassee Community College, Damon double-majored in psychology and political science at Florida State and defended a psychology honors thesis on strategies for communicating science.
He was selected as a Rhodes Scholarship finalist in 2017 and received the Thomas R. Dye Award, Florida State's top annual award for political science undergraduates. Damon also completed the Florida Gubernatorial Fellows Program, a nonpartisan program that immerses students from public and private universities in key areas of state government.
"I've benefited from some really powerful tools at Florida State, including some remarkably encouraging professors and sharp guidance from the Office of National Fellowships," Damon said.
During his collegiate career, Damon immersed himself in experiential learning as an intern at NASA's Marshall Space Flight Center, the Florida Capitol, the United States Senate and the White House. He also spent a summer piloting a 40-passenger tour boat down the Wakulla River, in his hometown of Wakulla.
After graduation, Damon interned again at NASA, this time at its headquarters in Washington, D.C., where he accompanied astronauts in meetings with leaders on Capitol Hill and helped develop a youth outreach program. He also started taking flight lessons and now plans to pursue a private pilot license.
"Gil will make an immediate impact at the place where science and public policy meet," said Craig Filar, associate dean of Undergraduate Studies and director of the Office of National Fellowships. "The wealth of experience he gained at FSU made him a strong fit for the Gates Cambridge program. He will represent the university with integrity, persistence and intelligence at Cambridge as he embodies what is possible for our students when they come to FSU and capitalize on the opportunities available to them."
Damon will begin his studies at Cambridge in September.
The Gates Cambridge Scholarship program was established in October 2000 with a donation of $210 million from the Bill and Melinda Gates Foundation to the University of Cambridge. It is the largest ever single donation to a UK university.
Scholarships are awarded to outstanding applicants from countries outside the UK to pursue a full-time postgraduate degree in any subject available at the University of Cambridge. The selection criteria include outstanding intellectual ability, leadership potential and a commitment to improving the lives of others.