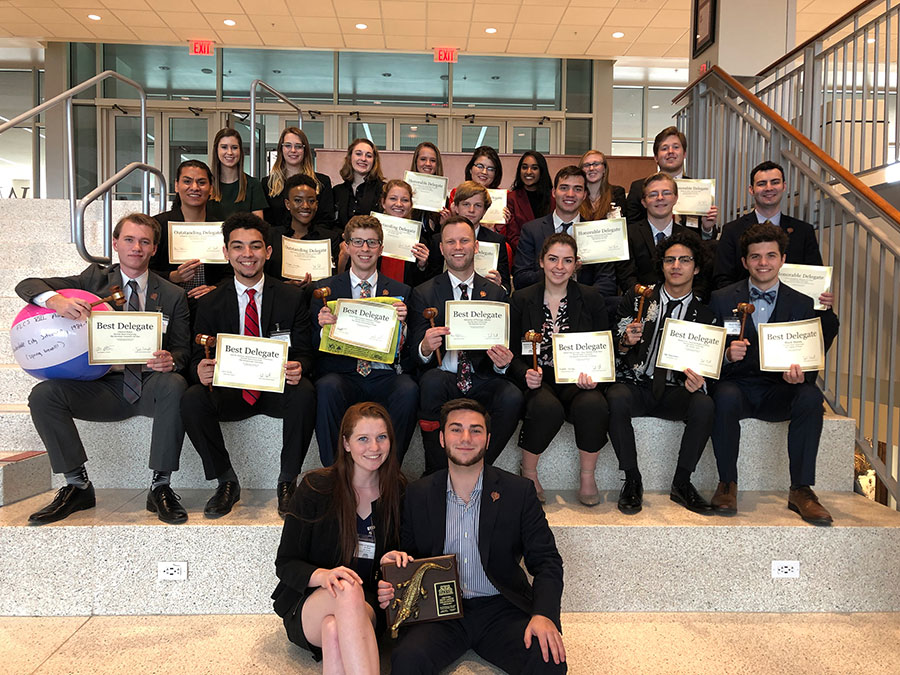 The Florida State University World Affairs Program, a student-run organization that competes in crisis simulations and Model United Nations competitions across the country, is celebrating two major wins as it prepares for another competition this weekend.
The World Affairs Program team is now headed to the University of California Berkeley Model United Nations Conference,  an international debate conference of 50 national and 13 international schools. Last weekend, FSU captured the Best Large Delegation award for the third time in the 2018-2019 academic year at a Model United Nations event at Emory University in Atlanta. Eight of 12 students also won individual awards at this event.
The team also competed in the Florida Crisis Simulation Feb. 16-17, at the University of Florida in Gainesville, winning Best Large Delegation, the highest team award at the event.
"The amount of work and effort that all of our delegates put in is remarkable," said Richard Sommers, program director and international affairs student. "I am so proud of the FSU World Affairs Program, and our relentless dedication to making FSU a top academic institution."
Model United Nations conferences are organized at high schools or universities, and follow rules set by the Model UN Institute. Students typically role-play delegates to the United Nations and simulate UN committees.
Delegates conduct research before conferences and formulate their positions for debate. They're expected to reflect the actual positions of the member they represent.
At the end of most conferences, the best delegates are recognized. The Model UN also ranks schools based on their performance.
FSU's team within the College of Social Sciences and Public Policy ranked No. 14 last year among all North American schools and No. 12 in the world division.
Sommers said increased financial support over the past year from the college, alumni and donors dramatically improved the program and helped students perform more effectively.
During FSU's Great Give fundraiser in March 2018, the World Affairs Program exceeded its goal, allowing for expanded travel to compete at more conferences. The increased funding has allowed the team to travel to prestigious West Coast conferences, including an upcoming meeting in San Francisco.
In order to form the best teams, the program holds tryouts for each competition.
The World Affairs Program was established at FSU in 1986. Participants hone their skills in research, public speaking, debating and writing, as well as critical thinking, teamwork and leadership.
In addition, students learn about the global community and they gain personal, social and political skills.
Florida Crisis Simulation award winners (Gainesville)
Best Delegates:
Kathryn Vigrass
Jake Mason
Scott Williams
Shelby Fleshood
Alain Acanda
Sebastian Rivera
Chris Duggan
Outstanding Delegates:
Roberto Flores
Alisson Sealy
Lucy Walsh
Allie Odishelidze
Matthew Putnam
Honorable Delegates:
Holden Bradley
Conner Kabrich
Noelle Du Bois
Mitchell Nuland
Verbal:
Julianne Maria
Melissa Pregasen
Shannon McWaters
Nolan Rudolph

Model UN award winners (Atlanta)
Best Delegates:
Grace Michaels
Scott Williams
Outstanding Delegates:
Julianne Maria
Shelby Fleshood
Jake Mason
Lucy Walsh
Honorable Delegates:
Kathryn Vigrass
Sebastian Rivera