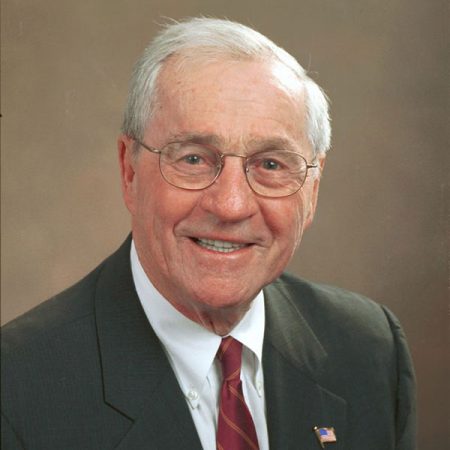 The Florida State University community expressed sadness Friday at the passing of civic leader George Langford and deep appreciation for his untiring leadership and loyal support of FSU for more than five decades.
"George earned admiration and respect not only for the countless ways he served FSU but also for his integrity and great love for this institution," said President John Thrasher. "He has passed on that love to his family, and they also are very active with Florida State. We could not be more grateful for their friendship."
Calling Langford a pillar of the community, FSU Vice President for University Advancement Tom Jennings said, "It is difficult to overstate his positive influence on so many aspects of FSU's athletic and academic programs."
Langford earned nearly every honor a volunteer can receive from FSU, including the Alumni Association's highest honor, the Bernard Sliger Award, and the Circle of Gold. Additionally, he received the Athletics Hall of Fame Moore-Stone Award, an Honorary Doctor of Letters and the FSU faculty's Torch Award. He was a founding member of the Seminole Boosters Board of Directors in the 1970s, and one of only two people given lifetime membership on the FSU Foundation Board of Trustees.
He was a member of the Seminole Boosters' highest giving level, the Micco Society, and he created the George R. Langford Eminent Scholars Chair in Classics (Arts & Sciences), along with many other contributions through the years.
Langford served three terms as chairman of the Seminole Boosters Board, and he is credited with resurrecting the Boosters organization and the Seminole Athletics Program.
Following a three-year stretch in the mid-1970s when FSU won a total of three football games and found its athletics program heavily in debt, a search was launched to find a dynamic leader who could turn fundraising around. Without exception, Langford was recommended by alumni and friends of the university.
"The decision of the Boosters to recruit George Langford and his decision to accept the opportunity to lead our organization was one of the most important events that has occurred in our 64-year history," said Seminole Boosters President Andy Miller. "It was indeed a defining moment."
Miller was hired by Langford and a group of mostly Tallahassee board members to serve as executive director of the Boosters in 1975.
"Coach Bowden was hired in 1976 and challenged by George to resurrect the football program, promising Bobby that he would take care of the money," Miller said. "George mentored me and taught me about business, fundraising and life. I owe him so much for those valuable lessons and inspiring me and a legion of volunteers, donors and future leaders."
Those leaders included Langford's son, Lawton, who became a dynamic Chairman of the Seminole Boosters.
To recognize Langford's many achievements along with his giving spirit, the Boosters board created the George Langford Award to recognize leadership and lifetime achievement serving the best interests of FSU.
And in 2000, the Seminole Boosters named an esplanade outside Doak Campbell Stadium where Seminole football fans and their families gather and celebrate the "George R. Langford Green."
In addition to his leadership on the Boosters board, Langford served six terms as the FSU Foundation Chair and co-chaired the university's first capital campaign. He also helped found the Springtime Tallahassee festival and served with distinction on virtually every board in the capital city.
The connection Langford likely will be most remembered and identified with, Miller said, is with the Seminole Boosters.
"No one could leave a more enduring legacy," he said. "He embodied such courageous spirit and selfless generosity."
Jennings cited those same qualities and said Langford was very helpful to him when he first arrived at FSU.
"He was driven to succeed and, more important, he was a gentleman who treated people with respect and kindness," Jennings said. "We will miss him."