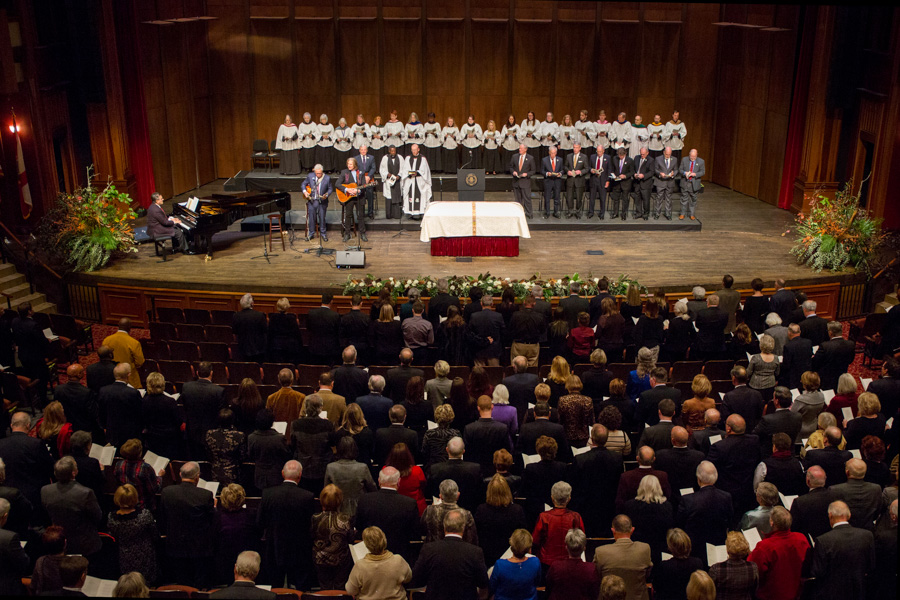 TALLAHASSEE, Fla. — Hundreds of mourners gathered at Florida State University's Ruby Diamond Concert Hall Friday to say farewell to the university's 13th president, Thomas Kent "T.K." Wetherell.
Wetherell passed away Dec.16 at the age of 72.
FSU President John Thrasher paid tribute to his friend and the former university president with tales of Wetherell's political savvy and love for his alma mater.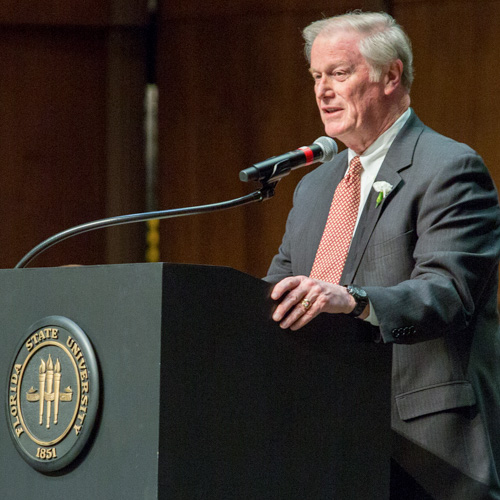 "T.K.'s lifelong passion for higher education was just another way he served his state — because he knew it was a path to a better future for so many Floridians," Thrasher said. "That is T.K.'s legacy — the lives of countless Floridians who were made better because of the battles he fought, the legislation he passed, the students he taught and mentored, and the institutions he led."
Wetherell, a former state lawmaker who served as Speaker of the House, was the first alumnus of the university to become its president. Under his leadership, Florida State increased the academic quality of its students, the number of doctoral degrees awarded and the amount of research dollars it received, while experiencing a boom in campus construction.
The funeral service drew family, friends and colleagues from FSU, as well as past and present state and local officials.
Jim Smith, a former chair of the FSU Board of Trustees, joked that the former FSU president would have wondered why those gathered didn't have something better to do with their time.
"This is our opportunity to thank you and praise you for all that you have done for education and for the state," Smith said.
The Rev. David C. Killeen, rector at St. John's Episcopal Church in Tallahassee, and Joe H. Bakker, a deacon at St. John's, presided over the service. The service also included music from the St. John's choir, Quincy native and country singer Billy Dean, Tallahassee pianist Marvin Goldstein and California-based guitarist Jeff Gargiulo.
Wetherell, Goldstein and Gargiulo all contributed to Dean's first gospel album, which was released earlier this year. One of the songs on the album, "Why Me Lord," features Wetherell in a speaking role. The song closed out a photo montage shown at the beginning of the service.
It was a fitting tribute to the former university president, who spent his entire career in higher education. He served in a number of positions at Daytona State College, including provost and dean of instruction. He was also an associate professor of education at Bethune-Cookman College and served as president of Tallahassee Community College from 1995-2001.
A Daytona Beach native, Wetherell attended FSU on a football scholarship, playing on the 1963-1967 football teams.
As president, he advocated for a closer relationship with the Seminole Tribe of Florida, which led to the creation of a Seminole history course and began the tradition of tribe members participating in every commencement ceremony. In 2005, the tribe approved a historic resolution supporting the university's use of the Seminole name and honored Wetherell with an invitation to the Big Cypress Reservation.
Bill Smith, president of Capital City Bank and previous chair of the FSU Foundation Board of Trustees, lauded Wetherell for preserving the university's use of the Seminole name.
More importantly, Smith praised Wetherell as a friend and noted that he was an incredibly happy and joyful individual.
"T.K. made each of us feel like we were his best friend," he said. "T.K. brought joy to our lives. I love and miss my friend T.K."