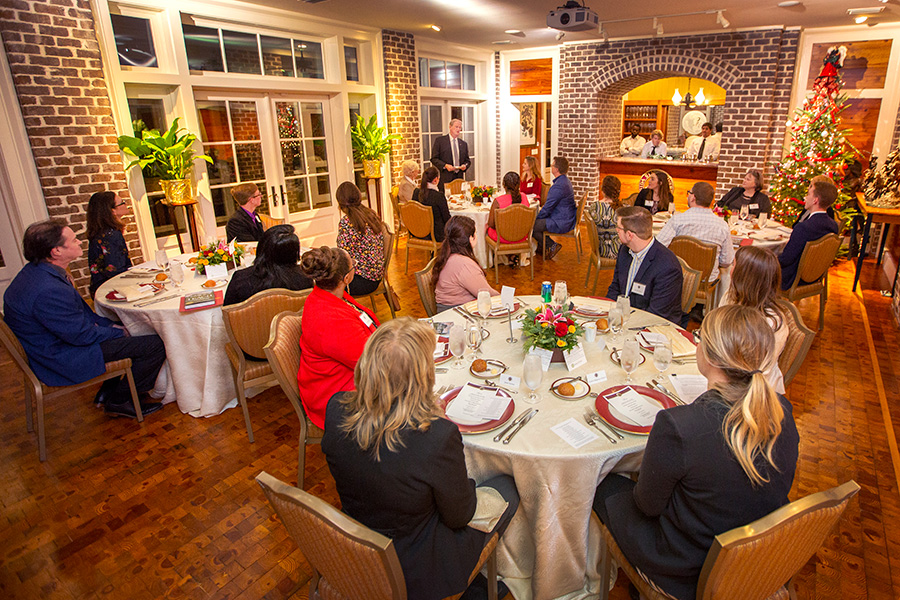 Ten Florida State University faculty members were honored by the Transformation Through Teaching program for their actions to foster meaning and purpose among their students.
The award recipients were recognized Thursday, Nov. 29, with a dinner at the President's house, where students and faculty met to reflect and honor their achievements.
Faculty members were nominated by students and selected by FSU's Spiritual Life Project and the Center for the Advancement of Teaching based upon students' meaningful stories.
The Spiritual Life Project's mission is to encourage students' self-understanding, search for purpose and diverse perspectives. Their goal is to promote students' personal and intellectual development to create global citizens with a drive to make a difference in the world.
Faculty honored with the Transformation Through Teaching award have an important impact in the lives of their students, push them to develop personally and academically and encourage students to further themselves holistically to achieve their goals.
The 2018 Transformation Through Teaching Award winners are:
Doron Bauer, assistant professor in the College of Fine Arts, was nominated by graduate art history student Lindsay Schiller for encouraging students to develop their skills and find something they are passionate about.
"Dr. Bauer pushed me to become a better writer; he constantly ensured that students felt verbally supported in their efforts and that their voices were valued when they ventured to participate in class. Dr. Bauer truly understands that cultivating strong student relationships can endear them to their field of study, their university or their future research." — Lindsay Schiller
Sindy Chapa, associate professor in the College of Communication and Information, was nominated by integrated marketing communication student Victoria Patton for her efforts to promote confidence and self-discovery in her students.
"Dr. Chapa always encourages students to be proud of who they are and where they come from, and she is always helping students discover where they want to go. Dr. Chapa shows me every day that if you are true to yourself and work hard, you will succeed. She shines in everything she does because she's confident and proud of who she is. She's able to acknowledge her mistakes without apologizing, and I admire her and learn from her every day." — Victoria Patton
Russell Clayton, assistant professor in the College of Communication and Information, was nominated by senior media communication studies student Claire Georgiadis for teaching students about the value of research and research skills.
"Through Dr. Clayton, I have discovered the importance of being a curious thinker. He has taught me to search for answers by continually asking the question, 'why?' Understanding how to approach research in the realm of communications is an important part of my identity because through Dr. Clayton's teachings, I have been able to use my passion for communication to help people with research. Dr. Clayton has developed me into an effective researcher, and one who can use communications research as a means to help others." — Claire Georgiadis
Paul Conway, assistant professor of psychology, was nominated by senior psychology student Jacob Goldstein-Greenwood for giving his time to mentor students in research and in life.
"Dr. Conway is helping me develop the skills that will allow me to have a fulfilling future career, but he also demonstrates in every interaction that he cares about my experiences here and now. He encourages me to develop research projects of my own, and he's always willing to sacrifice hours of his time to give me feedback on my writing, to bat ideas back and forth or just to talk about how to maintain work/life balance in academia." — Jacob Goldstein-Greenwood
Carol Edwards, Title IV coordinator and assistant professor in the College of Social Work, was nominated by senior social work major Victoria Gudbranson for her efforts to inspire students to find their purpose and take action to create social change.
"Mrs. Edwards made me realize through her SOW4620 diversity class, and through personal discussion, that the leadership and advocacy route in social work was ideal for me and that I had a sincere passion for advocacy. She has inspired each one of her students to pursue our unique passions and never judges our unique callings. She also has thoroughly encouraged each one of her students to strive for change and promote legislative action." — Victoria Gudbranson 
Kirk Evanson, assistant professor of nutrition, food and exercise science in the College of Human Sciences, was nominated by graduate exercise psychology student Jacob Goldsmith for his positivity and support of students' academic and personal well-being.
"Dr. Evanson has truly changed my life for the better. I have grown more than I could have ever imagined. I am confident in my skills and knowledge and feel prepared to move onto a challenging post-doctoral position because of the tremendous mentorship provided by Dr. Evanson. I feel I have become a better teacher, friend and person simply by interacting with Dr. Evanson on a daily basis." — Jacob Goldsmith 
Melina Myers, instructor in the department of computer science, was nominated by junior computer criminology major Jessica Mitchell for encouraging students to find their passion and offering valuable advice.
"When I took Melina Myer's class, her teaching and guidance at office hours and her taking time to get to know me helped me find the love I have for my major and sparked a light in me. I know she is there with advice whether life or computer science related. She has helped me build my confidence in my own skills, and I know that I was taught by one of the best FSU has to offer." — Jessica Mitchell 
Toby Park, associate professor in the College of Education, was nominated by graduate students Marshall Anthony Jr., Jamaal Harrison and their classmates for his exceptional teaching and mentorship skills.
"Dr. Park is truly a professor that I look up to professionally and personally, and he should be honored each and every day for the work that he does in and out of the classroom. Aside from quantitative skills, Dr. Park taught me to be confident as a young Ph.D. candidate, while still being humble and thirsty to learn more about things outside of academics." — Jamaal Harrison 
David Plack, director of athletic bands and music education faculty member, was nominated by junior music education major Eric Meincke for his attention and care for students inside and outside the classroom.
"Dr. Plack is an incredibly supportive teacher and educator. Outside of the classroom, Dr. Plack has taught me the importance of recognizing the individuality and talent of each student, and to never underestimate how far kindness and individualized attention can go. Dr. Plack is sure to care about the well-being, musical and non-musical potential of each and every one of his students." — Eric Meincke 
Juliann Woods, associate dean and professor of communication science and disorders, was nominated by graduate speech language pathology student Samantha Shearer for her attention to students and commitment to service.
"Dr. Woods truly cares about all of her students and makes it her mission to see that they are getting help if they are struggling. She taught me how to systematically review research, and how to be a better citizen in the community. She is passionate about students setting goals for themselves and strives to help students accomplish them."
— Samantha Shearer
For more information about Transformation Through Teaching, visit slp.fsu.edu