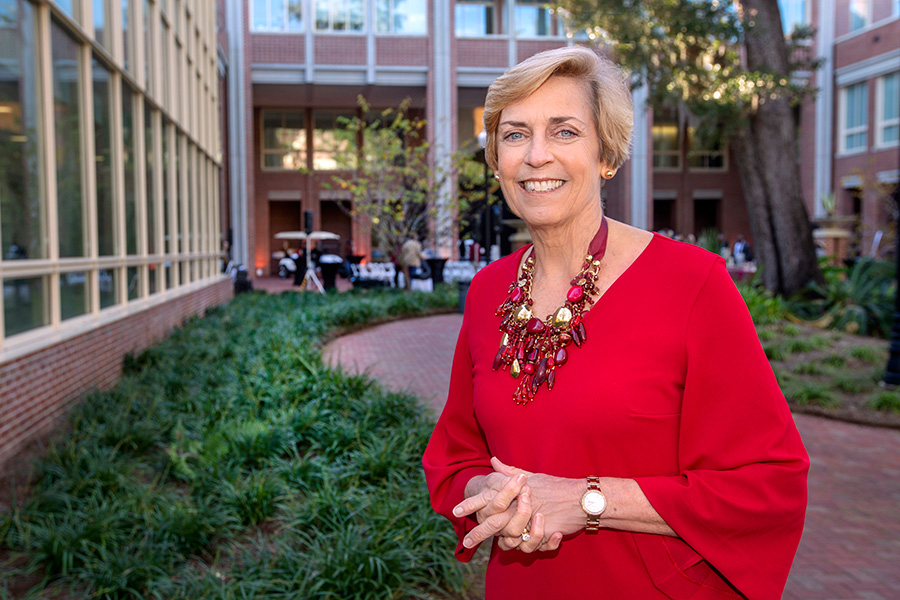 The place where thousands of Florida State University students come to heal, recover and prosper now has a new name.
FSU President John Thrasher and members from the Florida State community gathered for a dedication ceremony to formally establish The Mary B. Coburn Health and Wellness Center, Friday, Nov. 16.
Thrasher opened the event with welcoming remarks.
"I'm not sure we would even be here in front of this building without the vision, passion and tenacity of Mary Coburn," Thrasher said. "Mary really led the charge for a full-service center devoted to the overall health and well-being of students. This center reflects her focus on the 'whole' student."
Coburn, a three-time alumna, earned her bachelor's in sociology, her master's in counseling and human systems and a doctorate in higher education from Florida State University.
In 2003, she was appointed FSU's vice president for Student Affairs, where she led a division of more than 1,000 employees. The division comprises several departments including Campus Recreation and University Health Services.
"For Mary this wasn't a job, it was more of a calling," Thrasher said. "She took care of generations of college students as if they were her own and devoted her career, spanning 40 years, to their success."
FSU Board of Trustees Chair Ed Burr echoed those sentiments, recalling Coburn's assistance when his son was a freshman at Florida State.
"I had lost his mother a few months prior and I was sort of the helicopter parent," Burr said. "But after a succinct series of conversations she helped me determine how to let my son go. So, she's not only helped tens of thousands of students, she's also helped thousands of fathers and mothers be better for their kids as well."
Coburn's successor, Vice President for Student Affairs Amy Hecht, also spoke at the ceremony. The request for the naming was submitted by Hecht. Thrasher presented the recommendation to the FSU Board of Trustees at its meeting in June, and it was unanimously approved.
"Mary's commitment to overall wellness continues to be a lasting legacy," Hecht said. "I'm grateful for everything she has done that I have the opportunity to build upon. She's done incredible work and students continue to benefit from her leadership and her vision."
The 170,000-square-foot multipurpose facility opened in August 2012. It includes a variety of health clinics, classrooms, research laboratories and a fitness center.
"Who would've thought when I stepped on this campus as a 17-year old, when the 'skinny one on the end' was my only claim to fame, that I'd be standing here today," Coburn said. "Not even in my wildest dreams could I have imagined something this incredible."
Coburn, calling the honor a "gift," went on to thank her family and former colleagues who came to celebrate the occasion, as well as several people who made her vision of a health and wellness center a reality.
She said the center, which receives about 60,000 visits annually, is a place where students are nurtured, supported and challenged to become the best they can be.
"When student affairs professionals talk about our role in promoting student learning and the development of the whole person, their role is not always understood," Coburn said. "This building, however, is the perfect symbol of those goals."
Even the walls of the Mary B. Coburn Health and Wellness Center remind visitors about the importance of complete wellness — mentally, physically and emotionally — with signage quoting classical Greek philosopher Plato that reads, "the part can never be well unless the whole is well."
"As you can see, we're here for the whole student —hoping that they can grow and develop in every way possible so that they leave Florida State University better because they've been here and go out and represent FSU well in all that they do," she said.