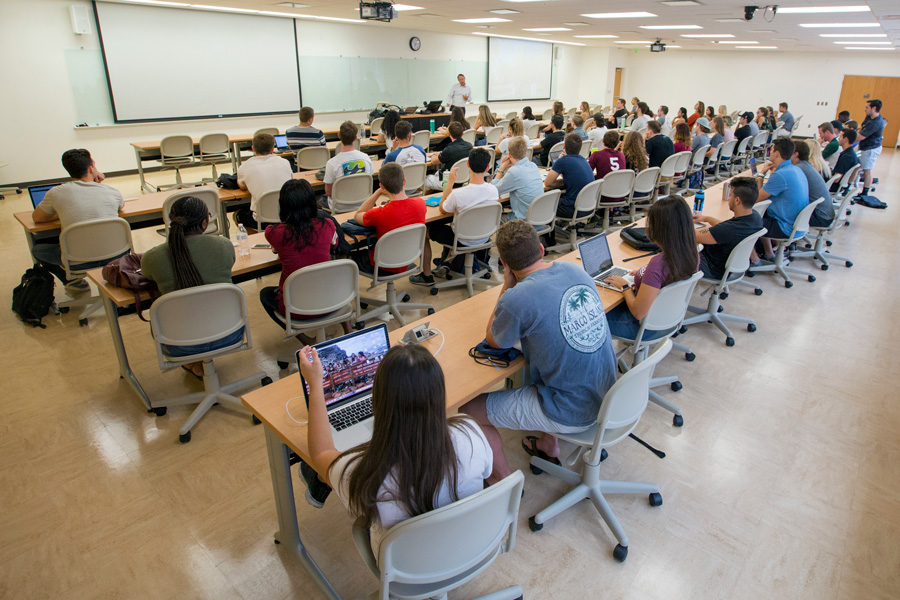 There's been a positive cultural shift among freshman students at Florida State University thanks to the university's "Take 15" initiative launched in 2015.
"Take 15" is an ongoing university-wide campaign designed to encourage students to take a full academic course load of 15 credit hours or more each semester. In 2017, for the first time in school history, there were more students in the fall freshman class enrolled in 15 credit hours than students who took 12 hours.
Administrators are confident this trend will continue as FSU prepares for a new fall semester.
"Our Take 15 initiative is a great example of the data-based insights we use to help our students reach even greater levels of achievement," said Sally McRorie, provost and executive vice president for Academic Affairs. "Every year FSU finds new ways to help our students succeed while in school and after graduation. Take 15 is an exemplar of how that focus has helped us become a state and national leader in student retention and graduation rates."
The Take 15 initiative was launched after Rick Burnette, associate vice president for Academic Affairs, noticed a trend that the number of credit hours taken by students was declining.
He approached McRorie about his concerns, and a workgroup was formed to assess the issue. After research and historical analysis, Burnette and his team found that if students took 12 hours during their initial semester and didn't immediately carry 15 credits the following spring, their chances of ever taking 15 hours were very slim.
"Twelve hours is preparation for twelve hours," Burnette said. "However, according to our historical data, students who took 15 hours were less likely to drop out, they received better grades and graduated on time, if not early."
The trend held true across a number of variables, including socioeconomic status, in-state or out-of-state students, and race and ethnic backgrounds.
The campaign targets several groups, including parents, prospective students, current students, FSU faculty and academic advisers about the benefits of taking 15 credit hours or more. The message has been communicated during high school visits by admissions officers, at FSU Preview and freshman orientation sessions and it has been promoted in parent newsletters and the student newspaper. Most importantly, taking 15 credits is an expectation that is reinforced by academic advisers, who help students plan their schedules.
"We had to provide this juxtaposition of 'myth vs. reality,'" Burnette said. "The myth was taking 12 hours gives you a nice transition into college from high school, which makes sense on the surface, but the data suggest otherwise.
The reality is that students who take 12 hours are more likely to drop out, get lower grades and take longer to get their degree. Another myth is that students who take more classes will put their GPAs at risk and, consequently, the retention of their Bright Futures and other scholarships.
"Research shows that students who take a greater load perform better," Burnette said. "You're actually putting scholarships at risk by taking 12 hours because you're less engaged academically."
Although federal and state guidelines consider 12 hours a full course load, taking 12 hours each fall and spring semester will not put students in position to graduate in four years.
According to Burnette's research, taking 15 credit hours helps students graduate in a more timely way, and that has big rewards. A student who graduates on time earns about $147,000 more over a lifetime compared to a similarly matched student who takes an extra year to graduate.
Burnette said after the initial launch of the Take 15 campaign, he was the most nervous person on campus when it came time for semester grades to post.
"My fear was that we'd get the grades and find that we missed something and hurt someone," he said. "The results weren't good. They were great."
In the Fall 2016 semester, there was a 131 percent increase in the number of freshman students who took 15 or more hours. First-time-in-college (FTIC) students who took a 12-credit hour load averaged a 3.01 GPA. Students with a 15-credit hour load averaged a 3.36 GPA. For every additional hour from nine to 19, the average GPA rose by one-tenth of a point.
Burnette also found that students who were in leadership roles in many of FSU's recognized student organizations were carrying at least 15 credit hours.
FSU's Take 15 campaign aligns with the goals of the State University System Board of Governors and state leaders who are pushing to have Florida students graduate in four years. The university's four-year graduation rate is 68.4 percent, the highest of any public university in Florida and the highest ever reported by a state university in Florida.
In June, Take 15 received a 2018 Prudential Productivity Award, which recognizes and rewards state employees who find ways to improve services, increase efficiency and save taxpayers money. The initiative is projected to save FSU students and Florida taxpayers nearly $86 million in direct savings and increases in lifetime earnings.