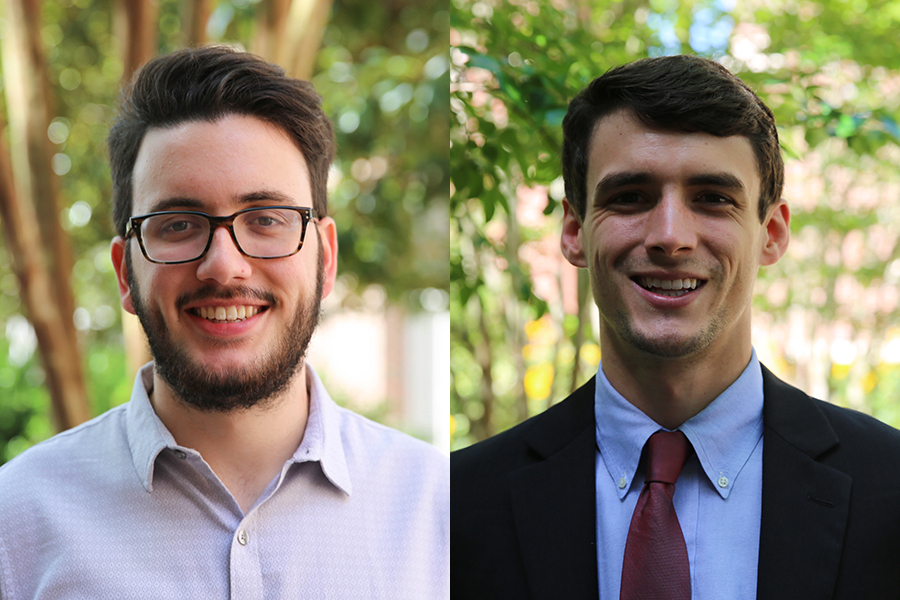 Two Florida State University graduating seniors will study at the University of Oxford this fall thanks to the Frost Scholarship Programme.
Joe Pelt and Matthew Martinez are among 10 recipients of scholarships through the Frost Scholarship Programme, which funds current State University System of Florida and University of Miami students for one-year, full-time master's courses in science, technology, engineering and mathematics (STEM) at the University of Oxford in England.
The program, which is supported by the Phillip and Patricia Frost Philanthropic Foundation, covers 100 percent of university and college fees and provides a grant for living costs. In addition, Frost scholars will take part in an exclusive week-long orientation program at one of Oxford's oldest colleges, Exeter College, to introduce them to academic life at Oxford just before the start of their course.
Pelt, 22, graduated in May with a bachelor's degree in biological science. The native of Perry, Florida, will pursue a master's degree in neuroscience at Oxford.
"I look forward to further developing my scientific critical thinking skills while studying neurological disease," Pelt said. "My experience at Oxford will propel me to become a more impactful physician scientist, maximizing my future potential to make meaningful contributions to the medical field."
After Oxford, Pelt plans to attend medical school.
"As a physician, I aspire to develop treatments through medical discovery that will allow physicians to more effectively combat disease," Pelt said. "I also hope to help increase access to health care for individuals and communities lacking access to adequate care."
Martinez, 21, is majoring in biological science with minors in chemistry and Italian. The native of East Setauket, New York, will earn his bachelor's degree from Florida State in August.
"To be honest, I am still surprised that I received this award knowing how great some of the other applicants were," Martinez said. "I am very honored to have received this. It's hard to believe that I'm getting the opportunity to study at Oxford."
He will study pharmacology during his year at Oxford.
"I love the learning process, so during the year I hope to join a structural biology research laboratory that focuses on disease for an added challenge," Martinez said. "Pharmacology will be very useful in approaching this type of research."
In Fall 2019, Martinez will begin a doctoral program in biochemistry at the University of Rochester School of Medicine and Dentistry.
"After graduate school, I would like to become a principal investigator of a lab and study the structure and biochemical mechanisms of protein complexes that are either affected in disease, such as cancer, or can be exploited by drugs for new antibiotic development," Martinez said.
For more information on national scholarships, contact the Office of National Fellowships.