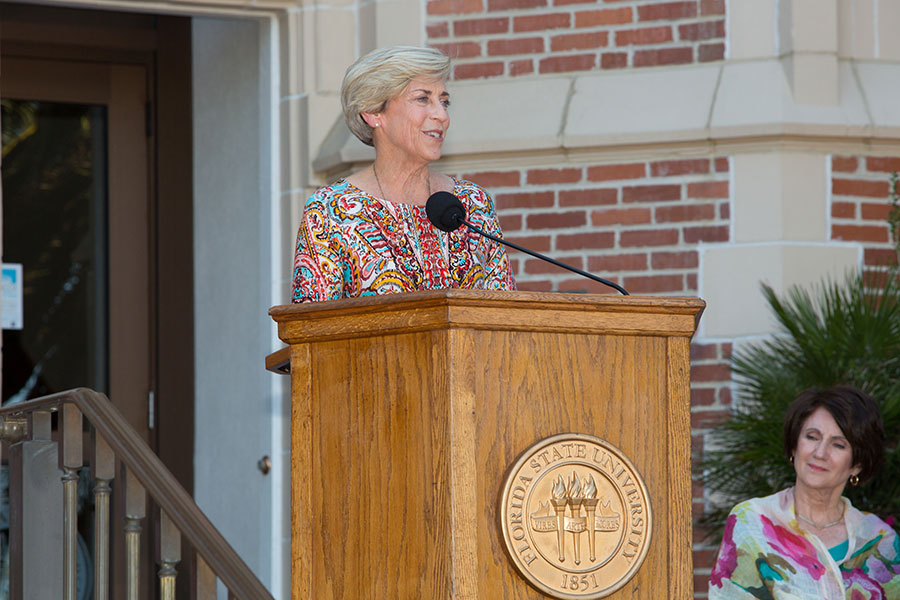 The Florida State University Health and Wellness Center has a new name after the Board of Trustees unanimously voted to name the facility after former Vice President for Student Affairs Mary B. Coburn.
FSU President John Thrasher presented the recommendation to the board at its meeting Friday, June 8.
"Mary was one of the rocks that three consecutive university presidencies were built on, and she was certainly one of mine," Thrasher said. "The Health and Wellness Center was one of her crowning achievements. As with everything she did, it put students first and reflected her constant commitment to their welfare."
The 170,000-square-foot multipurpose facility opened in August 2012. It includes classrooms, research laboratories, a nursing triage clinic, a priority clinic, a fitness center and a healing garden for personal reflection.
Coburn served as vice president for Student Affairs from 2003 until she retired in 2017. She led more than 1,000 employees in the Division of Student Affairs, which comprises several departments including Campus Recreation and the Department of University Health Services.
"It's an unbelievable honor," Coburn said as she thanked the staff, faculty and students she worked with during her time at FSU.
"I worked with three dynamic presidents who really believed student success only comes through learning within and beyond the classroom, so for that I am terribly indebted for a wonderful career and this amazing honor," she said. "Thank you."
Coburn, a three-time graduate of FSU, was responsible for starting the university-wide Healthy Campus initiative, which focused on six strategic health areas including alcohol, mental health and power-based personal violence.
Under her leadership the Health Promotions Office of University Health Services increased its services and became the Center for Health Advocacy and Wellness (CHAW). The CHAW staff provides educational programming, training and services connected to FSU's strategic health areas.
CHAW staff also works with campus partners to coordinate other university-wide prevention initiatives such as kNOwMORE, Green Dot Bystander Intervention and the Noles C.A.R.E. suicide prevention program.
The request for the naming of the Mary B. Coburn Health and Wellness Center was submitted by FSU's Vice President for Student Affairs Amy Hecht, who succeeded Coburn in the role.