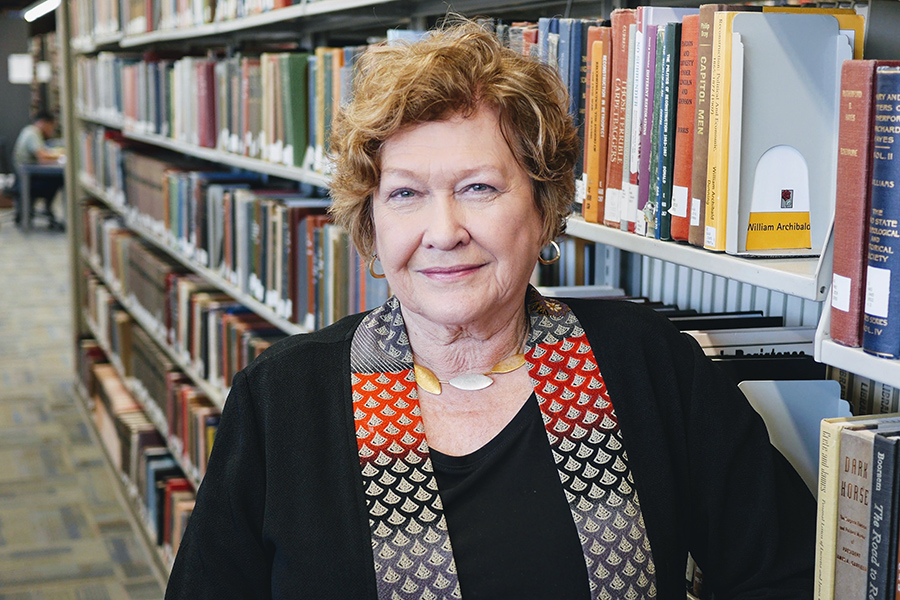 Nearly a half-century after landing her first job at Strozier Library, Florida State University Dean of Libraries Julia Zimmerman will finish her career right where she started.
Zimmerman, who graduated with a bachelor's degree in English from FSU in 1970, will retire from Florida State in June after more than a decade of leading University Libraries to a new level of excellence.
On Wednesday, Florida State celebrated Zimmerman's contributions during a reception at the Heritage Museum, and President John Thrasher recognized her efforts by naming a first-floor classroom at Strozier Library "The Julia Zimmerman Instruction Room."
"You gave your heart and soul to this university, and we are better for it," Thrasher said. "Although you are retiring, you will always be a part of the FSU family, and your legacy — your love of libraries — will live on here."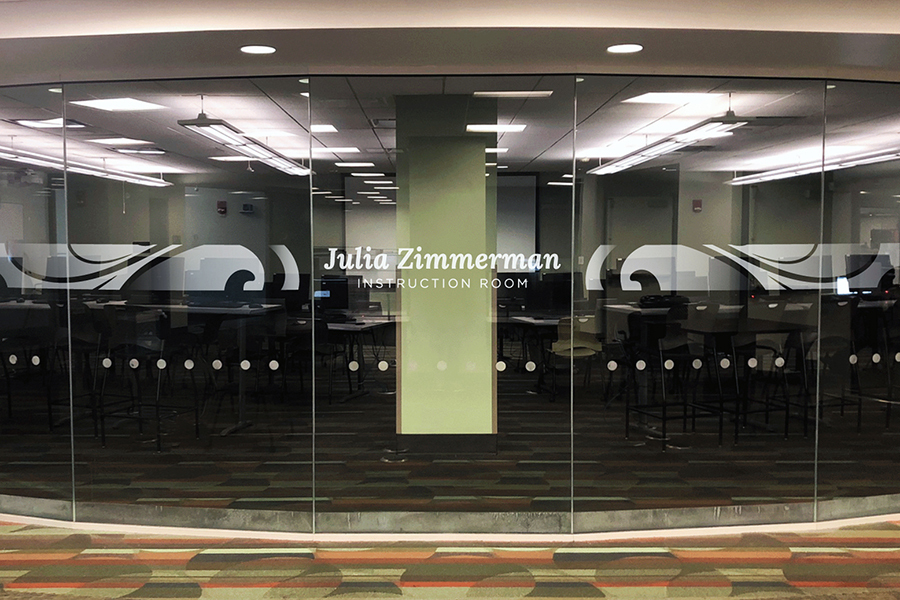 Although her career is ending where it started, it almost didn't work out that way. In fact, taking a job at Strozier after graduating from college wasn't Zimmerman's first choice, but it set her on a very successful career path in library science.
"I needed a job, any job, and was offered a clerical position in cataloging at Strozier Library," Zimmerman said. "I'd always been a reader and library user so working in a library appealed to me, especially on the campus where I felt so at home."
She stuck with it for a few years before leaving Tallahassee in 1974 for new opportunities. It was at the Law Library at Wake Forest University where Zimmerman really fell in love with library work and decided it would be her career. She went on to earn a master's degree in library science at Emory University, graduating in 1976.
After a few years as a serials cataloguer at Penn State, Zimmerman moved on to Georgia Tech in 1979, where she served in several capacities, including associate director for operations, for two decades. There, she participated in groundbreaking work, helping to develop an integrated library system that was later used by libraries internationally, and implement the nation's first system that allowed patrons direct access to online indexes for research.
In 1999, Ohio University lured Zimmerman away from Georgia Tech when it offered her a position as Dean of Libraries.
"The job was wonderful — everything I could hope for," Zimmerman said. "I loved the beautiful, hilly, rural environment, the historic campus, so many great colleagues within the university and the library, and especially, as dean, the responsibility for setting the course for library services. I could have stayed there forever."
Then, one day, a headhunter called to ask if she was interested in applying for the library director position at Florida State. Zimmerman returned to Tallahassee in January 2007.
"Honestly, I can't imagine any other job that would have enticed me to leave Ohio," Zimmerman said. "The opportunity to come home to FSU was thrilling."
JULIA ZIMMERMAN'S FSU LEGACY
Unmatched customer service and building upgrades are just part of what FSU Libraries has accomplished during Julia Zimmerman's 11-year tenure as dean. Other achievements include:
• Implementing LEDS (Library Express Delivery Service), a popular book/article delivery service for FSU faculty and graduate students.
• Leading a statewide project to create UBorrow, a fast, unmediated book-borrowing system for Florida's public universities and colleges.
• Adopting the Florida Book Awards, giving one of the nation's premier book awards programs a permanent home with FSU Libraries.
• Helping renovate, create exhibits and raise substantial funds for the Heritage Museum in Dodd Hall, which FSU Libraries now manages.
• Establishing a nationally recognized digital scholarship program in the libraries, leveraging new technologies to assist researchers in exploring their fields in new ways.
• Implementing Islandora open-source software as the basis for the FSU Digital Library and FSU's "DigiNole" institutional repository, making FSU a leader in the international Islandora movement.
• Acquiring rare and unique materials including the Grove Press collection, the Emmett Till collection, a collection of William Burroughs' manuscripts, distinctive children's book collections, thousands of antique books from the French Revolution and a significant amount of material pertaining to FSU history.
As dean of FSU Libraries, Zimmerman oversees eight different libraries, including Strozier, nearly 140 employees and an annual operating budget of more than $18 million. In addition, collections have grown to more than 3 million volumes, with a website offering access to nearly 900 databases, 86,500 e-journals and more than a million e-books.
The numbers are staggering, but Zimmerman is most proud of the personal service FSU Libraries offers.
"We've created a culture of service that matches any library in the country," Zimmerman said. "Our focus on the user and our research into users' needs has laid the groundwork for exceptional services to the university community."
Under Zimmerman's leadership, use of the library by undergraduates has skyrocketed. More than 95 percent of FSU's students visit Strozier during any given semester, and it's not unusual for 10,000 students to come to the library on a single weekday. Strozier also expanded its hours under Zimmerman and is now open 24 hours a day, five days a week during the fall and spring semesters.
"Our instruction and outreach services have helped us get on students' radar and make them aware of the many ways in which the library can help them be successful academically," she said.
Zimmerman also led renovations of Strozier and Dirac Library, incorporating student-friendly features and an unprecedented array of student-support options, such as tutoring and technology support. She hopes to see more renovations under the next dean's leadership.
"My appetite for facilities improvements is bottomless," Zimmerman said. "I would love to have designed and built a new or vastly renovated library at Florida State University. I still hope it will happen in the future, and I will cheer from the sidelines."
While Zimmerman has plans for traveling, reading and relaxing during the next chapter of her life, she will certainly miss the place that provided the bookends of a long, wonderful career as an academic librarian.
"I'll miss the people I've worked with so closely," Zimmerman said. "I fully expect to stay involved at FSU and maintain my campus friendships, but it will be different. The day-to-day excitement of creating new programs and services, solving problems, being part of a well-oiled machine … that's what I'll miss."