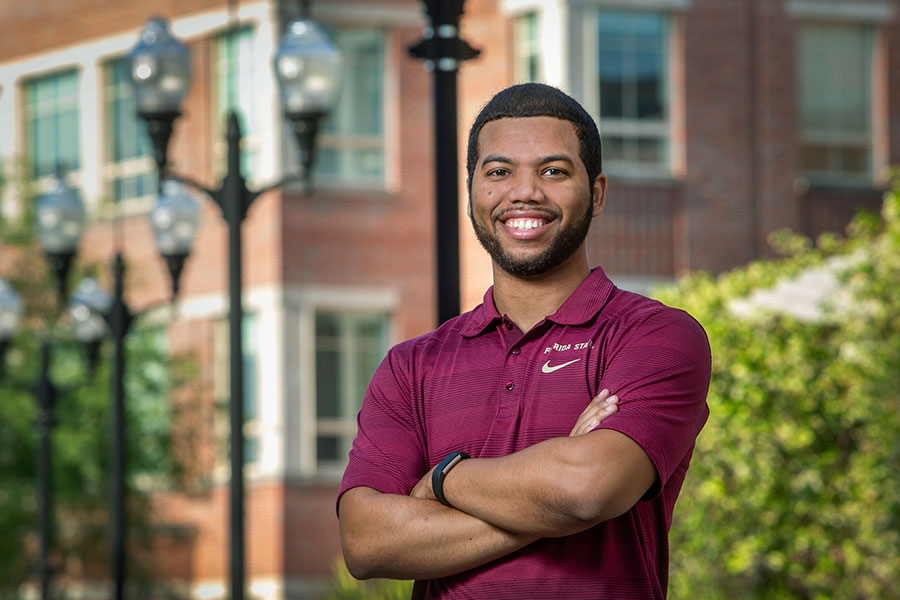 Keanan Joyner, a graduate student in the Florida State University Department of Psychology, is one of 70 students nationwide selected to receive a 2019 Ford Foundation Predoctoral Fellowship.
The highly competitive fellowships are awarded by the National Academies of Sciences, Engineering, and Medicine on behalf of the Ford Foundation and include a $24,000 stipend per year over three years.
Through its fellowship programs, the Ford Foundation seeks to increase the diversity of the nation's college and university faculties by increasing their ethnic and racial diversity. Awards are given to students who have demonstrated superior academic achievement, are committed to a career in teaching and research at the college or university level and who look to use diversity as a resource to enrich the education of all students.
Joyner is the first FSU student to receive the Ford Predoctoral Fellowship in 10 years.
"It's pretty special," Joyner said. "The Ford fellowship is an absolutely great program. I believe in their mission. I see the need to diversify academia however I can. Receiving external funding from such a prestigious program will definitely help me advance my career."
Joyner plans to become an academic clinical scientist. His research focuses on mechanisms of substance-related addictions, specifically examining reward sensitivity networks in the brain and how they relate to substance abuse.
"Having secure funding and knowing I can just concentrate on research did a lot for me mentally," he said. "It made me think even more about the research I do and understanding the mental shifts people make when they know they are going to be taken care of, that the money's going to be there and that they can concentrate on what they need to do. I've been really appreciative of that."
Joyner will conduct his research in the laboratory of his adviser, Professor Chris Patrick.
Patrick likened Joyner to a 20-year-old Bob Dylan, who the New York Times once described as "bursting at the seams with talent."
"That description applies equally as well to Keanan," Patrick said. "He is one of the psychology department's best and brightest, and we are all proud of what he has accomplished to date as a graduate student."
Joyner will attend the annual Ford Fellows Conference as part of his award. He looks forward to networking with and learning from other minorities in academia.
"I am the only black man in my department," Joyner said. "I don't know many other minority academics so I think it's a tremendous opportunity to be a part of that community through the Ford. I look forward to learning from others who are much further in their careers, getting a broader perspective and passing it on to students who come after me."
Joyner was born in Germany and raised in Atlanta. He received his bachelor of arts degree in psychology in 2015 from the University of Memphis.
Joyner had not one, but two grant opportunities he considered before accepting the Ford Fellowship. He credits the work of the Office of Graduate Fellowships and Awards (OGFA) and the assistance of Adrienne Stephenson, assistant dean of FSU's Graduate School and OGFA director, for his success.
"It's amazing to have people like her at FSU," he said."The resources that are here to support grant funding at FSU and particularly to support students looking for grant funding is a big difference compared to other universities."
For more information on the Office of Graduate Fellowships and Awards, visit http://ogfa.fsu.edu/.