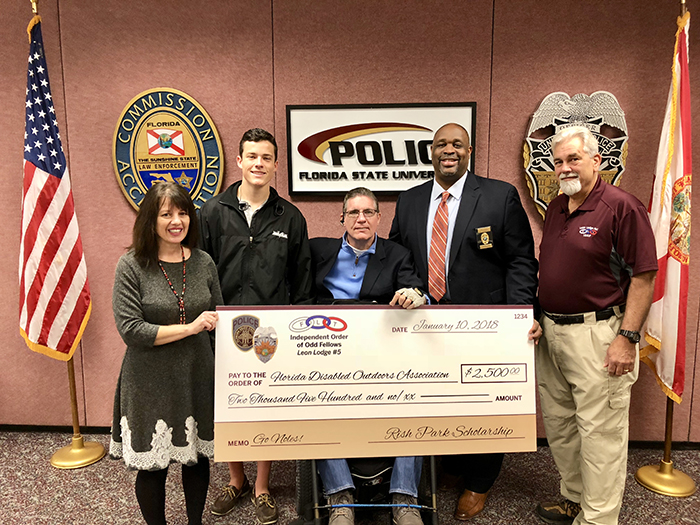 For the sixth consecutive year, the Florida State University Police Department (FSUPD) partnered with the Independent Order of Oddfellows for an outreach effort that provides members of the community with disabilities the gift of nature.
They presented a $2,500 check to the Florida Disabled Outdoor Association during a ceremony Thursday, Jan. 11, at the FSUPD station.
"The Florida State University Police Department is proud to partner with the Oddfellows Lodge of Leon County and the Florida Disabled Outdoor Association to assist our youth with disabilities," said David Perry, chief of FSUPD and assistant vice president for public safety. "We understand and embrace the power of partnerships in our community."
The scholarship money provides an all-expense paid vacation for five FSU students or community members with disabilities and their friends and family members to the William J. Rish Recreational Park (Rish Park).
"The scholarships enable people of ALL abilities the opportunity to enjoy the benefits associated with recreation," said Laurie LoRe-Gussak, executive director of the Florida Disabled Outdoor Association. "Last year, one couple was able to enjoy their honeymoon because of the scholarships, and other families were able to enjoy time together without having to think about accessibility."
Rish is a 100-acre recreational area, located on Cape San Blas near Port St. Joe, and a fabulous getaway location with white sand beaches, covered dunes and shimmering turquoise-blue water on the Gulf of Mexico.
Florida is well known for its rich, diverse and beautiful outdoors and unfortunately, for many persons with disabilities, enjoying these scenic ventures can be challenging. The uniqueness of Rish Park affords individuals with disabilities the chance to enjoy an all-access beach paradise vacation that is safe and completely ADA accessible.
"The Rish Park scholarship program is another example of how FSU embraces diversity, advances inclusion and promotes opportunities for those who face unique challenges," said J.R. Harding, instructional specialist in the Office of the Provost. "This is even more exciting because Florida's beaches should be enjoyed by all. The park's unique accessible infrastructure provides a variety of opportunities for families and individuals to co-recreate and to build life-long memories."
The collaboration for the donation was facilitated by Mike Rodes, a retired FSUPD officer and grand master of the Oddfellows Leon Lodge #5.
"The Independent Order of Oddfellows is pleased to partner with FSUPD in supporting such an outstanding project," Rodes said. "We looked forward to continuing support for this wonderful event. We as Oddfellows believe in supporting our community and worthy causes like this one."