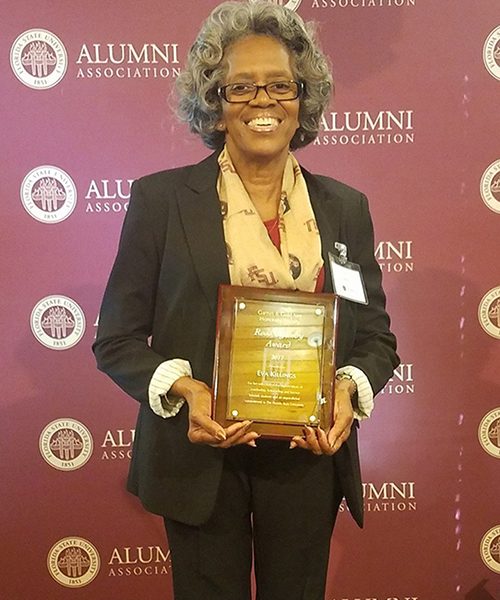 Eva Killings, Florida State University's unofficial ambassador of love and smiles, was named the 2017 recipient of the Ross Oglesby Award during the Alumni Association's annual Homecoming Awards Breakfast on Saturday, Nov. 18.
The award, which originated in 1973, is given each year by Florida State's Garnet and Gold Key Leadership Honorary to a faculty or staff member who has, for 10 years or more, exemplified the highest order of integrity, service and commitment to the university and its students.
"I am so overwhelmed with emotion and joy to receive this award," Killings said. "I want to thank Florida State for everything — they always take care of me."
Killings has worked in dining services at Florida State for more than 40 years. For the past decade, she has been a fixture at Suwannee Dining Hall, greeting faculty, staff, visiting guests and thousands of students with her signature smile, hug and "I love you." Recently, she moved to be an ambassador at 1851, the university's newest dining facility.
Killings was nominated for the award for her positive attitude, hard work and dedication to making a difference on campus and in students' lives. She is well known and beloved by FSU students, who look forward to her hugs and encouraging words. Killings makes students feel comfortable and welcome with her nurturing and motherly attitude. Referring to them as her "babies," she is always there to help students get through tough times.
"I want to make sure the faculty, staff and students at Florida State are happy," Killings said. "If you treat people well, work hard and smile every day, your rewards will come."
Her kindness hasn't gone unnoticed. Killings was the first person featured in the Humans of FSU photo campaign, was a nominee for Tallahassee Democrat's Person of the Year Award and Aramark, FSU's former food services vendor, also recognized her with its coveted Ring of Stars award in 2015.