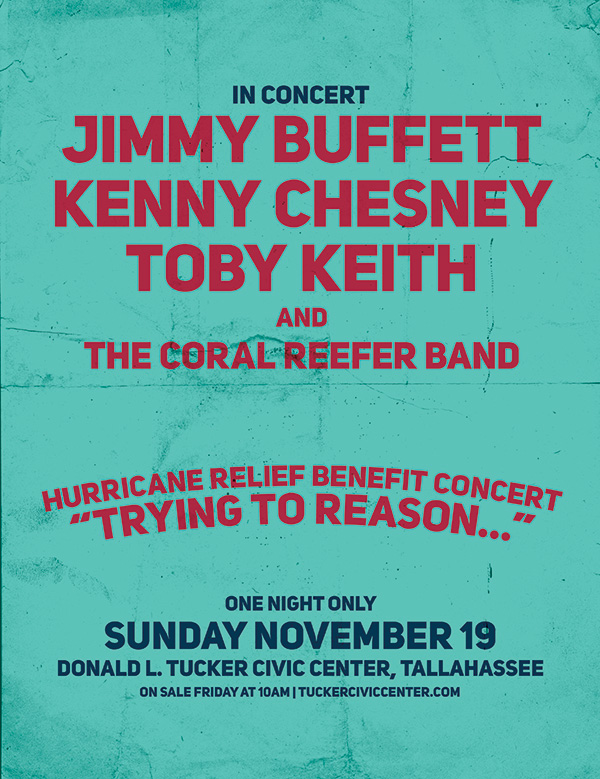 Jimmy Buffett, Kenny Chesney, and Toby Keith together with the Coral Reefer Band will unite to perform at a Florida Hurricane Benefit Concert, "Trying to Reason…".
The benefit concert will take place at 7 p.m. Sunday, Nov. 19, at the Donald L. Tucker Civic Center in Tallahassee, Fla. Tickets to the general public go on sale at 10 a.m. Friday, Oct. 27. Tickets can be purchased online at www.tuckerciviccenter.com, by dialing (850) 583-4871 or at the Donald L. Tucker Civic Center Box Office. All ticket prices are subject to applicable fees. Eight ticket limit per customer.
Proceeds of this benefit concert will help communities in Florida, Puerto Rico and the islands affected by hurricanes in 2017.
"Florida State University was fortunate to be spared from the worst of Hurricane Irma, but we know that was not the case for many of our fellow Floridians," Florida State University President John Thrasher said. "We're happy to be able to help our neighbors by hosting this benefit concert and hopefully offer some relief to those hardest hit by the storm."
"The Donald L. Tucker Civic Center at Florida State University and Spectra by Comcast Spectacor are honored to be a part of this event that supports hurricane relief efforts," says Spectra's Trent Merritt, Regional Vice President. "We are proud to play a part in uniting our community for an unforgettable evening that will provide relief and assistance to those affected by Hurricanes Irma and Maria."