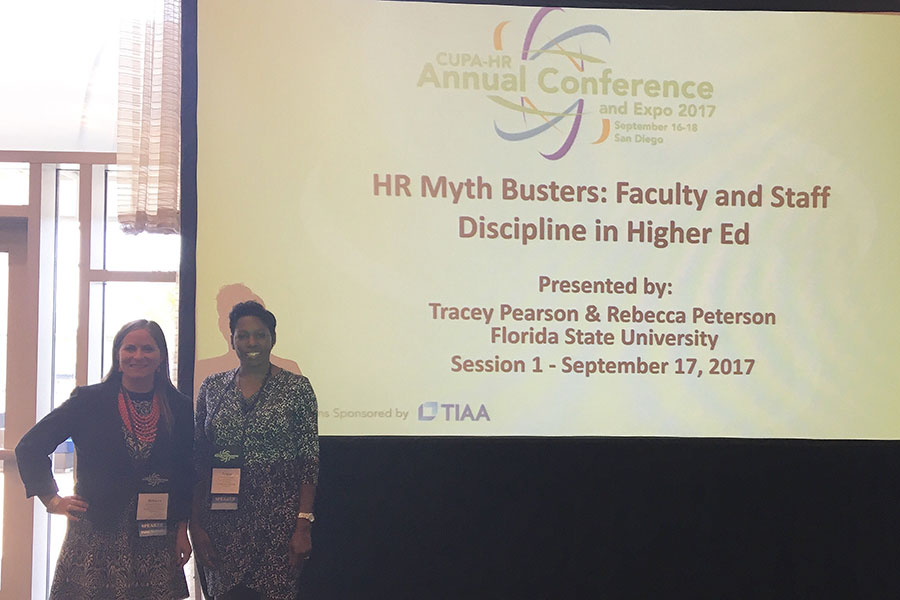 The Florida State University Office of Human Resources took the national stage for the fifth consecutive year at the annual conference of the College and University Professional Association for Human Resources (CUPA-HR) in San Diego in September.
Nearly 1,400 HR managers from colleges and universities around the country connected at the conference to share ideas, build relationships and discuss innovations in human resources practices and challenges facing the industry.
Two leaders of FSU's HR team hosted a dynamic session called "HR Myth Busters: Faculty and Staff Discipline in Higher Ed."
Tracey Pearson, director of Employee and Labor Relations, and Rebecca Peterson, assistant director of Faculty Relations, dispelled common employee discipline myths through a lively exploration of real-life case studies. Their presentation included best practices for conducting discipline to ensure fairness and minimize litigation risk.
FSU employs more than 2,000 faculty members and over 10,000 staff employees, with four campus unions. In addition to discussing how to maintain harmonious relationships with campus unions, they left their 200-person audience with practical takeaways:
The purpose of discipline is to correct employee behavior/actions or performance that have a negative impact on the individual, co-workers, department or the organization.
Develop policies, procedures and training to ensure compliance with all applicable job requirements and work expectations.
Treat employees fairly and follow a consistent disciplinary process.
When in doubt, call in your HR subject matter expert.
"I am proud to see our team immerse themselves in this experience each year – not only as presenters, but as learners," said Renisha Gibbs, associate vice president for Human Resources. "These meaningful professional development opportunities push us to think more strategically and innovatively, allowing us to deliver more effective solutions to our customers."
As the association for HR professionals in higher education, CUPA-HR provides leadership on higher education workplace issues in the U.S. and abroad. They monitor trends, explore emerging workforce issues, conduct research and promote strategic discussions among colleges and universities.
Both Pearson and Peterson are certified by the Florida Public Employer Labor Relations Association (FPELRA) as Florida Public Sector Labor Relations Professionals. They have nearly 20 years of combined service with FSU's HR team.
To learn more about Florida State Office of Human Resources, visit http://hr.fsu.edu/.