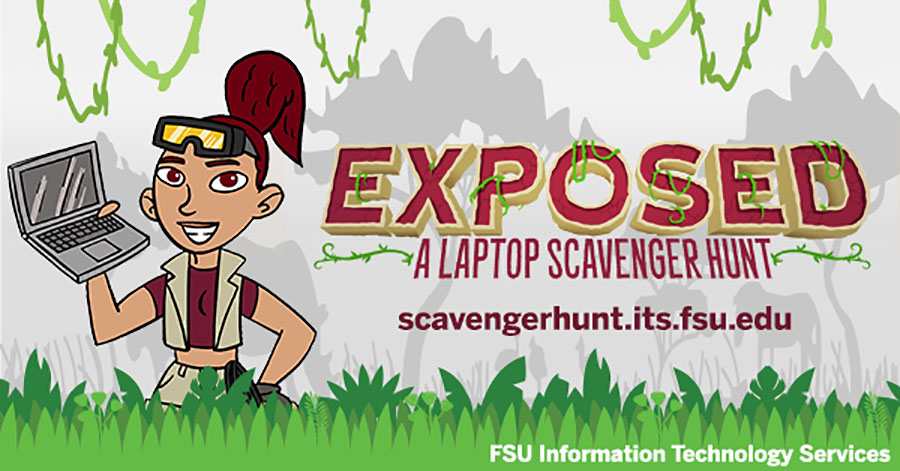 You wouldn't leave your laptop sitting in a coffee shop, return five hours later and expect it to still be there, would you?
Yet in a sense, that's what many of us are doing every day with our personal information when we don't practice safe browsing habits or fail to set appropriate security controls. We're leaving sensitive information exposed and an easy target for theft.
This October, a new contest at Florida State University has students and employees thinking twice about the risks of leaving their digital life unsecured. The game — a scavenger hunt that challenges individuals to find abandoned laptops hidden around the Tallahassee main campus — is part of Florida State University's efforts to promote cybersecurity as part of National Cyber Security Awareness Month.
The campaign, sponsored by Information Technology Services (ITS), uses gamification to encourage individuals to take control of their digital lives and protect their personal information. For each laptop found, the player visits a unique website and is presented with a cybersecurity question. Answer correctly, and they earn an entry into a prize drawing. Answer incorrectly, and they find out just how malicious cybercrooks can be.
"When you don't practice good cybersecurity, you put not only your identity, but the whole university at risk," said Security Training Coordinator Phil Kraemer. "People need to be aware of cybersecurity threats and take the right steps to protect their digital life. And the laptop scavenger hunt is a fun way to learn that."
The scavenger hunt runs from Wednesday, Oct. 11, through Wednesday, Oct. 18, and anyone is welcome to play. All Florida State University students, faculty and staff who participate in the game have a chance to earn entries into a random drawing to win an HP ProBook laptop. 
Is your digital life protected … or is it exposed? Play the laptop scavenger hunt to find out at scavengerhunt.its.fsu.edu.
About National Cyber Security Awareness Month (NCSAM)
NCSAM raises awareness about cybersecurity in order to increase the resiliency of the nation in the event of a cyberincident. NCSAM has been formally recognized by Congress, federal, state and local governments and leaders from industry and academia. Now in its 14th year, NCSAM is a true group effort, with more than 600 official champion organizations nationwide. 
For more information, visit staysafeonline.org/ncsam or dhs.gov/national-cyber-security-awareness-month.