The Seminoles Cruising Kitchen keeps on truckin' at Florida State University.
The 92-foot-long food truck is a one-of-a-kind behemoth bistro operated by FSU's food-service provider Sodexo USA and Seminole Dining. It's the largest custom-mobile kitchen in the United States, and since it rolled into Tallahassee in August, the big rig has made its presence felt on campus.
The Seminoles Cruising Kitchen is designed to treat football fans to great food and entertainment on game days when it's parked at Varsity Drive and St. Augustine Street east of Doak Campbell Stadium.
The venue is open to the public.
The food truck rocks a dynamic sound system, 17 widescreen monitors, a large stage and two sleek kitchens. The mobile restaurant opens one hour before game time and continues to serve food until the end of the game.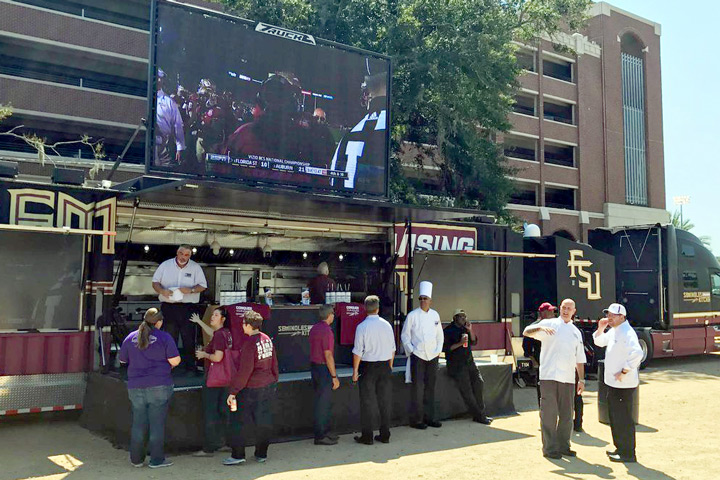 A series of skilled guest chefs are scheduled to turn the Seminoles Cruising Kitchen into their personal culinary playground this fall.
Celebrity chef and FSU Culinary Ambassador Art Smith is looking forward to creating some of his culinary magic in the truck's kitchens for the FSU-Syracuse game Nov. 4. The nationally renowned chef, who once was the personal, day-to-day chef for Oprah Winfrey, plans to cook Southern comfort food with a focus on Florida ingredients.
Fans will get more opportunities this fall to enjoy the talents of the award-winning cookbook author. Smith will return to the Seminoles Cruising Kitchen Nov. 18. He will also be in Tallahassee for the FSU-Miami game Oct. 7 to prepare food for fans in the President's Box.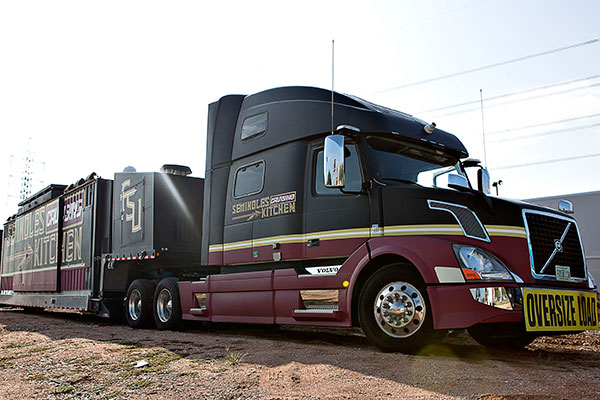 Next spring, the Seminoles Cruising Kitchen will take center stage at a new food festival organized by Seminole Dining called Taste of Tallahassee. Organizers say the event will include a fun competition between chefs and restauranteurs. The contest will have a decidedly "Top Chef" flavor because, just like the reality TV show competition, chefs will compete against each other. In this Tallahassee version, the judges will be Florida State students and staff.
Seminole Dining and Sodexo USA are excited about the opportunities for the food truck to take center stage at FSU events and around the Tallahassee area.
"We plan to utilize the new Seminole Cruising Kitchen for more than tailgating, such as Taste of Tallahassee and other events, where we can partner with local vendors to showcase local ingredients," said Melissa Jordan of Sodexo USA. "We also know it will come in handy during times of crisis and is equipped to provide emergency services to the Florida State community and people of Tallahassee."