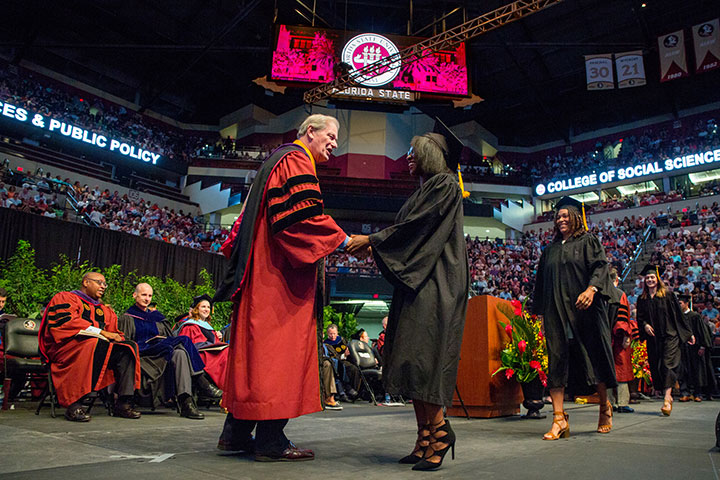 Florida State University head baseball coach Mike Martin treated the summer graduating Class of 2017 to his signature sense of humor as he urged the graduates to remain true to themselves, strive for success and give back to their communities.
"I see a lot of smiling faces here today," he said. "You all look awfully happy for a group of people who aren't going to have another summer off for the next 40 years."
Martin, an FSU alumnus and Hall of Fame coach, delivered a lighthearted and unique commencement speech filled with photos of campus evolution mixed with inspiring videos and memorabilia.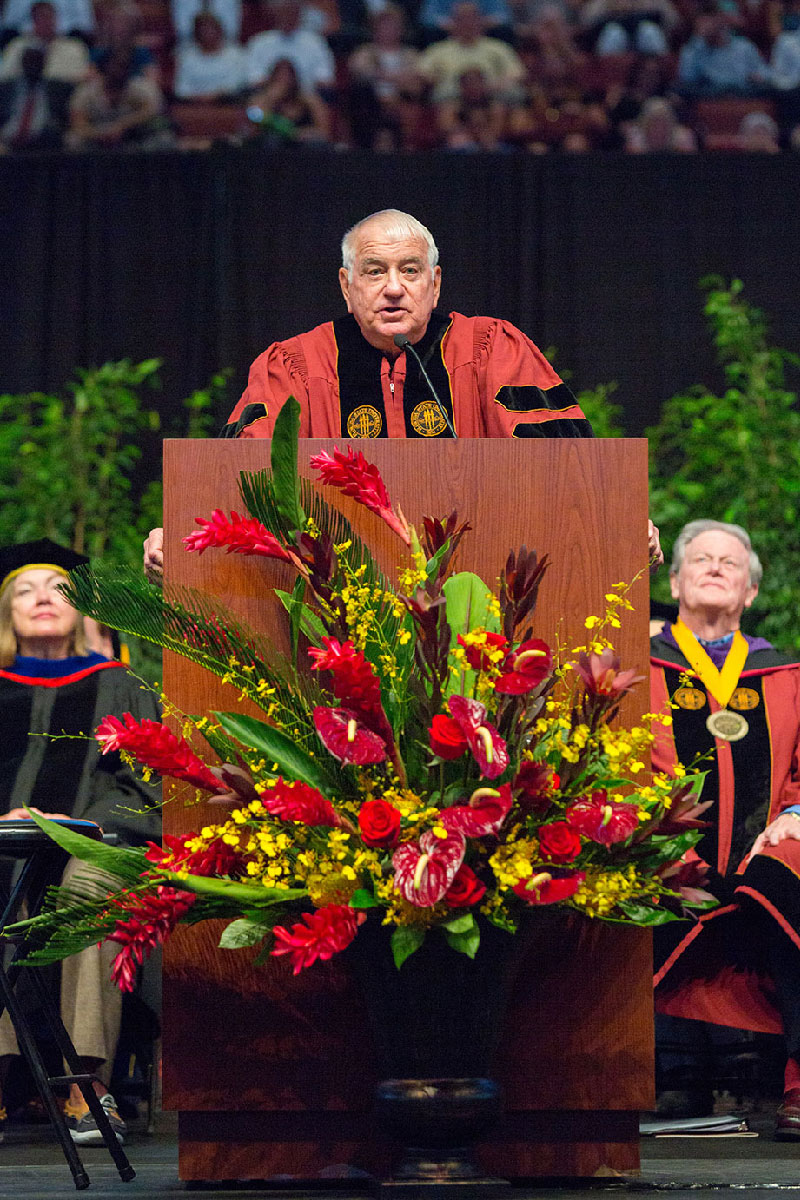 FSU President John Thrasher presided over the Aug. 5 ceremony at the Donald L. Tucker Civic Center. Of the 2,500 students graduating this summer, about 1,500 participated in the ceremony.
Martin reminded graduates to take time and reflect on how much they and the FSU campus had developed and grown since they began as freshmen four years ago.
"FSU has risen in the ranks and continues to grow," Martin said. "We have a 20 percent higher average graduation rate than the national average and are on the way to being a Top 25 university."
Martin spoke about values and reminded the graduates that success isn't strictly measured by money and power. It's also about being a person that other people want to see succeed.
"Florida State University is a huge part of my life and a huge part of the community I call home," Martin said. "Your years here at Florida State University have prepared you for a life of accomplishment, self-respect and contribution."
Martin's teams have won nearly 2,000 games during his 38 seasons as FSU's baseball coach. Since 1980, Martin has compiled a career record of 1,944-694-4, which makes him the second all-time winningest coach in NCAA Division I college baseball history.
Martin was a standout baseball player at FSU, where he played center field in 1965 and 1966, batted .354 and was a member of FSU's 1965 College World Series team.
Martin ended his speech by reciting a poem he posts in the locker room each year, Dale Wimbrow's "The Guy in the Glass."
"When you get what you want in your struggle for self, and the world makes you king for a day, just go to the mirror and look at yourself, and see what that man has to say," Martin quoted.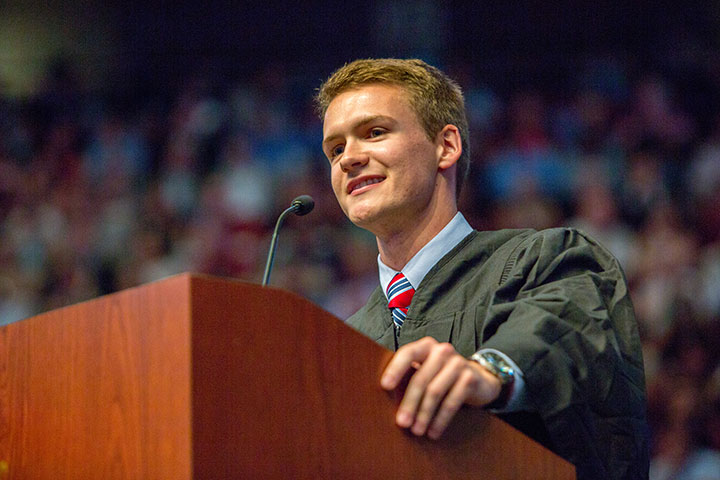 Student Body President Kyle Hill also addressed graduates and reminded them that they will forever be united by their "Seminole Identity."
"Your diplomas carry the badge of garnet and gold," Hill said. "Represent it well as you go out to take on the world — and welcome to the rest of your lives."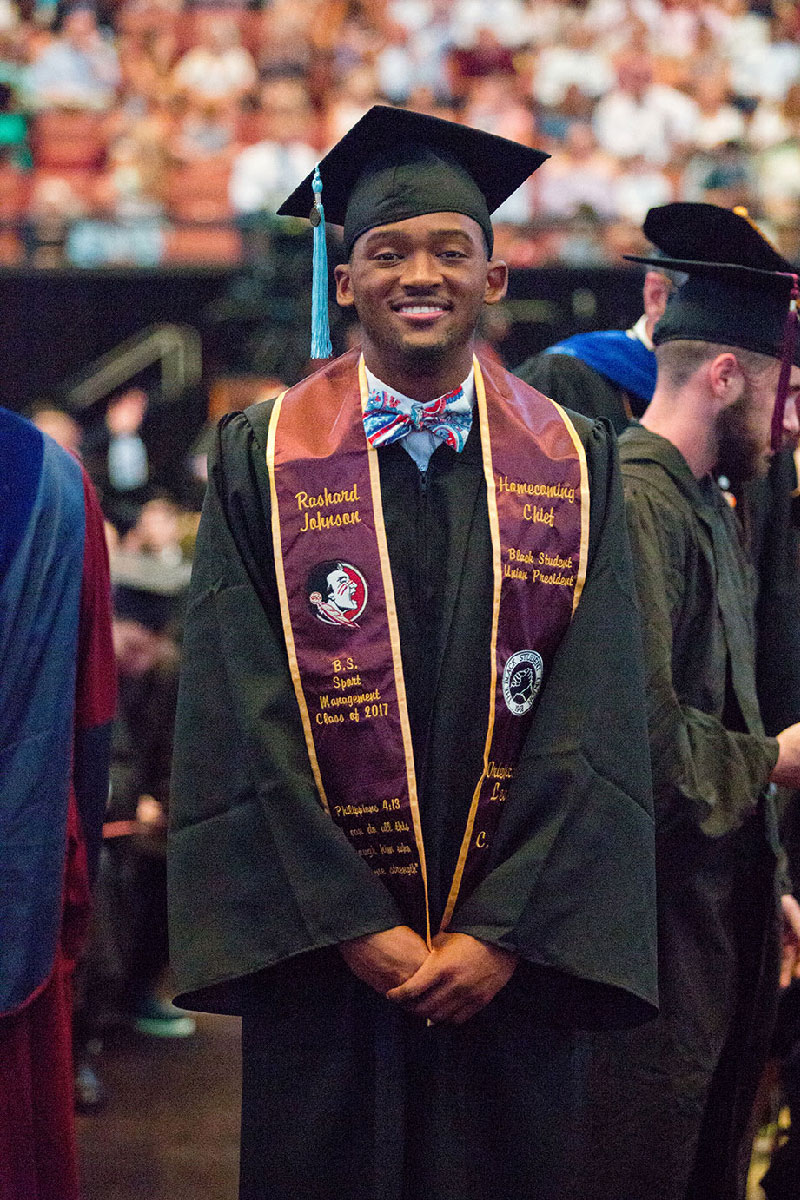 Graduate Rashard Johnson, the first in his family to graduate from college, said he is looking forward to the future and is thankful for the opportunity he has had to pave the way as an example for his younger siblings.
"This is a phenomenal moment for my family," Johnson said. "My time here at FSU has been truly amazing."
Along with being a CARE ambassador, Johnson also is an orientation leader, president of the Black Student Union and was crowned FSU's Homecoming Chief last fall. He plans to pursue a master's degree after graduation and said that none of his success would have been possible without FSU and the CARE program.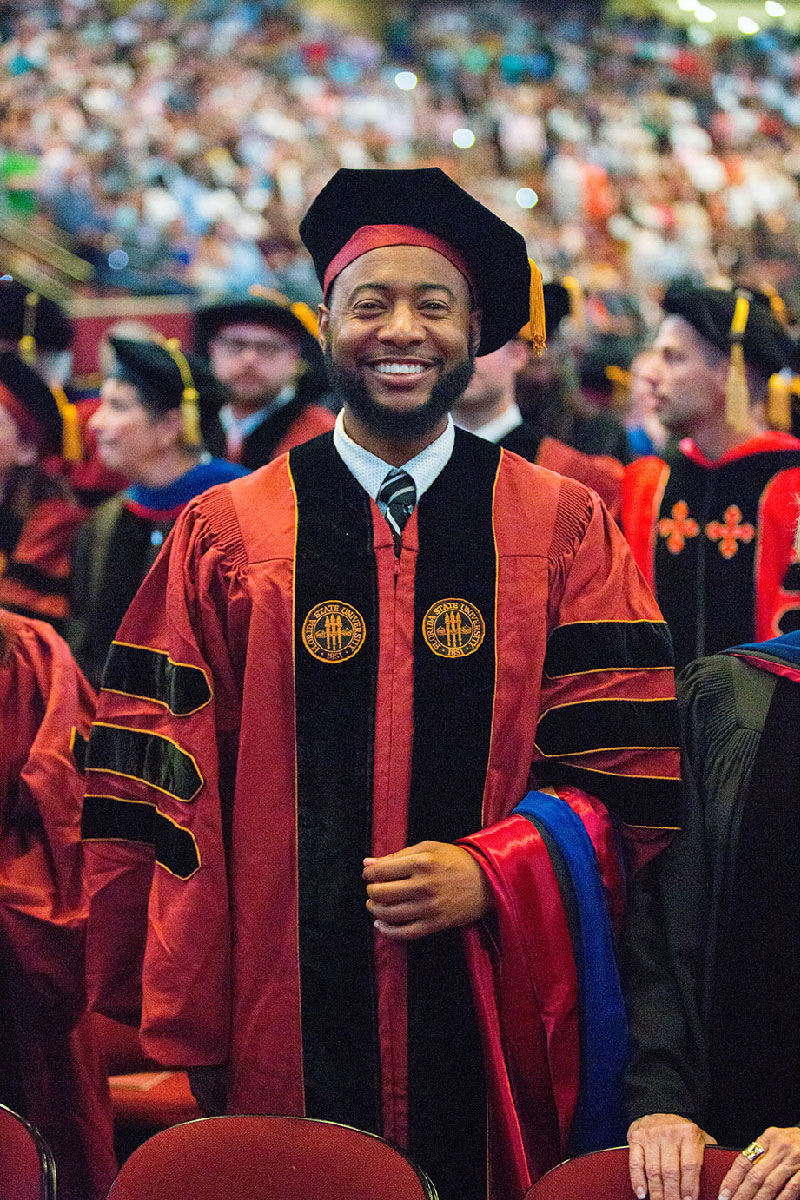 Ph.D. graduate Christopher Harris, who earned a doctoral degree in music with an emphasis in choral music education, can't wait to become a professor to inspire other students like his professors inspired him.
"Getting to work with FSU faculty members has been the highlight of my doctoral career," Harris said. "The breadth of knowledge they have to offer is amazing."
The commencement ceremony also marked Nancy Marcus' last as dean of the Graduate School. Marcus has stepped down as dean and will teach at FSU as a Lawton Professor in the Department of Earth, Ocean and Atmospheric Science until her retirement later this year.
Thrasher closed the ceremony by reminding the graduating students that they will always be part of the FSU family.
"As you leave Florida State, I want to remind each of you that you will always be a Seminole," Thrasher said. "We want you to consider this campus your home, and I would like to encourage you to stay in touch."