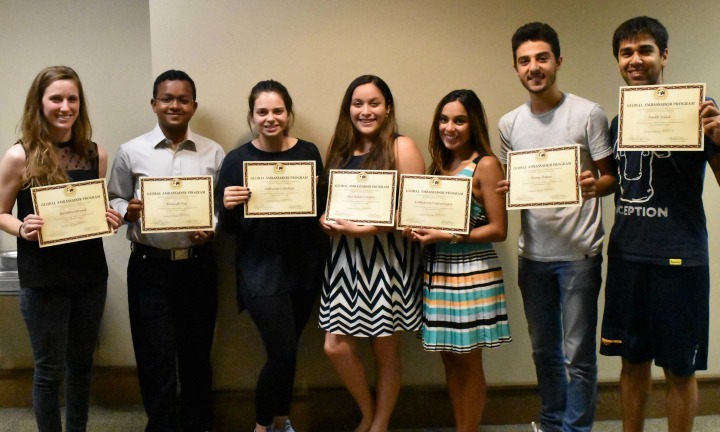 Florida State University international students who participated in the Global Ambassadors Program this semester were recognized for their service to the FSU and Tallahassee communities at a reception at the Center for Global Engagement Friday, May 5.
Global Ambassadors gives international students, faculty and scholars the opportunity to be cultural ambassadors for their countries by engaging in speaking opportunities throughout Tallahassee at community organizations, K-12 schools and FSU classes.
Over the 2016-2017 academic year, the CGE provided training to 23 international students seeking opportunities to make presentations about their home country and culture through Global Ambassadors. Students made 43 presentations on countries such as Brazil, India, Panama, Iraq, Egypt, China, Germany, South Korea and Nigeria to 13 different school groups and community organizations in the Tallahassee community, from elementary schools to Kiwanis clubs to rehabilitation centers.
"Global Ambassadors has been one of the most supportive and exciting additions to our International Protocol course offered through the Dedman School of Hospitality," said Kim Harris, a professor of hospitality management. "We have enjoyed the presentations on international opportunities, students visiting our class representing their home countries, and the engagement offered through the many activities that the Center for Global Engagement sponsors. It is a gem on FSU's campus!"
Not only does Global Ambassadors benefit the Tallahassee community and students taking FSU classes, it also benefits international students by helping them to become more familiar with American culture by practicing their English-speaking and presentation skills and meeting new people.
"Through my experience with Global Ambassadors I got to present at a lot of schools and community organizations," said Ramy Noseir, an international student from Egypt. "I loved going to the schools and teaching the kids about my country. Sometimes, you even get to learn more about your country through their questions or while you are preparing the presentation. It was an amazing experience being a Global Ambassador, and I would recommend everyone give it a try."
For more information, visit cge.fsu.edu/gap.