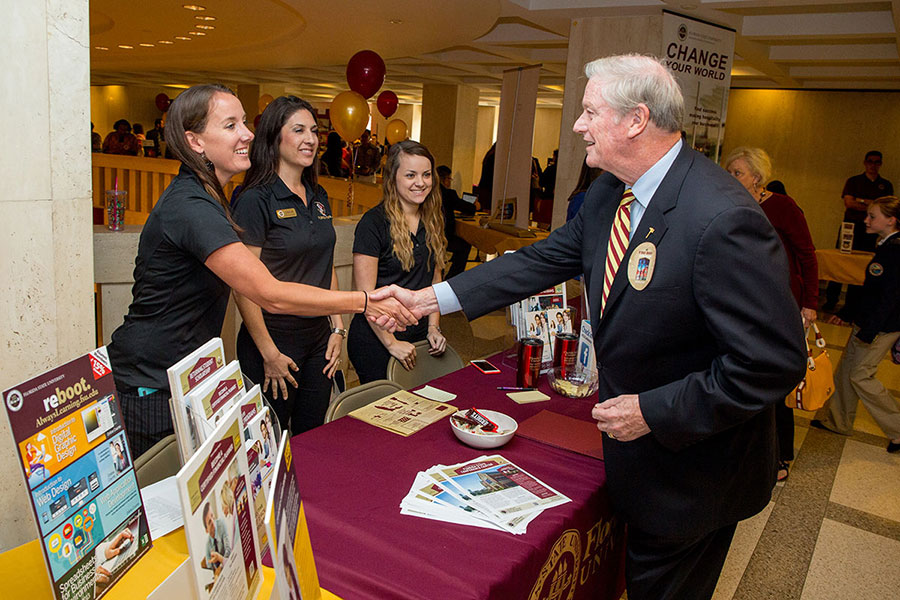 The Florida Capitol gleamed garnet and gold as hundreds of Florida State University supporters gathered for FSU Day at the Capitol April 4. The annual event showcases the university's accomplishments over the past year to legislators during the 2017 Legislative Session.
Some of this year's successes included receiving a record number of 2017 admissions applications, rising four-year graduation and retention rates, boasting one of the nation's highest graduation rates for African-American students and being recognized as a leader in campus internationalization.
"Florida State is on a roll, both on and off the field," said FSU President John Thrasher. "There's a lot of excitement at Florida State these days. We are a preeminent university with our sights set on even higher national prominence."
Inside the Capitol, FSU showcased its academic excellence with information booths representing the university's academic programs and research centers. In the Capitol courtyard, performances by the Flying High Circus, Marching Chiefs and Florida State cheerleaders highlighted an outdoor pep rally.
FSU Day also provides a platform between the FSU community and the Florida Legislature to foster collaboration on future ideas and initiatives.
"FSU Day at the Capitol is a great opportunity to meet with students from around the state, country and the world who are contributing to the university in different ways," said Senate President Joe Negron. "Florida State University is already recognized as one of the top universities in the country. By increasing our investment in students through need and merit-based financial aid, we can help make sure that even more students who earn the right to attend FSU have the opportunity to study right here in Tallahassee."
Other attendees included State University System Chancellor Marshall Criser, Board of Trustees member Mark Hillis, distinguished alumni currently serving in the Florida Legislature along with FSU football coach Jimbo Fisher and football players Deondre Francois and Ryan Izzo.
"We have big goals for FSU, and we know the way forward is paved with garnet and gold," Thrasher said. "Thank you everyone for supporting us on our journey of excellence, and go 'Noles!"