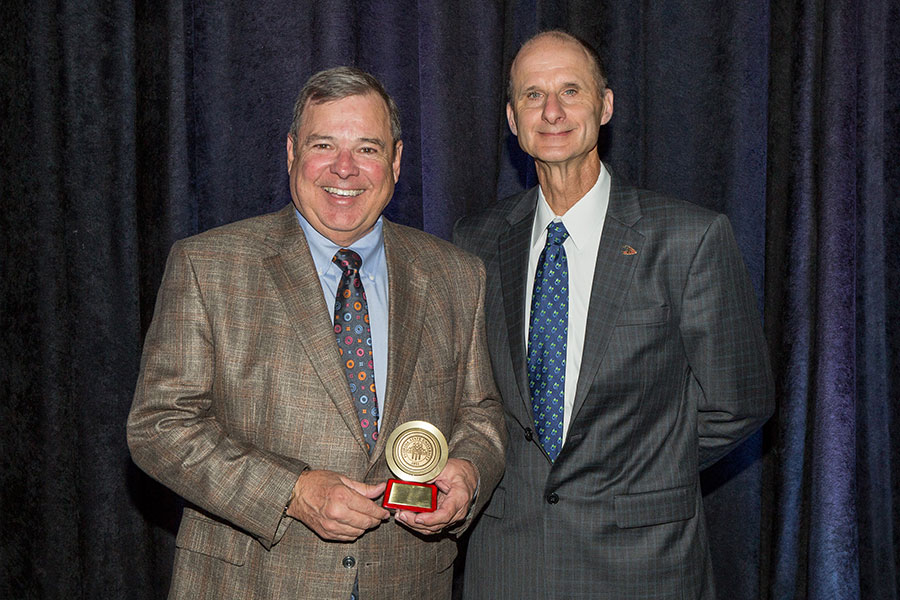 The Florida State University Office of Research honored Tallahassee businessman Kim Williams Thursday night with the FSU Office of Research Community Partner of the Year Award for his work in promoting university research to the broader community.
Williams received the award for his substantial work in helping advise FSU researchers looking to commercialize their technologies and also his service on the boards of the FSU Research Foundation and the FSU Coastal and Marine Laboratory.
Williams received the award at the university's annual Research Recognition Dinner.
"Kim has been a passionate advocate for FSU research in so many ways," said Vice President for Research Gary K. Ostrander. "We are lucky to have him on our team.  He has done everything from providing advice and guidance to the FSU Coastal and Marine Lab to mentoring faculty members who are trying to take their research from the lab bench to the marketplace."
Ostrander created the Community Partner Award to recognize the efforts of community members who volunteer to work alongside the FSU Office of Research to help promote and improve university research projects. Past honorees are Tallahassee entrepreneurs Ed Mansouri and Steve Roden.
"I would like to thank Gary Ostrander and the FSU Research team for this award — being recognized in this way means a lot to me," Williams said. "It has been an honor to make even a small contribution to those involved in FSU Research. The breadth of the ongoing research at FSU is amazing. Getting to know the many talented faculty, students and staff at FSU Research is rewarding. I would like to encourage our community to reach out and learn about what's going on at FSU Research. You'll be glad you did."
Over the past several years, Williams has been heavily involved in the university's efforts to move fast-growing technologies to the marketplace. He has long served as a committee member for the biannual GAP competition, a "SharkTank"-esque event that allows researchers to pitch their ideas to a committee of local business men and women. The committee then approves university funding for the projects or sets the researchers up with mentors who can help move their work to the next step.
He also has helped FSU-based companies find office space and has publicly advocated licensing university technologies to Tallahassee-based investors to help generate more economic development in the region.
Williams has been president of Marpan Supply since 1985 and is an owner and developer of commercial real estate. He has served as chair of the boards of the Greater Tallahassee Chamber of Commerce, Tallahassee Memorial Hospital and the Economic Development Council. He is currently on the board of the Leon County Research and Development Authority and has previously served on the boards of the Tallahassee Housing Authority and Goodwill Industries.