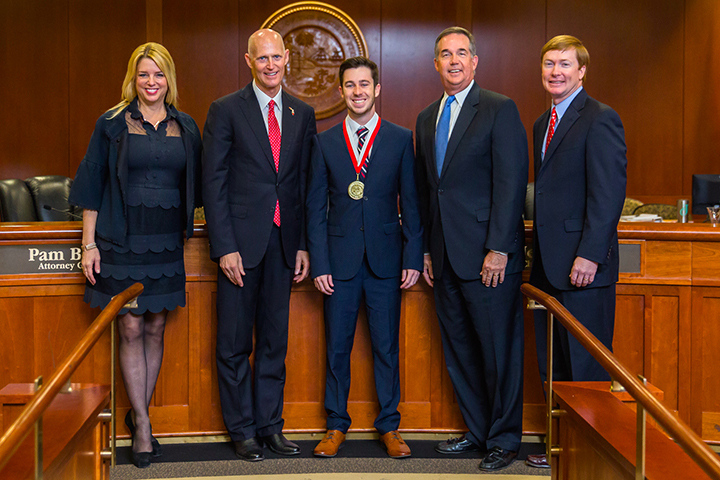 TALLAHASSEE, Fla. — Less than two years after creating an innovative automotive parts business, Florida State University alumnus Tyler Montgomery has been recognized with one of Florida's highest honors for business owners — the Governor's Young Entrepreneur Award.
Montgomery is the third recipient of the award in the last 18 months to have a business degree from FSU.
"I'm honored to receive the Governor's Young Entrepreneur Award," Montgomery said. "At Mont Motorsports, we work hard to create a strong relationship with our customers and provide a marketplace that offers thousands of performance parts, all in one location. Thanks to the support of my team and customers, we continue to succeed and grow in the Panama City area."
Gov. Rick Scott presented the award to Montgomery on Tuesday, Feb. 7, during a meeting of the Florida Cabinet. Montgomery also received congratulations from Florida Attorney General Pam Bondi, Chief Financial Officer Jeff Atwater and Agriculture Commissioner Adam Putnam.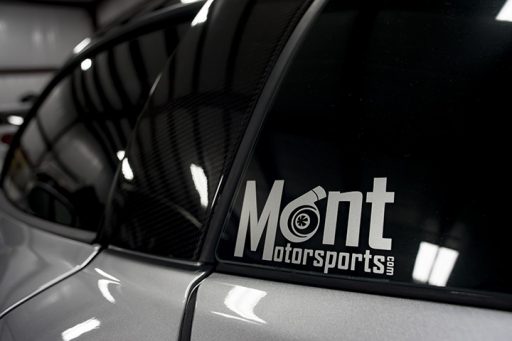 Montgomery is the founder and owner of Mont Motorsports in Panama City. He started the business in June 2015, after graduating with a degree in business administration from FSU Panama City.
Mont Motorsports fabricates, builds and sells aftermarket automotive parts, ranging from everyday radial tires to high-performance components like nitrous oxide systems.
Gov. Scott praised Montgomery for demonstrating the kind of creative vision, knowledge and business acumen that helps entrepreneurs succeed in Florida.
"I am proud to present the Young Entrepreneur Award to Tyler Montgomery for his accomplishments," Gov. Scott said. "At only 25, Tyler demonstrates the hard work and dedication needed to be a successful business owner and will undoubtedly create more opportunities in his community."
Montgomery took entrepreneurship courses at FSU Panama City before graduating with a degree in business administration in 2014. The school offers a 12-hour entrepreneurship minor geared toward students who want to start their own business after graduation. The program teaches students how to start and manage new ventures, develop sources of funding and organize business plans.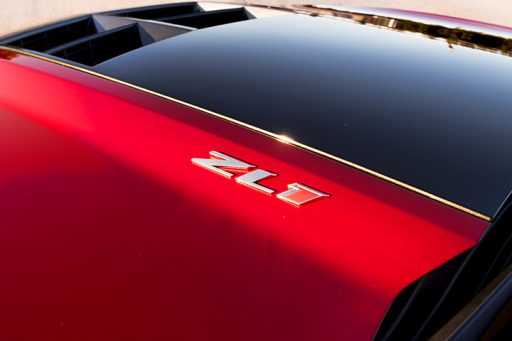 Montgomery started the business in 2015 after graduating with a degree in business administration from FSU Panama City.Montgomery has always had an interest in entrepreneurship since his mother and father operated businesses. He said when he saw entrepreneurship classes offered at FSU Panama City with Professor James Dever, he jumped at the opportunity to enroll.
"The oddball techniques that Dr. Dever uses to teach his courses make for a real-world learning experience," Montgomery said. "He teaches you things that only his experience can bring to the table, not a textbook. There is no textbook that will teach you how to run a business or how to be successful.
"Between Dr. Gary Bliss, Dr. James Dever and Dr. Leslie Lipton, I wouldn't be where I am today. These are three professors who really had an impact on my life during my time at Florida State University. I want to say thank you to these three for providing me with the framework to go out and become successful."
In addition to Montgomery, FSU graduates previously recognized with the Governor's Young Entrepreneur Award are:
DivvyUp, started by Jason McIntosh and Mitch Nelson, sells fun designer socks and uses the proceeds to provide socks to homeless shelters
Terraform Design, started by Nick O'Donnell, creates "next-generation" furniture, light fixtures and intricately carved structures
To learn more about the Governor's Young Entrepreneur Award, visit HireFloridaGrads.com.