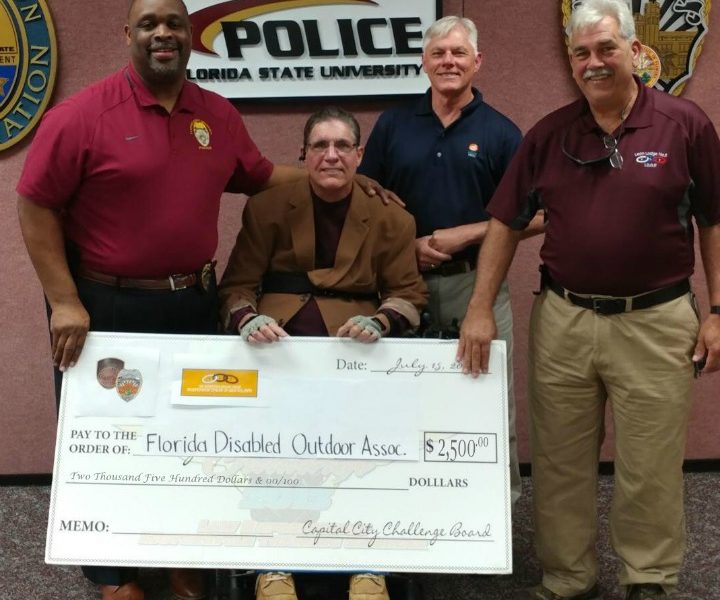 The Florida State University Police Department has partnered with the Independent Order of Odd Fellows for an outreach effort that provides community members with disabilities the gift of nature.
This is the fifth year the two organizations have donated scholarship money to the Florida Disabled Outdoor Association (FDOA) to support five FSU students and community members with disabilities and four of their friends and family members to visit Rish Park for a four-day, all-expense paid vacation.
They presented a $2,500 check to the FDOA during a ceremony Friday, Feb. 3, at the FSUPD station.
"It's a great partnership between the Odd Fellows, the FDOA and FSUPD," said David Perry, chief of the Florida State University Police Department and assistant vice president for public safety. "It gives us an opportunity to give back and connect to the community. Seeing the photos and letters of the people who go on this trip and how happy it makes them and how special it was for them is a reminder of why we do the we work that we do."
The William J. Rish Recreational Park is a 100-acre recreational park located on Cape San Blas near Port St. Joe, Fla. The park is a fabulous getaway with beautiful, sugar-white sand, sea oat covered dunes, refreshing sea air and shimmering turquoise-blue water on the beautiful Gulf of Mexico.
Florida is well known for its rich, diverse and beautiful outdoors — unfortunately, for many persons with disabilities, enjoying the sandy beaches can be challenging. The uniqueness of Rish Park affords individuals with disabilities a safe beach experience that is completely ADA accessible, allowing them an all access beach paradise vacation.
"Here at FSU we are committed to inclusion," said J.R. Harding, instructional specialist in the Office of the Provost. "The Rish Park scholarship program in conjunction with FSUPD, FDOA and persons with disabilities is an excellent example of FSU's commitment to building diversity, involving the community and tearing down barriers. It is simply an honor to facilitate partnerships with our underserved communities and to enable some of our students to enjoy a barrier free beach experience!"
The collaboration for the donation was facilitated by Mike Rodes, who is an FSUPD officer and Grand Master for the Odd Fellows Leon Lodge #5.
"The Oddfellows has a tradition of giving back to the community and so does FSUPD," Rodes said. "We enjoy taking care of families who have special needs. It's a good feeling to be able to help these families to get away and feel appreciated. I think it's important to give back and for the community to come together and help support people."