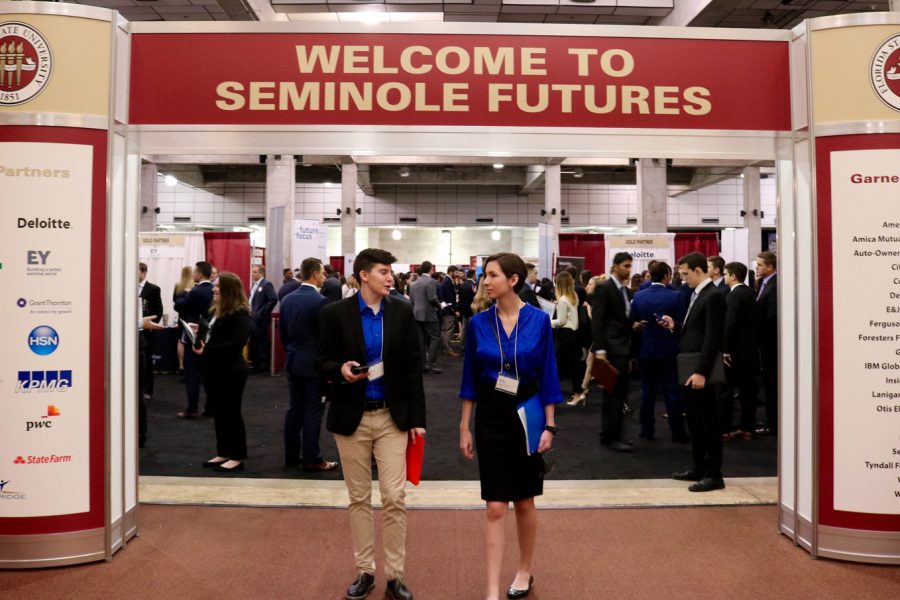 More than 2,400 Florida State University students packed into the Donald L. Tucker Civic Center to meet with employers for the Career Center's largest event of the semester — Seminole Futures.
The all-majors career fair was held Thursday, Jan. 26, with more than 170 employers on campus with one goal in mind: to hire FSU students.
"This is an event students can't miss," said Myrna Hoover, director of the Career Center. "It's great exposure for them to meet hundreds of potential employers at one time and speak with them one-on-one. Most employers aren't even looking for students with a specific major. They are interested in hiring people who can think critically, who have good work ethic and good communications skills. Our students are talented and bring these types of skills into the work place and employers recognize that."
Students had the opportunity to network and interact with representatives from a variety of large companies, including State Farm, GM, Apple and Northwestern Mutual. Other private sector companies, government and law enforcements agencies and local businesses were also present.
"This is the best place for students to find employment," said Calvin Williams, program director for employer relations for the Career Center. "We do everything we can to help students get connected to potential employers and all these employers are here to speak with and hire our students. This gives them a great opportunity to learn how to network and sell themselves, which are critical in finding employment."
A significant amount of the employers participate in Seminole Futures every semester, a testament to the success they've had with previous FSU students and alumni.
Employers also had a chance to collect resumes and if impressed, to schedule "day after" interviews with students at the Career Center the day after Seminole Futures. More than 50 employers invited approximately 700 students to have "day after" interviews this year.
"We have been recruiting from Florida State for more than 36 years," said Ron Pittman, college relations recruiter for State Farm. "There's a wide variety of disciplines that our company can come here and recruit for. Also, some of our most phenomenal employees have come from Florida State, so we will continue to recruit from here for years to come."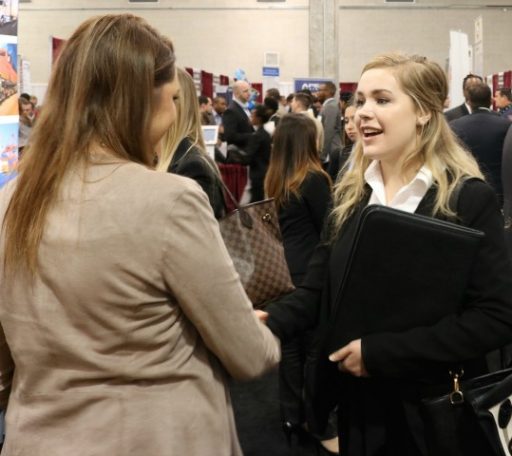 This week, the Career Center also hosted events specific to certain student populations like Engineering Day at the FAMU-FSU College of Engineering and Seminole Success Night, that brings student leaders and members of FSU's underrepresented populations on campus to network with employers.
It was reported in the latest graduating senior survey that utilizing the services provided by the FSU Career Center was the number one way students found employment after graduation.
The Career Center's events are for all students, regardless of major or year in school and students shouldn't wait until they are about to graduate to start connecting with employers.
"I'm just hoping to find an internship," Shelby Barlow, a junior majoring in marketing said. "I heard from a couple of friends who attended last year's event that they got job offers. It's helpful to have so many employers here in one place."
For other students, Seminole Futures was a continuation of connections they previously made with employers at other Career Center networking events.
"I met with several employers at Seminole Success Night last night including Amica Mutual Insurance," said Blake Tipping, a junior finance and management information systems major and president of the Career Center Student Ambassador Program. "I reconnected with them today at Seminole Futures and have an interview with them tomorrow for a paid summer internship. I can't thank the Career Center enough for hosting such a wonderful event and giving me this great opportunity!"
In addition to its usual services, the Career Center hosts an on-going professional development series "Noles to ProfessioNoles" to inform students about subjects like brand development and professional goal setting. The Center also hosts a series of workshops each semester to help students prepare for career fairs.
For more information about the FSU Career Center, visit http://www.career.fsu.edu/.