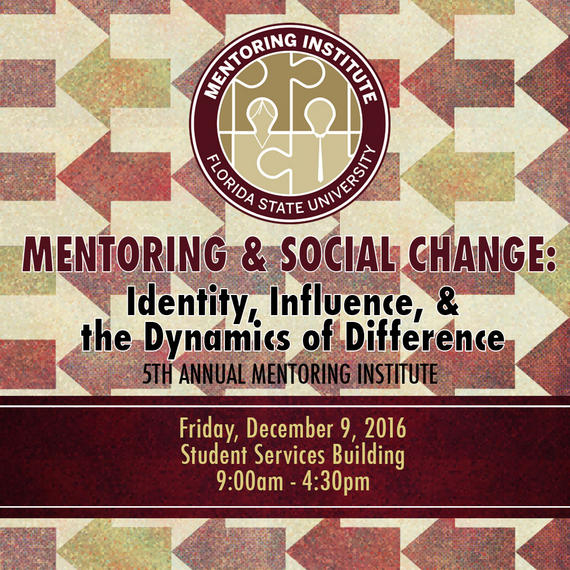 The Center for Leadership & Social Change will welcome more than 120 mentors and mentor professionals to Florida State University to examine how social identities affect mentoring relationships in an ever-changing world from 8:30 a.m. to 4:30 p.m. Friday, Dec. 9, at the Student Services Building.
The Fifth Annual Mentoring Institute, with a theme of "Mentoring and Social Change: Identity, Influence and the Dynamics of Difference," aims to create a space where attendees can identify needs, consider best practices, discuss challenges, share experiences and strengthen collaborative connections between the campus and the community.
Throughout the day, participants will dig into questions about their work such as: What difference does difference make, and how can our mutual influence translate across circumstances that divide us? How do our mentoring relationships impact an ever-changing world, where social identities are so intimately tied to the realities we face? Can mentoring contribute to the "rising tide that lifts all boats?"
"We hope to shed light on the promise and pitfalls of mentoring in 2016, especially as our mentoring influence relates to the current climate of social awareness, reactivity and change," said Steve Mills, associate director at the Center for Leadership & Social Change.
Organizers have partnered with the Tallahassee Office of the Mayor and City Commission and FSU Campus Recreation to help make attendance free of charge.
"Our Tallahassee Office of the Mayor and City Commission are dedicated to creating every possible opportunity for community advancement, and their consistent support for effective mentoring reflects this clear, unwavering priority," Mills said.
Guests will include FSU mentors and advisors from the ranks of students, faculty and staff, as well as local mentors and representatives from mentoring agencies such as Grace Mission, Goodwill Goodguides, Boys Town, Capital City Youth Services and Leon County Schools Reading Pals.
The institute will feature a keynote address, roundtable discussion and two concurrent sessions with workshops exploring topics such as community mentoring and reducing the barriers to success, negotiating core beliefs in a mentoring relationship and looking at the role of sponsorship over mentorship.
The Center for Leadership and Social Change encourages students to learn, serve and transform through programming that surrounds leadership, service and diversity. The center is a part of the Division of Student Affairs at Florida State. To learn more about the center and for a list of upcoming events, visit thecenter.fsu.edu.