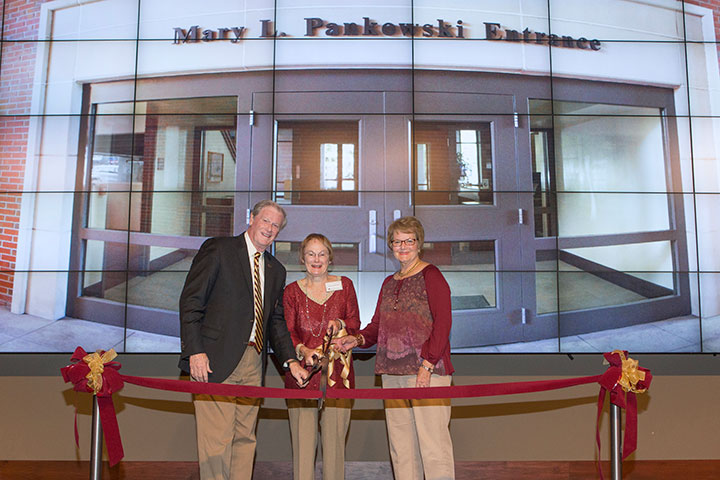 Former assistant state attorney and FSU administrator Mary L. Pankowski was honored by Florida State University with a dedicated entrance at the Augustus B. Turnbull Conference Center in a ceremony Friday, Nov. 11.
Pankowski played an integral role in the building of the Turnbull Conference Center. In 1973, Pankowski was asked to chair a committee to determine the feasibility of a conference center at Florida State. The Legislature authorized $4 million and the plan became a reality.
Florida State University's Turnbull Center, where the Mary L. Pankowski Entrance now stands as an indelible reminder of Pankowski's contributions to the university, is an advanced multipurpose conference center centrally located between FSU's campus and the Florida State Capitol.
"It's fitting that we name the entry to this building the Mary L. Pankowski Entrance," President John Thrasher said at the ribbon cutting. "Because when people walk through this door, they are entering a place where lifelong learning is valued. They see a pathway to a brighter future. Mary helped build this place that has opened doors for so many people, and this naming is just a small tribute to all that she has accomplished."
For Pankowski, FSU still feels very much like home, and that's what made this dedication so special.
"The dedication ceremony was meaningful because it was like a family reunion," Pankowski said. "It was a chance for me to thank the people I love who have given so much of their time and talent to make the dream of lifelong learning a reality for our community, the people of Florida and beyond through the state of the art Augustus B. Turnbull III Florida State Conference Center."
Pankowski, who received her bachelor's and master's degrees from the University of Florida before earning her Ph.D. in adult education from Florida State University, has dedicated her career to securing meaningful educational opportunities for individuals with troubled pasts.
After receiving her doctorate, Pankowski served as FSU's Associate Vice President of Academic Affairs and as the director of FSU's Center for Professional Development and Public Service. Pankowski worked in service of FSU for 25 years before departing for an administrative position at Florida International University in Miami.
Soon, however, Pankowski would return to Tallahassee with renewed ambitions and an invigorated sense of purpose. She enrolled in Florida State University's College of Law and, after completing the program in an impressive two-and-a-half years, took an assistant attorney position in the State Attorney's Office in Tallahassee. There, Pankowski focused her attention on juvenile law, working to develop programs that would ease the reintegration of young people whose circumstances may have set them down the wrong path.
Eventually, Pankowski would oversee the establishment of the New Start Scholarship fund at Tallahassee Community College, a program that subsidizes the education of students whose past mistakes might render them ineligible for other scholarship opportunities.
After 11 years working in the state attorney's office, Pankowski opened her own private law office where she continues to use her experience and multidisciplinary expertise to improve the lives of troubled young people.
In addition to her work as a university administrator and an attorney, Pankowski is also the former president of the Tallahassee Rotary Club and a current member of the Tallahassee Community College Fund, the Capital Women's Network and the Board of Visitors for the FSU College of Law.
Pankowski remains devoted to making far-reaching contributions to the Florida State University community. As well as presiding over a number of advisory boards and committees in the university, she has also recently served as an adjunct professor in FSU's College of Law, where she drew from her decades of experience in the criminal justice system to teach a course on juvenile law.