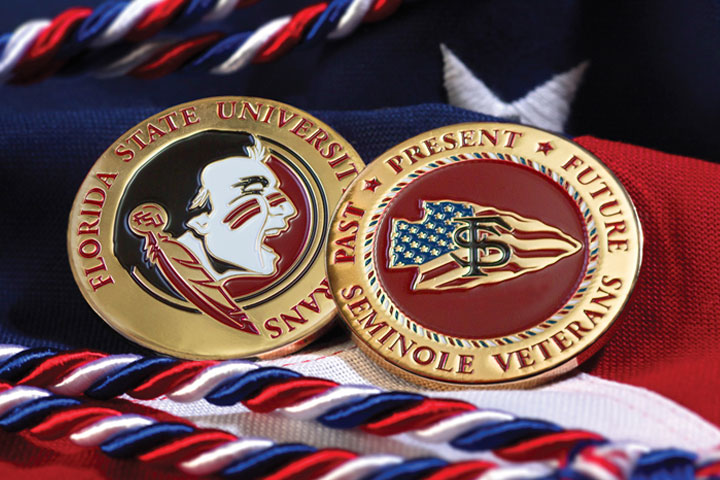 Florida State University's role as one of the most veteran-friendly universities in the nation and its commitment to veteran success will be highlighted with a week of student-centered activities surrounding Veterans Day.
FSU's many veteran-support initiatives help ease transition from military service to campus life, provide a sense of community for student veterans, and raise awareness of veterans' issues on campus and in the community.
The schedule of events includes:
FRIDAY, NOV. 4 – SATURDAY, NOV. 5
Julian's Creative Art Workshop
9 a.m. to 4 p.m.
FSU Fine Arts Building, Sculpture Lab
Veterans are invited to participate in FSU's annual paper making workshop with Meredith McMackin, a doctoral student in art education with a focus on art therapy, who lost her son, U.S. Marine Cpl. Julian McMackin Woodall, during his second Iraq deployment in 2007.
The workshop is inspired by the Veteran Paper Workshop, an offshoot of the Peace Paper Project, with the goal of providing a new way for returning warriors to open up and talk about their experiences. Contact Meredith McMackin at mmcmackin@fsu.edu for more information.
MONDAY, NOV. 7
Puppies & Vets
10:30 a.m. to 3 p.m.
Union Green
Students will have the opportunity to interact with equipment and vehicles brought out by the local Tallahassee National Guard while also playing with dogs provided on behalf Coping through College.
TUESDAY, NOV. 8
FSU United for Veterans Walk
11:30 a.m. – 1 p.m.
Integration Statue
Participants will walk a half-mile or mile route around campus starting at Integration Statue. Donation is $5. Proceeds will benefit a veteran-related United Way charity. To register, contact Danielle Runtschke at druntschke@fsu.edu.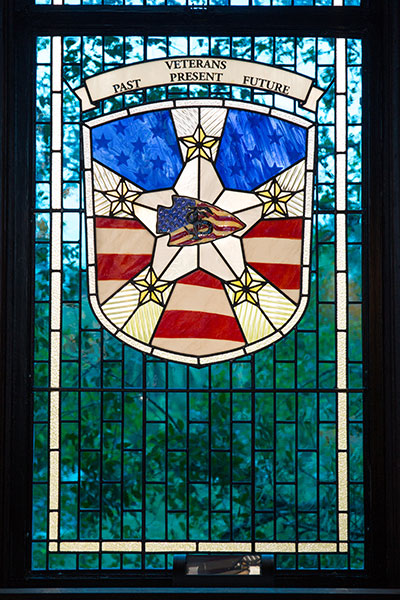 THURSDAY, NOV. 10
Joint Reveille
7 a.m.
Westcott Building
The Army and Air Force Reserve Officers Training Corps of Florida State University presents their annual Joint Reveille Veterans Day Celebration to honor all veterans. The cadre and cadets will raise the flag in a ceremony at the fountain on Westcott Plaza.
Campus Kisses for the Troops with Chi Omega Sorority
6 to 8 p.m.
Landis Green
Students will have the opportunity to write letters to deployed military members and sign them with either a kiss or stamp.
Unveiling of Alliance Arrowhead Window at FSU Heritage Museum
6 to 8 p.m.
Werkmeister Reading Room, Dodd Hall
A stained glass window created by FSU Master Craftsman Studio will be unveiled during a private reception at the Heritage Museum to celebrate the fifth anniversary of FSU's renewed commitment to veterans. The Heritage Museum displays photographs, ephemera and artifacts that document the history of FSU.
FRIDAY, NOV. 11, VETERANS DAY
Veterans Day Parade
10:45 a.m.
Monroe Street, Downtown Tallahassee
FSU student-veterans will march in the City of Tallahassee's annual Veterans Day parade.
Women's Basketball Military Appreciation Game
12:30 p.m.
Donald L. Tucker Civic Center
Pregame activities start at 10:45 a.m. and include making thank you cards for veterans. Fans are encouraged to bring a donation for military kits (gift cards, toiletry items, personal hygiene items, canned goods). The FSU women's basketball team will give commemorative coins to members of Women Veterans in STEM. Visit Seminoles.com for more information.
FREE admission to the FSU-Jacksonville State women's basketball game:
with a military/veterans ID, a VA Health ID or your DD214 ID
with a football ticket for Boston College game
for individuals 18 and under
with a Leon County Schools Teachers Badge.
Football Military Appreciation Game
7:30 p.m.
Doak Campbell Stadium
The FSU football team will host Boston College in a nationally-televised primetime matchup on ESPN2. Along with Veterans Alliance Arrowhead stickers the Seminoles regularly display on their helmets, FSU has received special permission from the ACC to paint the arrowhead on the field in a show of support for veterans, the military and their families.
Pregame activities will include a parachute jump into the stadium by SOCOM (Special Operations Command), a march onto the end zone by FSU's Air Force and Army ROTC units, special honorary captains including five student-veterans representing each branch of the Service, and an FSU veteran coin will be used in the official coin toss. Student-veterans also will be recognized during the game, and the Marching Chiefs will perform a special halftime show.
A PSA featuring FSU head coach Jimbo Fisher and President John Thrasher in honor of Veterans Day will be shown inside the stadium and on ESPN2 during the game. Tickets are available at Seminoles.com.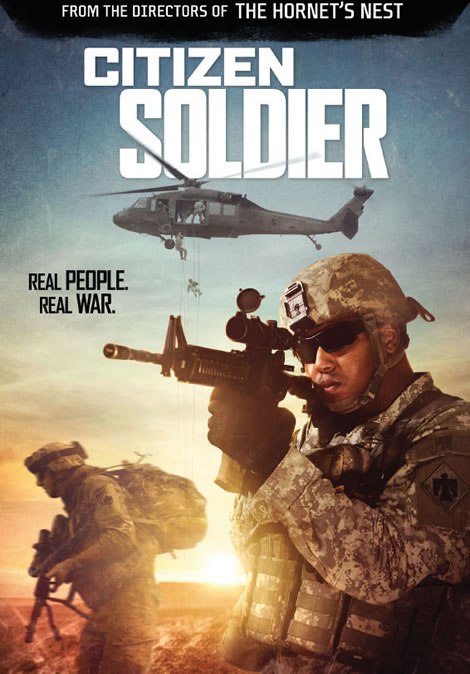 SATURDAY, NOV. 12
6th Annual Student Veteran Film Festival
2 p.m.
Ruby Diamond Concert Hall
The Student Veteran Film Festival is a unique event that screens critically acclaimed films to raise awareness of veterans' issues. This year's film, "Citizen Solider," directed by David Salzberg and Christian Tureaud, tells the dramatic story of the Oklahoma Army National Guard's 45th Thunderbirds Brigade and its deployment to one of the most dangerous parts of Afghanistan during the height of the war. Tickets are free and available at Westcott Plaza before the event. Visit vetfilmfest.fsu.edu for more information.
For those interested in supporting FSU student-veterans year round, Veterans Alliance Arrowhead merchandise is now available exclusively at Garnet and Gold and garnetandgold.com. One-hundred percent of the net proceeds benefit student-veterans at Florida State.