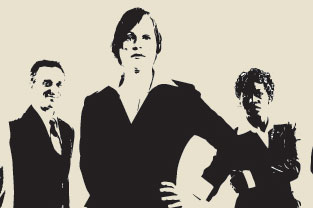 The Florida State University Career Center will host a weeklong series of events that will provide students with the opportunity to connect directly with employers and for employers to fulfill their hiring needs.
"FSU's Career Fair Week provides students the perfect venue to prepare for career success by exploring opportunities in a variety of industries and connecting with local and national employers," said Myrna Hoover, director of the FSU Career Center.
Career Fair Week will kick off with Engineering Day from 9 a.m. to 3 p.m. Tuesday, Sept. 27, at the FAMU-FSU College of Engineering. Nearly 100 employers, including General Motors, Harris Corporation and State Farm Insurance will be in attendance, seeking students in the engineering, computer sciences and technical fields to fill full-time, part-time, internship and co-op positions.
The Career Center, in partnership with the Student Veterans Center, will host Veterans Networking Night from 4 to 5:30 p.m. Wednesday, Sept. 28, at the FSU Alumni Center Grand Ballroom. This networking event will provide employers with the opportunity to connect with student-veterans.
Seminole Futures, FSU's largest, all-major career fair, will be held from 9 a.m. to 12 p.m. and 1 to 4 p.m. Thursday, Sept. 29, at the Donald L. Tucker Civic Center. More than 200 recruiters from corporate, non-profit and government-affiliated organizations will attend the event, seeking skilled, goal-oriented, creatively driven students and recent graduates. All students are welcome to network among the variety of employers. 
"Seminole Futures provided me with the opportunity for face-to-face interactions with recruiters," said Bill Norcilien, a senior majoring in information technology, who acquired an internship with J.P. Morgan as a technology analyst at one of the FSU Career Center's Seminole Futures event. "It allowed me to put a face to my resume, which ultimately helped me get an internship with J.P. Morgan."
The FSU Career Center hosts 19 career fairs throughout the school year, providing students with numerous opportunities to form meaningful connections with employers. In 2015, the Career Center hosted 1,420 organizations and 11,159 students during the career fairs.
For more information, visit http://career.fsu.edu.