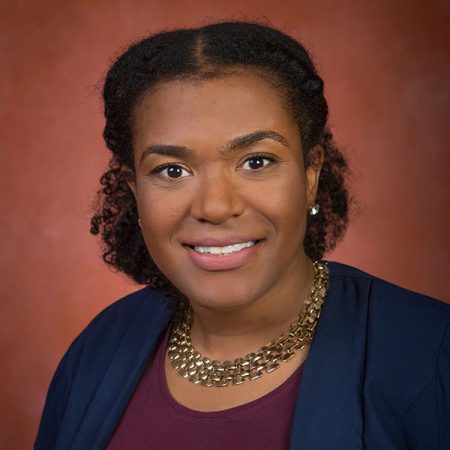 Florida State University has expanded its Title IX Office to better serve the university community in its comprehensive efforts to put an end to sexual and relationship violence.
Aishah S. Casseus, a lawyer with a background in constitutional law and civil rights, recently assumed a newly created position of Title IX investigator. She reports to Jennifer Broomfield, FSU's Title IX director.
"Florida State University does not tolerate any type of sexual misconduct, and Aishah's legal training and volunteer experience will contribute much to our efforts to end sexual and relationship violence," Broomfield said. "Aishah shares the university's commitment to providing a safe, healthy and positive environment for every member of our community."
Casseus will investigate complaints alleging student sexual misconduct, which will allow Broomfield to focus on training faculty, staff and students and monitoring policies and procedures to ensure compliance with federal and state laws. Broomfield was hired in 2015 as Florida State's first full-time director to concentrate solely on coordinating and directing the university's Title IX efforts. These responsibilities were previously shared among several staff members.
Title IX is a federal law that ensures all education programs and activities are free from discrimination on the basis of gender, including sexual harassment, sexual assault, sexual violence or other sexual misconduct.
A Columbus, Ga., native, Casseus earned her bachelor's degree in social science from Troy University in 2008. She graduated cum laude in 2011 with law degree from North Carolina Central University School of Law, where she earned a certificate of concentration in constitutional law and civil rights.
Casseus most recently served as an anti-money laundering investigator for Ernst and Young in New Jersey. She previously worked as a case analyst in the foreclosure unit of the Superior Court of New Jersey. She also volunteered as a Court Appointed Special Advocate for child abuse and neglect cases.
"I am excited to join the Title IX Office at Florida State University," Casseus said. "I researched Title IX opportunities across the country, and when I interviewed at FSU, I knew it was the right fit. It is clear to me that Florida State University is committed to sustaining a comprehensive Title IX program."
The hiring of an additional Title IX investigator is part of Florida State's continuing efforts to better educate the university community about responsible conduct and the meaning of consent as well as prevention and intervention and resources for sexual assault victims.
FSU launched the kNOw MORE awareness campaign, the most visible component of these efforts in fall 2014. Students developed the "kNOw More" brand to highlight the dual message of Florida State's no tolerance stance on sexual violence and education efforts focused on prevention and bystander intervention.
It includes a website that serves as a one-stop location for information about sexual violence that was previously housed on several different sites. The site clearly outlines how to report an incident, answers frequently asked questions and lists important contact information and resources available to students and others, including the Victim Advocate Program and the University Counseling Center. Visit knowmore.fsu.edu.
The launch of kNOw MORE follows the university's comprehensive review of its policies and practices, which are closely aligned with national recommendations. The university has built on these practices by establishing training modules for students, faculty and staff.
The initiatives stem from the work of FSU's Sexual Violence Prevention Task Force established in May 2014.