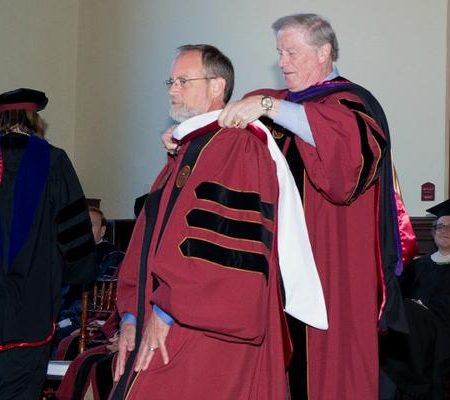 Florida State University granted an Honorary Doctor of Humane Letters degree May 26 to artist Christopher Still, renowned for his highly realistic, detailed paintings of Florida's people, past and natural beauty.
A native of Dunedin who now lives in Tarpon Springs, Still built a thriving private art practice over 40 years. His paintings have been frequently exhibited across the state in museums, resorts, cultural and performing arts centers and at the Florida Governor's Mansion.
In addition, he was commissioned to create numerous works, including the official portrait of Governor Lawton Chiles on behalf of the state of Florida and to create works of art for display in the Tampa International Airport by the Hillsborough County Aviation Authority.
The significance of Still's works is evident in the number of cities, corporations and museums that have them as part of their collections, including the John & Mable Ringling Museum of Art and the Smithsonian Institution.
Still received the honorary degree during a ceremony in FSU's Heritage Museum surrounded by family and friends.
"I am most grateful for this," Still said. "I know just how terribly hard it is to get a degree from FSU."
Still's father and daughter both earned degrees from FSU. He recounted watching his father complete doctoral coursework at a card table that was set up in the family's apartment.
Still paid special tribute to his wife and children for the years of patience they showed him while he worked.
"I have to say that one of the greatest gifts of going through this process is not being alone."
He also paid tribute to two of his most ardent patrons, FSU President John Thrasher and his wife, Jean Thrasher.
"The thing that has always struck me about Florida is that it didn't know how cool it is, and the people of Florida who were always working so hard didn't realize how important to history they are," Still said. "It is so easy to look back at history and say, 'These are historical figures.' It is more difficult to look at your own time and realize history is happening.
"You are historical figures in Florida," said Still, commending the Thrashers for their tireless work to promote the well-being of the state.
"Thank you for working so hard for me," Still said.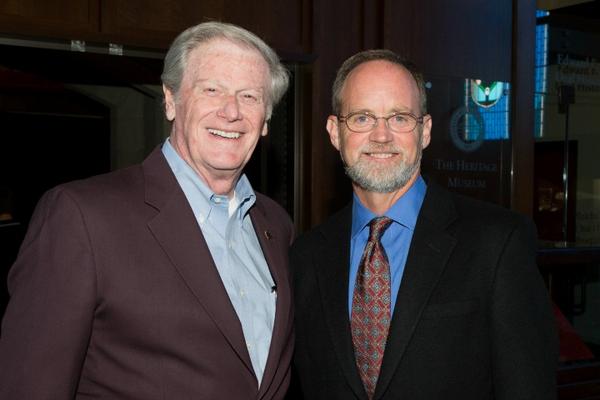 Still first met the Thrashers while John Thrasher was serving as speaker of the Florida House of Representatives. Thrasher selected Still from among more than 50 highly acclaimed artists to paint 10 murals depicting Florida's history for the 1999 remodeling of the House chamber. Since then, Still and the Thrashers have been fast friends.
During the four years that Still spent painting the House murals, he also became friends with John B. Phelps, then-curator of the Historic Capitol and clerk of the House who now serves as staff director of the Committee on Rules for the Florida Senate. During the honorary degree ceremony, Phelps praised Still for his unmistakable style, developed through years of training, practice and experimentation.
"For him, painting is not a simple pleasure, it is an act of worship. A need to bring the truth of his imaginings to life on canvas," said Phelps, who owns six of Still's paintings.
Phelps told how he sits beside an east window in his home many mornings to watch the sun rise — and admire a particular piece of Still's work.
"As the morning light comes up, Chris's study of the sun breaking the surface of a quiet lagoon comes into view across the room," Phelps said. "As I look out the window and back at the painting, I find myself thinking that Chris has improved even upon the splendor of a Florida sunrise.
"And this is what he does so well: He heightens the elements of the natural world through his art in a way that reveals their essential character," Phelps said.
Christopher Still is the 129th person to receive an honorary degree from either Florida State University or one of its institutional predecessors since its founding 165 years ago.
Each year, the FSU Honorary Degree Committee, an advisory committee appointed by the president to represent the university community, considers nominations for an honorary degree. Any active or retired faculty member, member of the university community or friend of the university may suggest potential honorary degree recipients to the committee.
Nominations are considered at any time of the year. In general, the committee intends to honor people of outstanding achievement who have gained national or international recognition or made a significant scholarly, creative, public, business or humane contribution to the United States or to Florida State University.