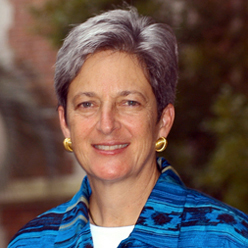 Nancy Marcus, dean of The Graduate School at Florida State University, has been named chair-elect of the Council of Graduate Schools Board of Directors for the 2016 term.
The Council on Graduate Schools is an organization of about 500 institutions of higher education in the United States and Canada engaged in graduate education, research and the preparation of candidates for advanced degrees. The council is governed by a 12-member board of directors.
"I am honored to serve in this new capacity with the Council of Graduate Schools," Marcus said. "Ensuring that graduate education remains affordable to a diverse population of students, preparing students for a wide range of career options, and identifying the career pathways of Ph.D. students are just some of the many challenges that need to be addressed by graduate deans and institutions. I am eager to work with the council to tackle these issues and articulate the importance of graduate education to the nation and the global community."
Marcus, who is also the Robert O. Lawton Distinguished Professor of Oceanography, has been dean of The Graduate School at Florida State since 2005. Her responsibilities include oversight of the education of approximately 8,000 graduate and professional students.
She has enhanced several programs offered by The Graduate School during her tenure, including the Preparing Future Faculty program and the Professional Development Workshop Series. She also has established programs to promote interdisciplinary engagement, fellowships for international study and an online tracking system to monitor graduate student progress.
She earned a bachelor's degree from Goucher College and a doctorate from Yale University.
The Council on Graduate Schools' mission is to improve and advance graduate education, which it accomplishes through advocacy in the federal policy arena, research, and the development and dissemination of best practices.