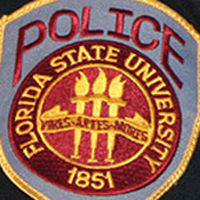 The Florida State University Police Department received an award from the Florida Police Chiefs Association (FPCA) for outstanding service and acts of bravery at the organization's 63rd Annual Installation and Awards Banquet July 1.
Several members of the FSUPD were recognized for their involvement in an active shooter situation on campus, earning the Lee McGehee Police Officer of the Year Award for medium-sized agencies with 31 to 75 sworn officers.
"I am extremely proud of the officers who have been selected as the FPCA Officers of the Year," said FSU Police Chief David Perry. "Their bravery and valor is a reminder of the sacrifices men and women in law enforcement are willing to make for their communities. I salute these heroes."
Officers Daniel Cutchins, Oma Nations, Orenthya Sloan, Parise Adams and Sgt. Roy Wiley were the first officers on the scene. Through their engagement with the shooter, they were able to protect hundreds of students who were studying in the library.
The Officer of the Year Awards were among several presented to officers and departments throughout the state by the FPCA at its awards banquet.
"The FPCA is proud to recognize these outstanding men, women and entire departments for their exceptional service to each other and to their communities," said Winter Park Chief of Police Brett Railey, the 2015-2016 president of the FPCA. "These winners have demonstrated that Florida's law enforcement community is second to none."
The FPCA is the third largest state police chiefs association in the nation and is composed of more than 900 of the state's top law enforcement executives. FPCA serves municipal police departments, airport police, college and university police, private business and security firms, as well as federal, state and county law enforcement agencies. The FPCA has members representing every region of the state.