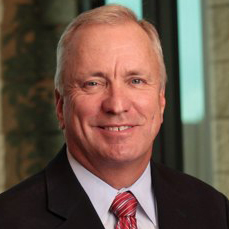 The Florida State University Board of Trustees unanimously elected trustee Edward E. Burr as its chairman during a regularly scheduled meeting June 26.
The board re-elected trustee Leslie V. "Les" Pantin as vice chairman.
Burr has served as a trustee since 2011 and has been chair of the Academic Affairs Committee for the past year.
As the president and CEO of GreenPointe Holdings of Jacksonville, Fla., Burr is widely considered to be a visionary leader in the real estate industry for his ability to analyze real estate potential and lead companies in the creation of communities throughout the Southeast that are known for their recreational, residential and commercial value.
Burr succeeds trustee Allan G. Bense, who began his service as chairman of the Board of Trustees in 2012.
Pantin, who has served as a trustee since 2013, is president of Pantin/Beber Silverstein Public Relations in Miami. In addition, Pantin has served on the boards of the FSU Alumni Association, FSU Foundation and Seminole Boosters, and served a previous five-year term on the Board of Trustees from 2006 to 2010.
In addition, the Board of Trustees welcomed its four newest members.
•William "Billy" Buzzett is a partner with the law firm of Harrison, Rivard, Duncan & Buzzett in Panama City, Fla. He has almost 30 years of experience in engineering, law and development and served as secretary of the former Florida Department of Community Affairs from 2010 to 2011. Buzzett, who succeeds trustee William "Andy" Haggard, was appointed by Gov. Rick Scott.
•Bob Sasser, of Virginia Beach, Va., is the CEO of Dollar Tree Stores, the nation's largest discount variety store chain selling merchandise predominantly for $1. Sasser, who succeeds trustee Margaret "Peggy" Rolando, was appointed by the Florida Board of Governors.
•Susan Fiorito, 2015-2017 president of the Faculty Senate, is Jim Moran Professor and chair of the Department of Entrepreneurship, Strategy and Information Systems in the College of Business. She has been on the university's faculty since 1990.
•Jean Tabares, Florida State's Student Body President for 2015-2016, is a senior pursuing a double major in marketing and political science.
Florida State's 13-member Board of Trustees consists of six trustees appointed by the Florida governor, five trustees appointed by the Florida Board of Governors, one trustee who is the president of the university's Faculty Senate and one who is the student body president.