Florida State University supporters donned garnet, gold and a pinch of St. Patrick's Day green at this year's FSU Day at the Capitol March 17.
The annual event celebrated Florida State's many accomplishments both in and out of the classroom, such as being named one of the most efficient universities in the country and the women's soccer team winning its first national championship.
"At Florida State University, we're at the top of our game and its wonderful to have this opportunity to show off our success on and off the field," said President John Thrasher. "I'm really proud to see so many great Seminoles here."
Dozens gathered inside the capitol and outside on the plaza for the daytime celebration that included performances by the Flying High Circus, Marching Chiefs and FSU cheerleaders. Displays and information booths representing the university's academic programs and research centers offered more insight into the numerous opportunities at Florida State.
Also in attendance was Ronny Ahmed, who sustained serious injuries in the Nov. 20 shooting incident. Thrasher took a moment to honor the resilience of the biochemical engineering student and offered unwavering support of his return to campus.
FSU alumni who are currently serving terms as senators and representatives in the Capitol were also recognized.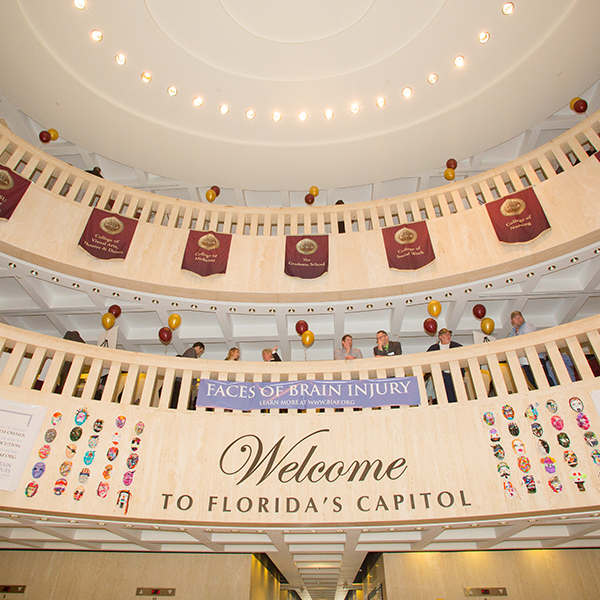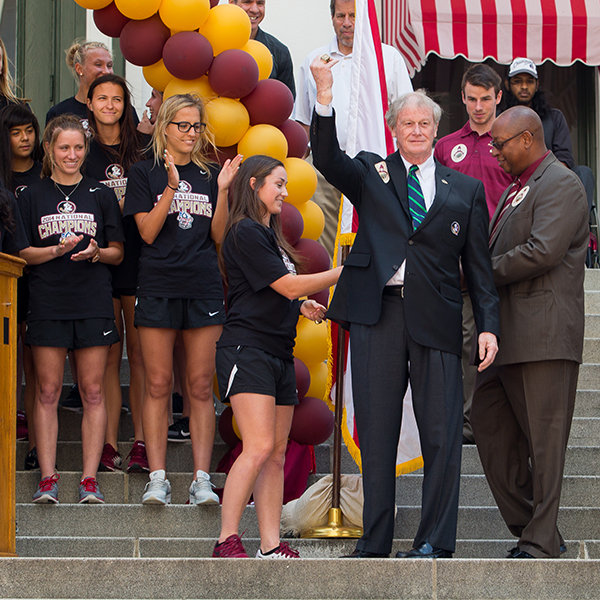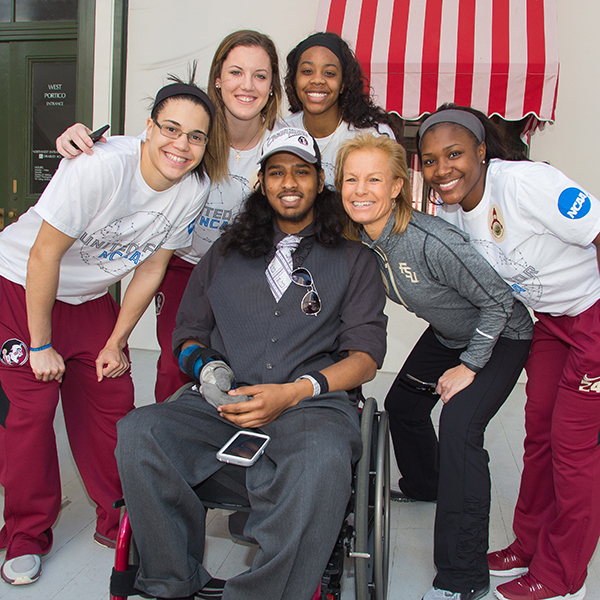 "A majority of legislative staff are FSU alumni and many current students have internship and jobs as well. It's one of the great benefits of our university located just down the street from the capitol," Thrasher said. "Our students have engaged in opportunities that will expose them to careers in the government, careers in public service and frankly, help them become better citizens."
With March being Women's History Month, it was truly fitting to acknowledge the exceptional women athletes from the FSU soccer and basketball teams.
The House of Representatives introduced a resolution celebrating the 2014 women's soccer team for their first national championship title and Thrasher presented the championship rings.
Coach Sue Semrau has led the women's basketball team to its highest ranking in program history as the No. 2 seed in the NCAA Division I Women's Basketball Championship. The team is hosting the first round of the tournament Saturday, March 21.