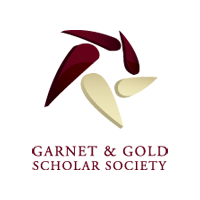 Florida State University's prestigious Garnet and Gold Scholar Society welcomed 33 new members this fall.
Founded in 2010, the Garnet and Gold Scholar Society recognizes accomplished undergraduate students who excel within and beyond the classroom in at least three of five areas: international experience, internship, leadership, research and service.
"Each semester I am so impressed with the Garnet and Gold Scholar inductees," said Vice President for Student Affairs Mary Coburn. "Their accomplishments and life goals are an inspiration to all of us and a credit to Florida State."
To be considered for induction into the society, students must meet the engagement criteria and successfully complete a synthesis reflection project in their final semester.
The students, all graduating seniors, were inducted into the Garnet and Gold Scholar Society during a special ceremony. The inductees, along with their hometowns and academic majors, are:
Delray Beach, Fla.
Rachel Ryan, human resources and general management
Fort Lauderdale, Fla.
Skye Smith, biology
Fort Myers, Fla.
Will Hackett, political science
Fredericksburg, Va.
Jessica Morio, English
Galloway, N.J.
Katie Avagliano, creative writing and history
Gardendale, Ala.
Brooke Carroll, psychology
Havana, Cuba
Cappy Rodriguez, criminology
Jacksonville, Fla.
Emma Blanton, hospitality management
Melbourne, Fla.
Kendra Scholz, communication science and disorders; and editing, writing and media
Miami, Fla.
Lissette Calveiro, public relations and leadership studies
Edmine Delva, finance and marketing
Ingrid Gonzalez, psychology and Spanish
Sara Merrill, criminology
Miami Beach, Fla.
Shoania Vergara, marketing and management
Naples, Fla.
Jury Paulson, international affairs and political science
Ocala, Fla.
Chloe Campbell, recreation, tourism and events
Palm Beach, Fla.
Precious Johnson, political science and criminal justice
Pensacola, Fla.
Taylor Little, risk management/insurance and human resource management
Sarasota, Fla.
Mary Akemon, art history and history
Anna Brady, psychology
Sioux Falls, S.D.
Kelsie Dawson, psychology
St. Petersburg, Fla.
Rinsha Prophete, retail merchandising and product development; and business management
Amelia Watts, international affairs
Sunrise, Fla.
Carl Sharpe, finance and management
Tallahassee, Fla.
Bill Knight, accounting
Olivia Origa, biological science
Tampa, Fla.
Taylor Allen, psychology
Alexis Cherry, international affairs and economics
Ellen Powell, social work
Daniel Wind, digital media production and theater
Venice, Fla.
Danny Flynn, physical science
Winter Haven, Fla.
Mercy Joy Corlew, media/communication studies
Winter Springs, Fla.
Megan Stanforth, computer science