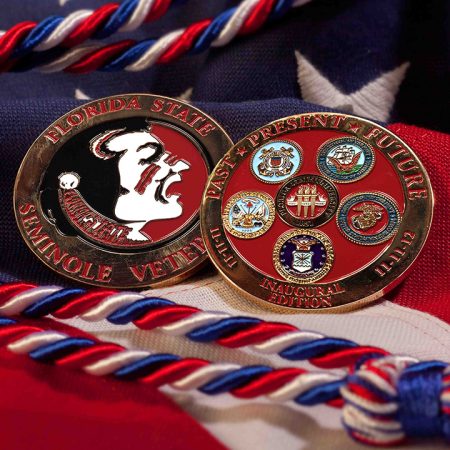 Florida State University's ongoing initiative to address the educational needs of veterans has been recognized by the Association of Public and Land-grant Universities (APLU).
Florida State received the MVP Project Degree Completion Opportunity Award, which honors an APLU member institution that has made exceptional progress during the past three years in increasing its retention and graduation of students such as minorities, low-income students and veterans.
"Florida State is committed to becoming the most veteran-friendly university in the nation," said Interim President Garnett S. Stokes. "We are grateful these efforts have been recognized. It shows how continued support of student-veterans can encourage them to complete their degrees and move on to successful careers after military service."
In conjunction with the award, Florida State received a sculpture and a $20,000 prize to further its degree completion initiatives during a special ceremony at the 127th APLU Annual Meeting Nov. 4, in Orlando, Fla.
"Our member institutions recognize that access — walking in the front door to college — is not the primary goal; it's getting a complete education, learning to learn and walking back out with a degree in hand ready to contribute to the world," said APLU President Peter McPherson.
Retention and graduation rates for veterans attending Florida State have steadily increased in recent years due in large part to the Florida State Veterans Campaign, which was launched in 2011.
Over the past five years, the number of veterans entering Florida State who were retained into their second year averaged 98 percent. As a result, the six-year graduation rate for veterans has increased from 69 percent to 86 percent.
"We are humbled and honored to receive this recognition, and thank the entire campus and local community for their support," said Billy Francis, director of the FSU Student Veterans Center. "The goal is to graduate and employ 100 percent of our student-veterans and we look forward to continuing to work together toward that outcome."
The Florida State Veterans Campaign concept, originally brought to the university's president by student-veterans in the fall of 2010, is rooted in the recognition that current and former military personnel possess the talent, skills and know-how to succeed as students and contribute to the enhancement of the campus community.
The concept resulted in an initiative that provides comprehensive support to Florida State students who are veterans, veteran-dependents, active duty personnel, Reserve and National Guard members and ROTC cadets.
Initiative strategies include easing the transition to campus life with veteran-specific orientation sessions and first-semester courses, and encouraging advocacy of issues relevant to student-veterans to state and federal lawmakers. Fostering student success through enhanced connections to the academic and social aspects of the university is the objective of the Veterans Campaign.
The MVP Awards are part of a comprehensive, joint effort by APLU and the American Association of State Colleges and Universities (AASCU) to help achieve a national goal of 60 percent degree attainment among the U.S. working age population by 2025. Nearly 500 public universities have pledged to boost college completion as a part of the Project Degree Completion initiative.
The Association of Public and Land-grant Universities (APLU) is a research, policy and advocacy organization representing 237 public research universities, state university systems and affiliated organizations. Founded in 1887, APLU is North America's oldest higher education association with member institutions in all 50 U.S. states, the District of Columbia, four U.S. territories, Canada and Mexico. Annually, APLU member campuses enroll 4.7 million undergraduates and 1.3 million graduate students, award 1.1 million degrees, employ 1.3 million faculty and staff members, and conduct $41 billion in university-based research.