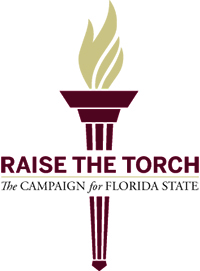 Florida State University has launched a $1 billion fundraising campaign that will help the university improve the student experience, serve as an economic engine for the state through research and job creation, and improve the quality of life for society as a whole through the creation and dissemination of knowledge and ideas.
"Raise the Torch: The Campaign for Florida State" officially kicked off Oct. 17 with a campuswide celebration and an invitation-only gala, followed by events at the Oct. 18 Notre Dame vs. Florida State football game. This is the third major fundraising campaign in Florida State's history.
"One billion dollars is certainly an ambitious goal," said Allan Bense, chairman of the FSU Board of Trustees. "However, true Seminoles have never backed down from a challenge. If history is a guide, the Seminole family will not only meet this goal but also exceed it. Our 'Investment in Learning' campaign, which ran from 1991 to 1997, had a goal of $200 million and $300 million was received. The 'Connect' campaign, from 2001 through 2005, had a goal of $600 million and $630 million was received."
Bense added that the current campaign is slated to conclude June 30, 2018. As of Oct. 17, more than $610 million in gift commitments have been received.
"It's not by accident we list 'improving the student experience' as one of our top priorities," said Tom Jennings, vice president for University Advancement and president of the FSU Foundation. "Florida State is and always will be student-centric. It's in our DNA. By improving our academic programs and our student life experiences, such as athletics and extracurricular activities, all of the other components will fall into place. Even though Florida State is a large, research-intensive university, our students and alumni continually tell us that FSU offers a supportive and nurturing environment that one would normally find in a small, private institution. This is what sets us apart from other major universities and we look forward to building on this."
In 2014, for the second year in a row, U.S. News & World Report ranked Florida State first in the nation when it comes to delivering quality to its students, Jennings said.
"In other words," Jennings said, "our donors can be confident knowing that when a charitable gift is made to Florida State, the money is well spent."
"Raise the Torch: The Campaign for Florida State" is focused on four fundraising priorities:
1) Inspire, engage and transform the next generation of students through undergraduate scholarships; academic programs; student research; and athletic scholarships and facilities through the "Champions Campaign," spearheaded by the Seminole Boosters Inc.;
2) Power a great university to new academic heights by providing faculty support;
3) Encourage innovation, creativity and discovery through the support of STEM fields (science, technology, engineering and math); entrepreneurism; technological innovation; and the fine and performing arts; and
4) Improve the public good by harnessing the energy and talent of a highly productive research university to inform the discussion of and provide solutions to some of society's most pressing issues.
"We have already seen progress in quite a few of these areas," said Interim President Garnett S. Stokes. "For example, in 2013, Florida State was named a preeminent university by Florida's governor and Legislature. With this designation came additional state funding. We took those dollars and put them directly toward recruiting and hiring some of this country's best, up-and-coming faculty members. The result: Florida State faculty earned a record $230 million in competitively awarded research funding — most coming from highly sought-after federal agencies. This is a 15 percent increase over the prior year."
An FSU study found that when the university brings in $200 million in sponsored research, it translates into more than 2,000 jobs in greater Tallahassee.
"Everyone values job creation," said John Thiel, an FSU alumnus who serves as chairman of the FSU Foundation Board of Trustees and is head of Merrill Lynch Wealth Management in New York. "Additionally, our students and alumni understand the correlation of how a degree from Florida State gives them the edge in a competitive job market. 'Raise the Torch' will help us continually improve the value of a degree from Florida State, which will help both current and future alumni.
"Our students, faculty and staff are solidly behind this effort and have begun fundraising initiatives of their own in support of the campaign," Thiel said. "Since its inception, the FSU Student Foundation — which has been building a culture of philanthropy among the student body — has raised nearly $230,000; the Student Government Association recently set a fundraising goal of $1 million; and our faculty and staff have already contributed more than $17 million toward the campaign."
"Private support is often the determining factor between a good university and one that is truly great," Bense said. "While public funding is essential for keeping the dream of a college degree within reach for many individuals, private philanthropy allows universities such as Florida State to go beyond the basics. We are grateful to all of our supporters — past, present and future — because the positive impact they have on the life of this great university is immeasurable."
Information about the campaign can be found at raisethetorch.fsu.edu.
Just prior to the university's "Raise the Torch" kickoff, the College of Business celebrated the beginning of the public phase of its own campaign for a new $75 million building.
"This new building is crucial to competing successfully with other top-tier business schools for world-class faculty and the best students," Dean Caryn Beck-Dudley told the crowd gathered at the Donald L. Tucker Civic Center. "As important, it is our gift and our legacy to the next generation of students who expect and deserve a stellar education at Florida State. I have been overwhelmed with the enthusiastic and generous support of you and many others."
Since November, when the college had the soft launch of its campaign for the new building, nearly 600 donors have contributed more than $7 million and more than $25 million in gift proposals are being considered by potential donors. Already there are 132 named spaces in the building.
To date, students and members of five fraternities — from across campus and in all disciplines — have contributed almost $23,000 toward the building. Their goal is to raise $250,000 over the next two years. More than 91 percent of the college's faculty and staff also have donated.
"This is so important to our effort because it demonstrates the faculty and staff's pride and confidence in the college and encourages others to invest in our future," Beck-Dudley said.
The college will raise money for the building for the next two years and expects to break ground in the fall of 2016 and move into the building in fall 2018.