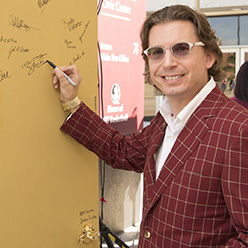 Just prior to Florida State University's kickoff of its $1 billion "Raise the Torch" capital campaign on Oct. 17, the College of Business celebrated the public phase of its own $112-million capital campaign. About a third of that — $35 million — will go toward the college's new $75-million building. The university has committed to securing the remainder of the building's cost once the college meets its $35-million goal.
"This new building is crucial to competing successfully with other top-tier business schools for world-class faculty and the best students," Dean Caryn Beck-Dudley told the crowd gathered at the Donald L. Tucker Civic Center to celebrate the college's progress toward its campaign goals.
"Just as important, it is our gift and our legacy to the next generation of students who expect and deserve a stellar education at Florida State. I have been overwhelmed with the enthusiastic and generous support of you and many others."
The college will raise money for the building for the next two years and expects to break ground in the fall of 2016 and to move into the building in fall 2018.
Since November, when the college had the soft launch of its campaign for the new building, more than 590 donors have contributed more than $7 million, and an additional $25 million in gift proposals are being considered by potential donors. Already 132 spaces in the new building have been named at various gift levels.
To date, students and members of five fraternities—from across campus and in all disciplines—have contributed almost $23,000 toward the building. Their goal is to raise $250,000 over the next two years.
More than 91 percent of the college's faculty and staff members also have donated. "This is so important to our effort because it demonstrates faculty and staff's pride and confidence in the college and encourages others to invest in our future," Beck-Dudley said.
The building will be located near the Leon County Civic Center, which is fast becoming the new gateway to the Florida State campus and the start of Madison Mile, the heart of the new Arena District. This district is being revamped with new retail stores, restaurants, a hotel, housing, outdoor attractions and academic spaces. The Dedman School of Hospitality will move into the new building from its current University Center location.
The location of the new building, near this burgeoning business complex, the state capitol and the College of Law, gives students and faculty ample opportunity to collaborate with civic leaders, corporate partners, and other academic units in a variety of exciting initiatives.