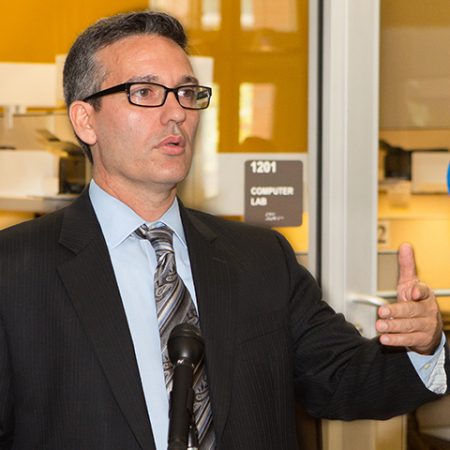 The Florida State University Career Center welcomed back an alumnus July 16 for an emotion-filled ribbon-cutting ceremony and dedication of the Tony DiBenedetto Computer-Assisted Career Guidance Lab.
"This is an exciting day for the Career Center because it's like welcoming family home," said Career Center Director Myrna Hoover.
DiBenedetto enrolled as a Florida State student in 1983. During his college years, he worked at the Career Center where he wrote an innovative software application that tracked companies recruiting college students.
By 1998, DiBenedetto had founded Tribridge, a national technology services firm that specializes in business applications and cloud solutions. As chairman and CEO, DiBenedetto turned his start-up company into one of the leading technology service providers in the United States.
DiBenedetto credits much of his personal and professional success to his experience at Florida State, especially with the Career Center. That's why he donated $100,000 to the center in hopes that it will help more students.
The Career Center currently sees more than 16,000 students a year. The computer lab will give students and alumni the opportunity to explore careers and majors, update resumes and cover letters and provide other services that are vital to helping students become more successful.
"This lab is here to help individuals find their passion and learn how they can best fit into the workforce," said Casey Dozier, program director of career advising and counseling.
Coming to Florida State, DiBenedetto described himself as a wild teenager who didn't have much guidance. The Career Center played a major role in his transition into a young man by teaching him the importance of student success, respect for authority and how to be a professional.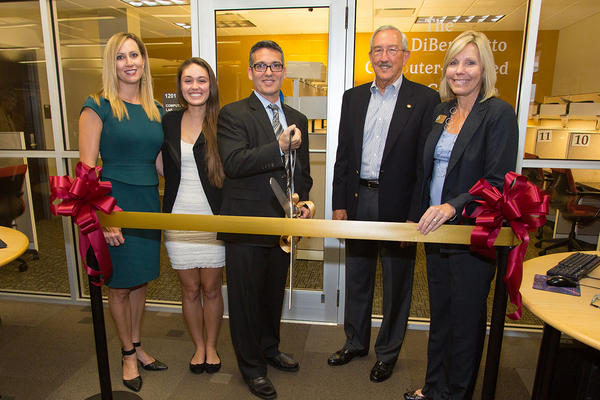 "I think there's something special about a university that takes somebody under their wing and does something very personal," DiBenedetto said. "It's been a blessing my whole life."
However, DiBenedetto's relationship with the Career Center didn't end after graduation, something that Mary Coburn, Vice President of Student Affairs, takes pride in.
"In Student Affairs, nothing is more gratifying than alumni staying involved and giving back to the university," she said. "I tell students that your relationship with Florida State doesn't end when you graduate and walk across that stage — it's a lifetime relationship and Tony and his family really exemplify that."
With the Career Center, DiBenedetto developed a program that has been recruiting Florida State students for his company for the last six years.
"This really is an impressive university, and I don't recruit here because I'm an alumnus; I recruit here because of my experience," DiBenedetto said. "But I stay recruiting from here because of the quality of the program and the quality of the people here."
DiBenedetto's donation, with the help of his family at the Career Center and the Career Guidance Lab, will have a substantial impact on student and alumni achievement.
"This is more than about the money," Hoover said. "It's about the success of an individual; that if you do the right things, if you work really hard, if you're passionate and committed to what you do, then you'll succeed."