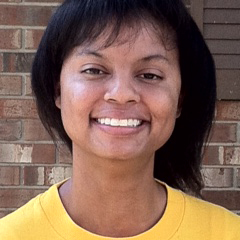 A Florida State University speech-language pathology master's student has been awarded a prestigious grant targeted to women making a career change.
Stephanie Brown, a first-year School of Communication Science and Disorders graduate student, has received an $11,000 Career Development Grant from the American Association of University Women for the upcoming academic year.
Brown, of Thomasville, Ga., earned an undergraduate degree in early childhood education from Valdosta State University in 2007 and taught in the classroom for three years before deciding on a career change to become a speech therapist.
"This funding will ease the financial burden of graduate study, which will allow me to focus my attention on the academic, clinical and research requirements of my major," Brown said. "I'm grateful for this financial support."
The association's Career Development Grants are designed to offer"encouragement" funding to those seeking to renew or resume academic work for credit toward career or employment advancement.The grants are for women who hold a bachelor's degree and are preparing to advance or change careers or re-enter the workforce.
"This is a competitive national award that encompasses all majors," said Lisa Scott, director of clinical education for the School of Communication Science and Disorders. "It is a very prestigious award and brings great recognition to Stephanie and our school."
Brown is in the beginning stages of her research project. She is working on the Narrative Assessment Project in College of Communication and Information Associate Professor Carla Wood Jackson's lab. Narrative samples were collected from a group of monolingual English kindergarten students. Brown's role in the research project involves identifying and coding for the presence of macrostructure features— character, setting, plot, initiating event/problem, reactions/emotions, attempt, consequences and ending— in the children's narratives.
Visit the Office of Graduate Fellowships and Awards online to learn more about external awards and resources at Florida State University.