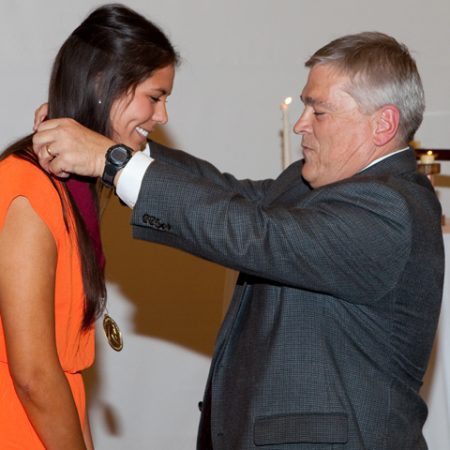 Florida State University welcomed 63 new members into the prestigious Garnet and Gold Scholar Society.
Founded in 2010 by President Eric J. Barron, the Garnet and Gold Scholar Society recognizes well-rounded undergraduate students who excel within and beyond the classroom in at least three of five areas: international, internship, leadership, research and service.
"This year's class of 63 inductees brings us to almost 200 total Garnet and Gold Scholars, including future doctors, lawyers, teachers, nurses, scientists, community leaders and Fulbright Scholars," said Vice President for Student Affairs Mary Coburn. "They have seized every opportunity to learn and grow at Florida State.They represent the best of our university and our future."
The program aims to facilitate involvement while allowing students to reflect on the value of their experiences. The scholars must meet the engagement criteria and successfully complete a synthesis reflection project to be considered for induction into the society.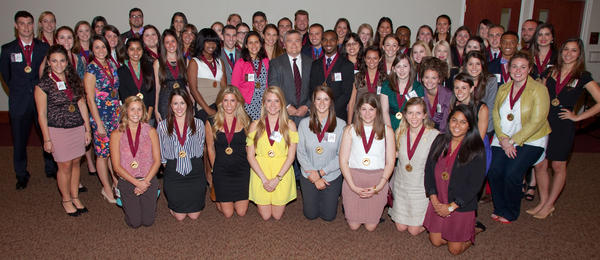 The following students, all seniors, along with their academic major(s) and hometowns, were inducted into the Garnet and Gold Scholar Society during the spring ceremony:
Boca Raton, Fla.
Erin Bor, family and child sciences
Michael Dobrin, editing, writing and media
Bradenton, Fla.
Alicia Vollmer, biology
Cairo, Ga.
Saira Bari, biology and psychology
Cape Canaveral, Fla.
Matty Budesa, political science and media/communication studies
Clearwater, Fla.
Leen Doumet, media/communication studies and international affairs
Coral Springs, Fla.
Austin Cole, biology and psychology
Daytona Beach, Fla.
MaryCatherine Crock, political science and international affairs
Deltona, Fla.
Caitlin Strawder, political science and interdisciplinary social science
Flowery Branch, Ga.
Jake Poteat, media/communication studies
Fort Lauderdale, Fla.
Sean Chinn, sociology and interdisciplinary social science
Sara White, marketing and media/communication studies
Fort Walton Beach, Fla.
Heather Baum, psychology, and communication science and disorders
Gainesville, Fla.
Caroline Keegan, art history
Hollywood, Fla.
Jillian Tapper, media/communication studies and sport management
Garrett Schlichte, editing, writing and media
Jacksonville, Fla.
Chantell Albert, psychology
Emily Talpalar, hospitality management
Heather Mazzola, communication science and disorders
Kelsey Hendershott, communication science and disorders
Kenzie Crane, family and child sciences
Madison Marks, Middle Eastern studies
Megan Raesemann, communication science and disorders
Lutz, Fla.
Kelsey Smith, sport management
Memphis, Tenn.
Katherine Steffan, psychology
Miami
Iliana Mustelier, marketing and international affairs
Janessa Brito, sociology, and family and child sciences
Jonathan Valcourt, finance and sport management
Marilyn Horta, psychology and international affairs
Zoe Galitz, biological sciences
Middleburg, Fla.
Jacob Gibbons, editing, writing and media
Minneapolis
Quinton Campbell, exercise science
Mount Dora, Fla.
Melanie Kalmanson, finance and international affairs
Mulberry, Fla.
Terrence Williams, interdisciplinary social science
New Smyrna Beach, Fla.
Riya Resheidat, creative writing and sociology
Ocala, Fla.
Caleb Pate, exercise science
Orange Park, Fla.
Leslie Oxford, religion
Orlando, Fla.
Amanda Saxton, communication
Caitlin Pfaff, marketing
Julia White, environmental studies
Ron Krudo, political science and international affairs
Pembroke Pines, Fla.
Natalie Portalatin, social science education
Pensacola, Fla.
Jessica Engel, anthropology
Meagan Bean, Middle Eastern studies and international affairs
Perry, Fla.
Rebecca Woofter, history
Sarasota, Fla.
Kaitlyn Delaney, elementary education
Marlene Baldeweg-Rau, humanities, and editing, writing and media,
Satellite Beach, Fla.
Lexia Arther, international affairs and French
Stuart, Fla.
Marie Mahovetz, psychology and criminology/criminal justice
Tallahassee, Fla.
Matt Russi, information technology
Tampa, Fla.
Jessica Jelks, criminology and creative writing
Kelley Kilpatrick, nursing
Michelle Campbell, English
Thomasville, Ga.
Desirae Ott, communication science and disorders
Umatilla, Fla.
Amy Robinson, political science
Vero Beach, Fla.
Emily Panakos, psychology
Wellington, Fla.
Christopher Waldeck, media/communication studies
Jennifer Greene, risk management and insurance
West Palm Beach, Fla.
Taylor Adams, economics and psychology
Weston, Fla.
Ariana Cano, political science, and editing, writing and media
Katie Baumanis, international affairs
Samantha Moore, psychology and sociology
Wheaton, Ill.
Max Tsaparis, meteorology