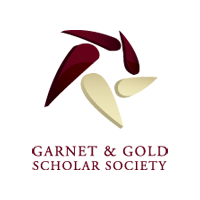 Florida State University President Eric J. Barron recently inducted five students into the Garnet and Gold Scholar Society.
Barron created the prestigious society to recognize engaged and well-rounded undergraduate students excelling in at least three of the five membership criteria — leadership, internship, service, international study and research — both within and outside of the classroom.
"Participation in the Garnet and Gold Scholar Society continues to enrich students' university experience in wonderful ways," said Vice President for Student Affairs Mary Coburn. "The summer-semester completers were very diverse, with an international student and student-veteran in the group.I continue to be impressed by their accomplishments."
The new inductees, all of whom graduated in August, are listed below, along with their majors and hometowns:
Jacksonville, Fla.
Kierstan Monahan, Psychology
Leesburg, Fla.
Nina Stark, Exercise Science
Warwick, N.Y.
Phillip Lennon, Sociology
Port Townsend, Wash.
William Koulisis, Biology and Psychology
Caracas, Venezuela
Andrea Bendayan, Business Management and Marketing
For more information on the Garnet and Gold Society, contact Carolyn T. Barringer at (850) 644-8625 or ctbarringer@admin.fsu.edu.