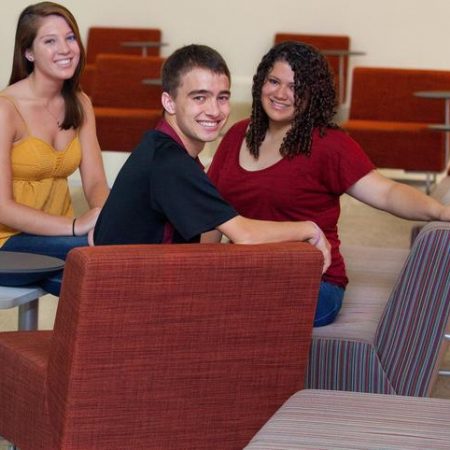 On Monday, Aug. 27, the halls of academia were bustling once again as a new group of Florida State University students nervously searched for their first college classes. Fortunately for the Class of 2016, they're well prepared for the challenge that awaits them: Statistically speaking, this year's freshman class is among the brightest in the university's history.
Of those first-time-in-college freshmen who were accepted into Florida State for both the summer and fall, the average high school grade point average was 4.0, with SAT scores averaging 1857 and an ACT composite score averaging 28.
"This talented freshman class is coming to Florida State with the eagerness to engage with faculty and to utilize the many academic resources and opportunities that are provided, such as undergraduate research collaborations, study abroad, and civic engagement and entrepreneurship," said Provost and Executive Vice President for Academic Affairs Garnett S. Stokes. "I am excited to watch this Class of 2016 grow and become an integral part of longstanding traditions of excellence here at Florida State."
The nearly 6,000-member freshman class is among approximately 41,000 students enrolled this fall.
A typical student accepted into Florida State's Class of 2016 took more than five years of math and social sciences, and more than four years each in English and natural sciences, while in high school. That student also took more than three years of a foreign language.
At Florida State, the incoming freshmen will study and learn among students from every county in Florida, all 50 states, the District of Columbia and more than 130 countries. Besides Florida, the states with the most new accepted freshmen are Georgia, New York and Texas.
"This year, we had nearly 37,000 freshmen apply to Florida State University, which is a great testament to the high level of education that this institution provides," said Director of Admissions Janice Finney. "I am very excited to have this class of outstanding students on our campus. We can't wait to have them as a part of the Seminole family!"
Among all students accepted into the Class of 2016, biological science was the top major indicated, followed by business, engineering, psychology, communication and exercise science.
About 25 percent of the first-time-in-college freshmen who are expected to begin classes this fall are the first in their families to go to college, which speaks to Florida State's efforts to reach out to these students through such programs as the Center for Academic Retention and Enhancement (CARE). The center is a program designed to assist first-generation college students from financially disadvantaged backgrounds. The center counsels these students and prepares them for success in higher education.
One more thing: If you yell the names Emily or Michael in one of those bustling hallways, expect a lot of turned heads. They are the most popular female and male names among Florida State's Class of 2016.