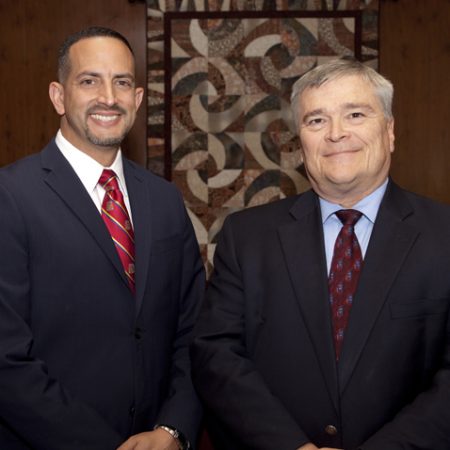 Underscoring Florida State University's commitment to become the nation's most student-centered university, President Eric J. Barron and Center for Multicultural Affairs director Juan R. Guardia have received awards from NASPA-Student Affairs Administrators in Higher Education, Region III.
Barron received the 2012 Region III President's Award. The award recognizes college or university presidents who advance the quality of campus student life by supporting student affairs staff and programs over a sustained period of time.
"We are thrilled to have President Barron selected as the recipient of the NASPA Region III President's Award," said Jeanine Ward-Roof, Florida State's dean of students who also serves as director of NASPA Region III. "His work in advancing the quality of student engagement at Florida State University and the standards of education in the state are remarkable and epitomize the essence of this recognition."
Guardia received the 2012 Region III James E. Scott Outstanding Mid-Level Student Affairs Professional Award. The award recognizes individuals who demonstrate outstanding commitment to the profession and who have contributed to programs that address the needs of students and are experienced in creating campus environments that promote student learning and personal development.
"We are also excited Juan Guardia was selected as the recipient of the Outstanding Mid-Level award," Ward-Roof said. "Juan's support of students at Florida State and his work in the national arena with the Latino/Latina Greek system and Latino/Latina knowledge community in NASPA are illustrations of his accomplishments and why he was selected for this award."
Both Region III awards have corresponding national awards, for which Barron and Guardia now are eligible to receive.
NASPA, the leading association of the student affairs profession, has more than 12,000 members in all 50 states, as well as eight U.S. Territories and 29 countries.