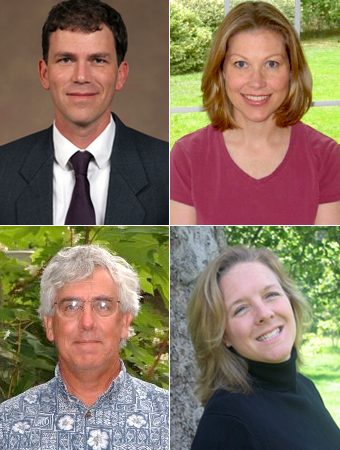 The final installment of Florida State University's Fall 2011 Faculty Luncheon Series, themed "Unity in Diversity — An Academic Community Reflects on the Three Cultures: The Humanities, Social Sciences and Natural Sciences," will feature four members of the Florida State faculty engaging in a panel discussion about the academic culture at FSU.
Comprising the panel will be Assistant Professor Joseph Gabriel of the Department of Medical Humanities and Social Sciences, College of Medicine; Professor Pamela Keel of the Department of Psychology; Associate Professor Meegan Kennedy of the Department of English; and Professor Thomas Miller of the Department of Biological Science. Moderator Robert Ross will preside over the group in a discussion of "Implementing a Three-Culture Dialogue at Florida State University."
The luncheon and panel discussion will take place:
TUESDAY, DEC. 6
LUNCHEON BEGINS AT 12:15 P.M.
PROGRAM BEGINS AT 12:40 P.M.
PRESBYTERIAN UNIVERSITY CENTER/
WESTMINSTER HOUSE
548 W. PARK AVE.
TALLAHASSEE, FLA.
While this is the final Faculty Luncheon Series event for the fall semester, the Spring 2012 Faculty Luncheon Series will begin on Jan. 17 with guest speaker Garnett Stokes, provost and executive vice president for Academic Affairs at Florida State.
Luncheon reservations for the Dec. 6 luncheon may be mailed to the Presbyterian University Center, 548 W. Park Ave., Tallahassee, FL 32301, with a check made out to the Presbyterian University Center and clearly marked "Faculty Luncheon Series." The amount of the check should be $9 for the luncheon. Alternatively, reservations can be made by calling the center at (850) 222-6320 or sending an email to bac4259@fsu.edu. Payment may then be made at the door. All reservations must be made by Thursday, Dec. 2, at noon. Seating is limited, and early reservations are strongly recommended.
All lectures in the Faculty Luncheon Series are webcast live and made available online as an archive. Tallahassee's WFSU-TV also televises each event several weeks after it takes place on cable channel 4.
For more information on the speakers, along with information on how to make reservations, visit the Faculty Luncheon Series Web page at undergrad.fsu.edu/FacultyLuncheonSeries.
For additional information regarding this event, call (850) 228-5641.